Newsletter: Today: Backed Up and Shaken Down at the Border
Migrants from Central America, Africa and elsewhere say they face extortion and discrimination trying to make it out of Mexico into Texas.
TOP STORIES
Backed Up and Shaken Down at the Border
U.S. law says immigrants can present themselves to request asylum at border crossings or inside the country after entering illegally. The reality on the ground has become much more complicated, and not just because of the Trump administration's court battle seeking to deny asylum to those entering illegally. At border crossings in Texas, migrants are being blocked from approaching the U.S. side, forced onto waiting lists overseen by Mexican officials. Many asylum seekers say those Mexican officials have demanded money to let them pass. Meanwhile, the Trump administration is said to be preparing another new policy called "Remain in Mexico," which would force asylum seekers to stay there unless they can establish a "reasonable fear" of persecution in Mexico.
You Might Want to Read the Fine Print
Warning: President Trump's push to roll back federal regulations could be hazardous to your health — and pocketbook. Says who? The Trump administration itself. A review of thousands of pages of government filings shows the human costs include more deaths from air pollution, higher medical bills and increased student debt. The benefit? Officials often point to less government waste and more economic growth. If you're around to enjoy it, that is.
More Politics
-- In its final weeks of being led by the GOP, the House Judiciary Committee has issued subpoenas for former FBI Director James B. Comey and former Atty. Gen. Loretta Lynch to appear for closed-door interviews.
-- Trump contradicted the CIA's assessment that Saudi Crown Prince Mohammed bin Salman had ordered the killing of Jamal Khashoggi. Who's responsible? "Maybe the world should be held accountable because the world is a very, very vicious place," the president said.
-- Nearly six months after Trump and North Korean leader Kim Jong Un embraced in Singapore, talks have flatlined and Pyongyang has taken no significant steps to reduce its nuclear arsenal or production facilities.
Amid Tragic Loss, Reasons to Give Thanks
In Northern and Southern California, survivors of the devastating fires gathered for Thanksgiving meals they could have scarcely imagined just a few weeks ago. In a cavernous auditorium at Cal State Chico, volunteers including some celebrity chefs served turkey, mashed potatoes and pumpkin pie to thousands of evacuees and first responders in the Camp fire. In Malibu, some found respite in a community Thanksgiving meal at Pepperdine University. As one woman who lost her house in the Woolsey fire said: "Home is my family and friends — there is no question."
A Deeper Shade of Bias
Three Latinas are walking down the street. Two of them have lighter skin. The third has darker skin — and is shouted at: "Go back to Mexico!" It's a stark example of discrimination based on the color of one's skin, which has long affected how people are perceived. As the rhetoric over immigration in the U.S. has intensified during the Trump years, colorism has contributed an extra layer of angst for many Latinos.
Sign up to get Today's Headlines delivered to your inbox. »
FLASHBACK FRIDAY
Back in the late 1920s, Hollywood merchants converted a one-mile section of Hollywood Boulevard into Santa Claus Lane for the holidays and held a parade. That's how the Hollywood Christmas Parade began, although it wouldn't be named that until 1978. With this year's edition planned for Sunday, take a look at these photos showing how it's changed through the decades.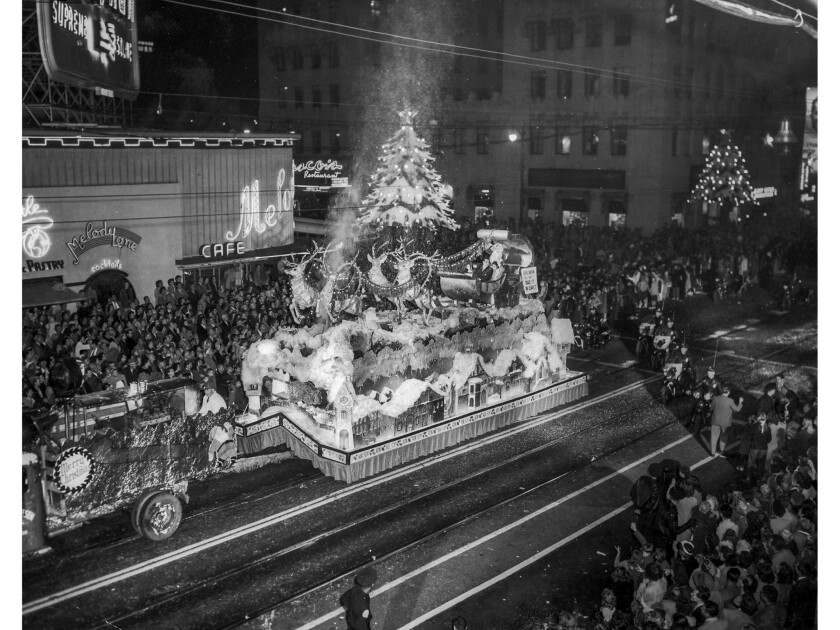 YOUR WEEKEND
-- Thanksgiving leftovers: How to make the most of them.
-- Gift shopping? Here's our guide.
-- How to avoid getting scammed amid all those sweet Black Friday deals.
-- Alexa, Google Assistant or Siri: Which one is right for you?
-- This year, glass orbs, paper snowflakes and politically inspired ornaments are expected to be big hits.
CALIFORNIA
-- National health officials are telling Americans not to eat any romaine lettuce. Nearly one-third of the cases of E. coli have been reported in L.A. County.
-- The story of Thomas Gorden, who tweets under the handle @VCScanner and alerted people to the Thousand Oaks shooting, then warned of the fires that came next.
-- Much to the surprise of the San Diego Zoo, Eloise, a 37-year-old siamang on birth control, has delivered a baby.
HOLLYWOOD AND THE ARTS
-- "Game of Thrones" author George R.R. Martin has invested millions in the Santa Fe-based art collective Meow Wolf. Why? "My gut told me Meow Wolf was up to something very special."
-- "Star" is a music-driven soap opera that includes records by known producers. Nothing new there. But Fox's girl group saga is in a league of its own when it comes to the talent behind its soundtrack.
NATION-WORLD
-- At the trial of Mexican drug kingpin Joaquin "El Chapo" Guzman, police are outfitted with gear to detect chemical, biological, radiological and nuclear material, as well as explosives.
-- The death of a young American missionary who trespassed onto the remote island of North Sentinel has focused attention on the Sentinelese and India's efforts to limit contact with a tribe that wants to be left alone.
-- In Taiwan, Saturday's midterm local elections are seen as a test for the ruling party and a referendum on the island's chilly relations with mainland China.
-- "Natural climate solutions"? A study says managing the American landscape more wisely could store enough carbon to offset up to 21% of current U.S. greenhouse gas emissions.
BUSINESS
-- Inside Walt Disney Studios' original animation building, where artists once drew "Dumbo" and "Cinderella" by hand, a new innovation hub is advancing technology for filmmakers.
-- When it comes to energy and climate goals, some experts wonder whether Germany could offer a cautionary tale for California.
SPORTS
-- Former USC quarterback Max Browne, who is now a college football analyst, understands the Trojans' struggles on offense as they get set to face Notre Dame this weekend.
-- After a disheartening loss last week, the Chargers are staying focused on the next game against the Arizona Cardinals on Sunday.
OPINION
-- L.A. wasn't built in the desert, but the desert may be coming to us.
-- Americans don't trust their government, its institutions or each other. This is not a good place to be.
WHAT OUR EDITORS ARE READING
-- Sandra Parks wrote an award-winning essay about the constant shootings in her hometown. This week, she was killed by a stray bullet. (CNN)
-- The Iraqi currency scam targeting Trump supporters. (The Daily Beast)
-- The science behind why biscuits are usually better when made in the South. (The Atlantic)
ONLY IN L.A.
It hangs on a hillside in Hollywood, has flying buttresses and was reportedly once home to Ann Miller and Marlon Brando. Now, John Gilbert Getty of the J. Paul Getty oil family owns this 1926 house designed by architect A.F. Leicht. Real estate records show Getty recently purchased it for $3.9 million. You can take a look for free.
If you like this newsletter, please share it with friends. Comments or ideas? Email us at headlines@latimes.com.
---