Newsletter: Today: 'Arguably, You Sold Your Country Out!'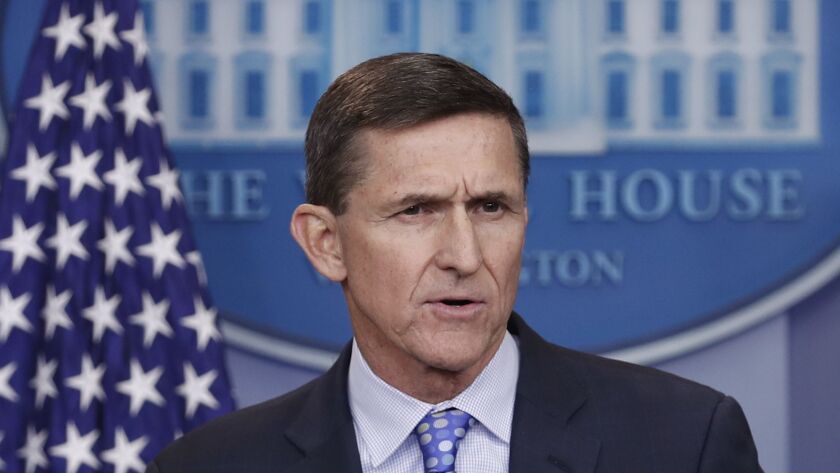 A federal judge chastised former Trump national security advisor Michael Flynn before delaying his sentencing for lying to the FBI.
TOP STORIES
'Arguably, You Sold Your Country Out!'
"Disgust." "Disdain." "A very serious offense." These were just a few of the words a federal judge had for Michael Flynn, President Trump's first national security advisor, for lying to the FBI about his contacts with the Russian ambassador to Washington shortly after the 2016 election — and for secretly working as a lobbyist for a foreign government during the campaign and the presidential transition. "Arguably, you sold your country out!" said U.S. District Judge Emmet G. Sullivan. Special counsel Robert S. Mueller III had recommended no prison time for Flynn, given Flynn's 33-year military career and "substantial assistance" in three investigations. But the judge delayed Flynn's sentencing and made no promises about sparing him. Under oath, Flynn said the FBI did not entrap him or violate his rights, as the White House and others have suggested.
Shutting Down the Shutdown?
Remember last week when Trump said he'd be "proud" to shut down the federal government if he did not get $5 billion to build a wall on the southern border? On Tuesday, he appeared to back away from that demand. Without offering specifics, White House Press Secretary Sarah Huckabee Sanders cryptically said, "We have other ways that we can get to that $5 billion." Still, Trump has apparently frustrated even Republican members of Congress by not articulating what kind of deal he would accept to avoid a shutdown on Saturday.
More Politics
-- The Senate has approved a bipartisan overhaul of criminal sentencing and the federal prison system, an initiative pushed by Trump's aide and son-in-law, Jared Kushner.
-- The New York attorney general announced that Trump had agreed to shut down his personal charity and give away its remaining funds amid allegations he used it for his personal and political benefit in "a shocking pattern of illegality."
-- After more than a year, the Trump administration followed through on the president's promise to ban bump stocks, but a new school safety report goes light on other gun control measures.
'I Was Controversial From Day One'
Dr. George Tyndall, the former gynecologist at USC's student health center, is under intense scrutiny as detectives look into allegations that he sexually abused hundreds of patients over nearly three decades at the university. Tyndall is the focus of the largest ever LAPD sex crimes investigation with a single suspect. He has denied all wrongdoing. L.A. Times interviews with him and more than two dozen associates paint a portrait of a man of intelligence who excelled in college, medical school and the U.S. Navy, but struck many as socially awkward and sometimes overbearing.
In a League of Her Own
As Laverne DeFazio on the TV show "Laverne & Shirley," Penny Marshall became a household name in the 1970s. As a director, she hit it big with the 1988 movie "Big," making history as the first woman to direct a film that grossed more than $100 million. More films, such as "Awakenings" and "A League of Their Own," would follow. But perhaps most of all, Marshall, who died at age 75, will be remembered for her down-to-earth quality. As TV critic Robert Lloyd puts it: She was who she was.
Sign up to get Today's Headlines delivered to your inbox. »
FROM THE ARCHIVES
In December 1952, young singer Jimmy Boyd scored a hit with the single "I Saw Mommy Kissing Santa Claus," which sold 2 million copies in 10 weeks. In February 1953, Boyd had a court hearing to change his professional contracts after the song's success. The judge had some advice for Boyd, even though "I have never heard you sing, Jimmy, not even that record about Mommy osculating with Santa."
CALIFORNIA
-- An L.A. teachers strike appears more likely after a key report failed to bring the union and district together.
-- The use of chemical spray to subdue juvenile offenders in L.A. County detention facilities has risen sharply in recent years, prompting the Board of Supervisors to order an investigation into safety conditions.
-- U.S. Customs and Border Protection says it seized 129 pounds of narcotics and arrested two people after an ultralight aircraft with no lights flew over the border and landed just north of Calexico.
-- A Yemeni mother who was unable to obtain a travel ban waiver to visit her dying 2-year-old son in Oakland has been granted a visa by the State Department.
HOLLYWOOD AND THE ARTS
-- Dan Levy, co-creator and co-star of "Schitt's Creek," discusses how far the series has come and where it's going next.
-- Kacey Musgraves says she envisioned her Grammy-nominated studio album "Golden Hour" as a "beautiful hiding place."
-- Los Angeles County Museum of Art Director Michael Govan says he isn't worried about missing a year-end fundraising target for a new building, but the challenges remain.
-- The homelessness crisis in L.A. has inspired some purposefully small ideas: tiny houses, on display at the Main Museum in downtown L.A..
NATION-WORLD
-- Harvey Weinstein's scorched-earth defense against rape allegations has had some success, but it could also backfire in court this week.
-- The United States says it's adding billions of dollars to an ambitious Mexican development project for that country's southern region and Central America as a way to deter migration.
-- Arizona Gov. Doug Ducey has appointed fellow Republican Rep. Martha McSally to the Senate. She lost a close race for Arizona's other Senate seat this year.
-- During a speech to mark 40 years of market reforms, China's President Xi Jinping said his country will never pursue hegemony.
-- India is trying to build a world-class city from scratch, and it's been looking to Singapore for help.
BUSINESS
-- While other retailers struggle with the shift to online shopping, TJX Cos. — the parent of T.J. Maxx, Marshalls and HomeGoods — has been thriving for years by offering brand-name goods at discount prices.
-- Fox News is backing Tucker Carlson as advertisers drop his show. Carlson said mass immigration makes the U.S. "poorer and dirtier and more divided."
SPORTS
--The early signing period in college football starts today. It hasn't taken long for it to become the biggest day in recruiting.
-- Sources say a Major League Baseball proposal that would allow clubs to sign players out of Cuba next year, rather than forcing them to first defect from the country and establish residency elsewhere, was presented to clubs.
OPINION
-- Kudos to Trump for banning bump stocks. Can Congress dig up the courage to follow suit?
-- The war in Afghanistan isn't a "stalemate." The U.S. has lost.
WHAT OUR EDITORS ARE READING
-- Internal records show Facebook had agreements with Microsoft, Amazon and others, effectively exempting some partners from privacy rules. (New York Times)
-- A 90-year-old U.S. Army veteran-turned-academic, specializing in Victorian theater, is being mistaken for an ISIS terrorist known as "Akhmed the One-armed." (The Guardian)
-- Can a former NPR news boss, ousted amid allegations of sexual harassment, and a former Fox News editor, who left after writing a column panned as racist and anti-gay, help launch a digital news startup with the goal of restoring faith in media? (Politico)
ONLY IN L.A.
Elon Musk has a vision of self-driving cars traversing L.A. in tunnels at speeds of up to 150 mph. The unveiling of the first stretch, just over 1 mile running 20 to 40 feet beneath the streets of Hawthorne, showed he's not quite there yet. On Tuesday night, a Tesla Model X piloted by a onetime Indianapolis 500 driver took a bumpy ride through the tunnel at a top speed of 53 mph. "The bumpiness will not be there down the road. It will be as smooth as glass," Musk says. "This is just a prototype. That's why it's just a little rough around the edges."
If you like this newsletter, please share it with friends. Comments or ideas? Email us at headlines@latimes.com.
---