Newsletter: Today: Trump, Russia and the 'Most Insulting' Question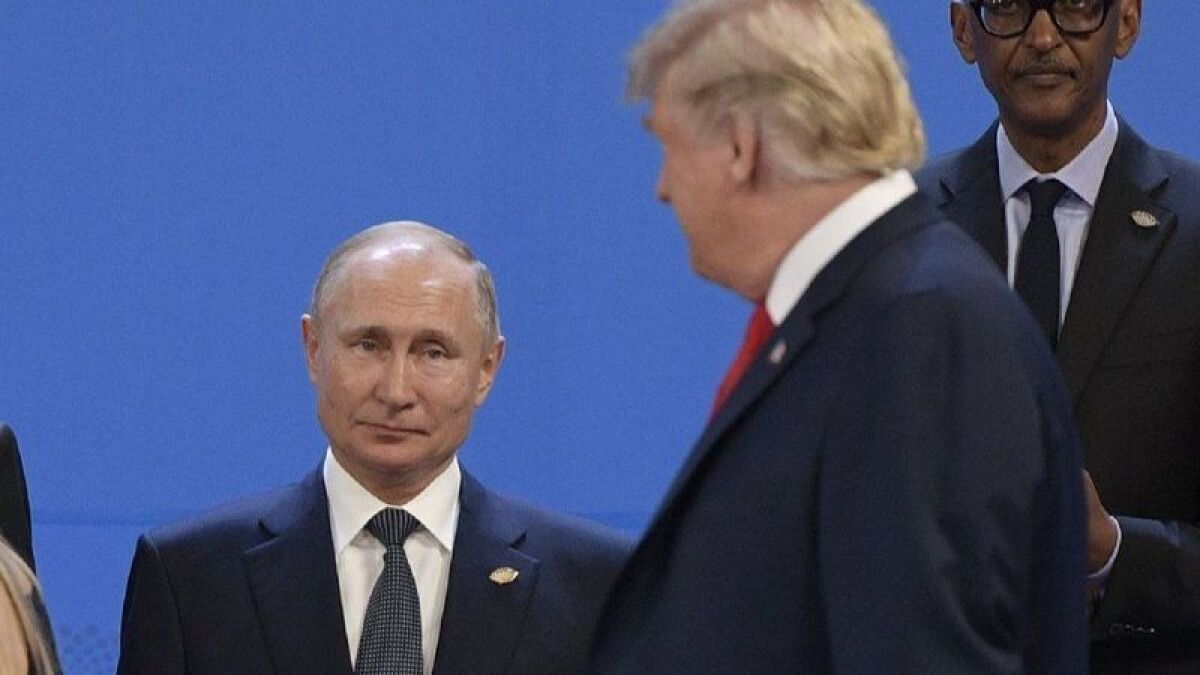 Congressional Democrats plan to investigate President Trump's ties to Russia after two bombshell news reports over the weekend.
TOP STORIES
Trump, Russia and the 'Most Insulting' Question
Two explosive Russia-related news reports have prompted congressional Democrats to promise more scrutiny of President Trump's dealings with Russia: a New York Times story that the FBI opened a counterintelligence probe in 2017 into whether the president of the United States was working on behalf of the Kremlin, and a Washington Post article about Trump's extraordinary efforts to conceal what was said in his face-to-face talks with Russian President Vladimir Putin. Trump's defenders have rallied around him, attacking the motives of federal investigators and arguing Trump has no obligation to reveal what he said to Putin. After the news broke, Trump called into Fox News host Jeanine Pirro's show, where she asked him whether he had ever "worked for Russia." Trump's response: "I think it's the most insulting thing I've ever been asked — I think it's the most insulting article I've ever had written." Even before the two reports, there have been signs of a looming fight from Trump to limit how much of special counsel Robert S. Mueller III's report will become public. Here's a quick look at what we know — and some of the many things we don't — in the Russia investigation.
And South Korea Will Pay More for It …
The Trump administration is in a standoff with South Korea, one of its major allies, over the cost of basing troops there. U.S. negotiators want a 50% increase in Seoul's annual payment, which was approximately $830 million last year. South Korea is expected to make a counteroffer soon, amid fears that Trump could threaten an abrupt troop drawdown at a time of sensitive diplomacy. Meanwhile, Trump threatened in a tweet to "devastate Turkey economically if they hit Kurds," some unusually harsh words for a member of NATO, while announcing that the pullout of U.S. troops from Syria has begun.
More Politics
-- Sen. Lindsey Graham now says Trump should agree to reopen the government and continue trying to hammer out a deal with Democrats on funding his border wall — and if no progress is made in three weeks, the president should declare a national emergency.
-- The Senate confirmation hearing for William Barr, Trump's nominee for U.S. attorney general, starts Tuesday. Democrats are gearing up to press Barr on a range of issues, including how he would oversee the special counsel investigation.
-- In Qatar, Secretary of State Michael R. Pompeo urged Saudi Arabia and other U.S. Arab allies to repair a long-festering rift with the country. His swing through the Middle East will continue today.
-- House Minority Leader Kevin McCarthy is promising "action" after the latest racist remarks by Rep. Steve King and says he'll meet with King today.
A Troubling Development in Downtown L.A.
Billions of dollars are being invested in skyscrapers rising in the downtown core of Los Angeles, much of it from Chinese companies. Now, some of those developers have become a focus of federal agents seeking evidence of possible bribery, extortion, money laundering and other crimes as part of a corruption investigation at City Hall. A search warrant that names an array of political and business figures does not say the FBI has gathered evidence of criminal activity by any of the people or companies named.
Teachers' Strike 101
Barring an unlikely last-minute deal, teachers in the Los Angeles Unified School District will go on strike this morning for the first time in three decades. As with a lot of things in life, the dispute between the district and United Teachers Los Angeles is, at its core, about money. Now school administrators and parents will have to figure out what to do without 31,000 striking teachers union members. The district says a strike is not a valid excuse to miss school, but school police won't enforce truancy laws — so no one's quite sure how many students will show up. This primer explains what parents and schools might expect.
The Lights Are Flashing at PG&E
PG&E Corp. is facing billions of dollars in wildfire liabilities; the company has announced its chief executive is leaving and said Monday it will file for bankruptcy. How could things get worse? If California prosecutors decide to file murder charges against the utility stemming from the Camp fire, which killed 86 people and decimated the Sierra Nevada city of Paradise. But history shows convicting a company of murder is far easier said than done.
Sign up to get Today's Headlines delivered to your inbox. »
OUR MUST-READS FROM THE WEEKEND
-- Is Tehran spying on Southern California? Federal authorities allege an Orange County waiter and a man from Long Beach nicknamed "Chubby" were agents of Iran.
-- Everyone into the pool: Democratic politicians are looking ahead to the 2020 presidential race and thinking, "Why not?" This graphic breaks down who is in and who is on the fence.
-- Columnist Mary McNamara writes that former Pixar chief John Lasseter's return to head another company proves that Hollywood still does not understand the damage he did.
-- Scientists say that one day our sun will solidify into a giant crystal orb. But that's tens of billions of years away, so don't worry too much about it.
-- America's love-hate relationship with Marie Kondo and our clutter.
CALIFORNIA
-- A federal judge in California has blocked Trump administration rules that would allow more employers to opt out of providing women with no-cost birth control from taking effect in 13 states and Washington, D.C.
-- A 4-year-old in Riverside County has died of the flu, bringing the state's death toll from influenza so far this season to 52.
-- Expect a wet week in Southern California. This morning, the second in a string of five back-to-back storms is hitting, and it should rain every day through Thursday.
-- L.A. County is considering what amounts to a voluntary ban on electric scooters as it develops regulations for companies to operate them safely in unincorporated areas.
HOLLYWOOD AND THE ARTS
-- When "Hamilton" backed out of playing at the University of Puerto Rico, campus theater officials say they lost hundreds of thousands of dollars and faith in a musical they thought would be their hero.
-- National Geographic's six-part series "Valley of the Boom" chronicles the rise of the internet and 1990s Silicon Valley from boom to bust. TV critic Lorraine Ali calls the docudrama "as sober and informative as it is snarky and entertaining."
-- Fans of "Game of Thrones" have waited more than a year to hear when exactly the final season would begin. Wait no longer: April 14 is the date.
-- After collaborating with Spike Lee on numerous films, composer and jazz trumpeter Terence Blanchard is looking to score his first Oscar nomination for "BlacKkKlansman."
NATION-WORLD
-- A winter storm that contributed to at least five deaths in the Midwest pummeled the mid-Atlantic region with an icy mix that knocked out power, canceled flights and contributed to hundreds of car crashes.
-- The future of the government in Greece has been thrown into question over a pending agreement with neighboring Macedonia about its name.
-- Are Mexico's gasoline shortages a self-inflicted crisis by the country's new president?
BUSINESS
-- Just hours after launching its first rocket of 2019, SpaceX stunned employees last week by announcing roughly 10% of its workforce would be laid off. Most of those layoffs will be at its headquarters in Hawthorne.
-- Why do 401(k) and IRA contributions have such different rules?
SPORTS
-- The Chargers bowed out of the NFL playoffs with a 41-28 loss to the New England Patriots, while the Rams are one victory away from a Super Bowl appearance.
-- The Cleveland Cavaliers ended a 12-game losing streak with a 101-95 victory over the Lakers.
OPINION
-- Trump has proved remarkably inept at governing. That's a good thing for democracy.
-- With all Gov. Gavin Newsom has going for him, there's little excuse for failure.
WHAT OUR EDITORS ARE READING
-- "What if the obstruction was the collusion?" (Lawfare)
-- "The weight I carry: What it's like to be too big in America." (The Atlantic)
-- The pride and the pain of having Banksy create an artwork on your garage. (The Guardian)
ONLY IN L.A.
"I am a happily married man. Yet I have a mistress. She is large, heavy and 87 years old. In fact, she looks like a house because, yes, wait for it, she is a house." That's what it's like for Rodney Kemerer, who owns the George R. Kress House, a Tudor Revival-style home listed on the National Register of Historic Places and designated as a historical-cultural monument of the city of Los Angeles. So what's not to love? "Most of our fights are plumbing related." On that count, Kemerer's experience is a lot like other homeowners'.
If you like this newsletter, please share it with friends. Comments or ideas? Email us at headlines@latimes.com.
---