Newsletter: Today: Off the Rails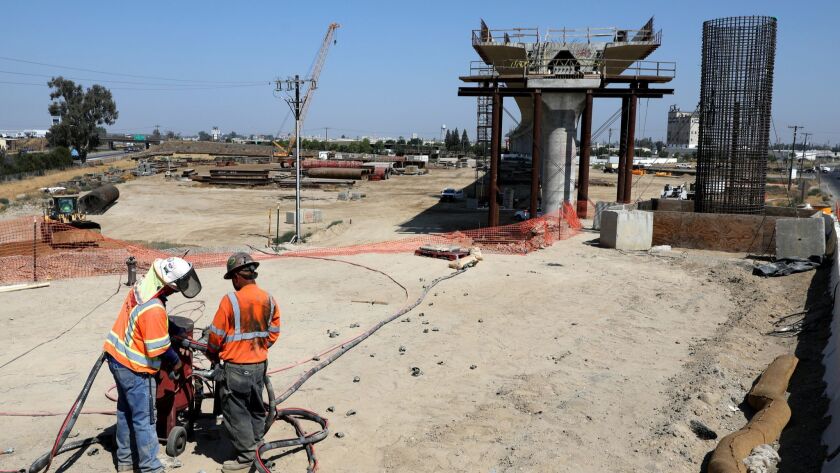 The future of the California bullet train is further in doubt after the Trump administration goes after federal grants for the project.
TOP STORIES
Off the Rails
Since new California Gov. Gavin Newsom said last week he was planning to scale back the state's high-speed rail project, President Trump has tweeted more than a few times about "the failed Fast Train" and demanded the return of $3.5 billion in federal money. Now, the U.S. Department of Transportation is looking to cancel $929 million in grant funds and is "actively exploring every legal option" to claw back an additional $2.5 billion being used to finance the construction of 119 miles of rail line in the Central Valley. It says the state has violated the terms of the grant agreement. Is the move political payback? That's what Newsom and others are alleging, considering that the announcement came right after California and 15 other states sued over Trump's declaration of a national emergency at the U.S.-Mexico border. With the bullet train's future even more uncertain, one state GOP lawmaker wants to turn part of Interstate 5 and Highway 99 into a speed-limitless autobahn. What to make of all of this? Columnist Steve Lopez says that, one way or another, we're in for a wild ride.
More Politics
-- Trump has denied a report that he asked former acting Atty. Gen. Matthew Whitaker whether an ally could undo his recusal in an investigation of former Trump attorney and fixer Michael Cohen.
-- Trump says he intends to nominate Jeffrey Rosen to be the next deputy attorney general, with Rod Rosenstein expected to leave that post in March.
-- Justice Clarence Thomas has filed a solo opinion that should appeal to Trump: He said the Supreme Court should make it easier for public figures to sue for libel.
-- Bowing to bipartisan concerns in Congress, Trump retreated from his plan to create an independent "space force," proposing instead to consolidate the military's space operations and personnel in the Air Force.
-- A U.S. district judge has ordered political operative Roger Stone to report to court Thursday and explain why she shouldn't revoke his bail or impose a full gag order in his criminal case after an inflammatory Instagram post.
A City on the Edge
For the beleaguered people of Venezuela, the Colombian border town of Cucuta has served for years as a place to buy food, medicine and other basics no longer available at home — or as the first step on a journey elsewhere. Now it's the focus of an international standoff over food and medicine from the U.S. and the White House's efforts to oust Venezuelan President Nicolas Maduro. This weekend, there will even be dueling aid concerts with deeply political subtexts on both sides of the border.
Water, Water, Everywhere …
If you think California's winter has been awfully rainy, you're not all wet: Storms have dumped an estimated 18 trillion gallons of rain — nearly half the volume of Lake Tahoe — in February alone, increasing the snowpack but also causing extensive damage to roadways in Southern California. Another mild storm is expected to descend on the L.A. area by Thursday. So how much of all this water is being saved in a state prone to droughts and water shortages? Not nearly enough. Climatologist Bill Patzert estimates that more than 80% of Southern California's rainfall ends up in the Pacific. Read on to see why — and what might be done to change that.
From Trailblazer to Role Model
As a Dodgers pitcher, Don Newcombe was the first player in major league history to win the rookie of the year, Most Valuable Player and Cy Young awards. As one of the first African American players in the majors, he had to put up with racial taunts, death threats and discrimination. But after alcoholism cut short his career, Newcombe considered his post-baseball work the most significant: "Being able to help people [get] their lives back on track and ... become human beings again, means more to me than all the things I did in baseball." Columnist Bill Plaschke takes a look back at Newcombe, who has died at 92, as a person who made the world around him a better place.
Sign up to get Today's Headlines delivered to your inbox. »
CALIFORNIA
-- An L.A. judge has ruled that secret records from shootings, use of force and some misconduct by police officers in the state are public even if they occurred before a new transparency law took effect this year.
-- L.A. County supervisors have approved a "phased elimination" of pepper spray in juvenile detention halls after reports of abuse.
-- The L.A. City Ethics Commission is backing new restrictions on political donations from real estate developers seeking approval for their building plans.
-- After suing Huntington Beach for allegedly failing to comply with state housing laws, Gov. Newsom is warning cities he'll continue to crack down on them.
HOLLYWOOD AND THE ARTS
-- Countdown to Sunday's Oscars: This L.A. couple has seen "Bohemian Rhapsody" 24 times. The husband calls it "two hours of freedom."
-- After allegations of sexual misconduct, John Duran will step aside as chairman of the board of the Gay Men's Chorus of Los Angeles immediately. He cited health reasons.
-- The L.A. Phil's 2019-20 season will feature social justice, gender parity … and a little Sondheim.
NATION-WORLD
-- The Supreme Court will decide whether the Clean Water Act limits Hawaii's underground wastewater dumping.
-- An Alabama newspaper editor has called for mass lynchings and suggested that the Ku Klux Klan should return to "clean out" Washington.
-- Commanders of a U.S.-backed militia say it has sent trucks to the edge of Islamic State's dwindling territory in eastern Syria to evacuate hundreds of civilians as well as surrendering fighters, many of them foreign-born.
-- A flight from L.A. to London reached 801 mph thanks to a jet stream with record-breaking speeds.
-- Karl Lagerfeld, one of the most daring designers of his generation, who transformed the French luxury brand Chanel into a world power of style, has died at 85.
BUSINESS
-- In 2013 and 2014, the then-owners of the Orange County Register bought life insurance policies on their own employees. Seem ghoulish? The Pension Benefit Guaranty Corp. is calling it a violation of the company's fiduciary duties to its own workers.
-- For super VIPs, American Airlines is offering helicopter rides to the airport and private lounges in Los Angeles and New York.
SPORTS
-- Manny Machado, the four-time All-Star infielder who played for the Dodgers last season, is off the free-agent market. He's agreed to a 10-year, $300-million deal with the San Diego Padres.
-- Angels owner Arte Moreno says he is interested in buying the two local Fox Sports outlets — FS West and Prime Ticket — that air his team's games.
OPINION
-- Relax: Bernie Sanders and the Democrats aren't trying to turn the U.S. into Venezuela.
-- Columnist Doyle McManus says "America first" increasingly looks like America alone.
WHAT OUR EDITORS ARE READING
-- Inside Trump's two-year war on the investigations encircling the president. (New York Times)
-- What we can learn from Fred Korematsu, 75 years after the Supreme Court ruled against him in the incarceration of Japanese Americans. (NBC News)
-- How the tools of writing may influence how we write. (The New Yorker)
ONLY IN L.A.
The black cat with the rhinestone collar. The hand-walking clown. The petunia that dances and sings. These beloved characters and 2,000 other puppets handcrafted by marionette mastermind Bob Baker are about to get a new home. After more than 55 years in a small cinder block building on the edge of downtown L.A., the Bob Baker Marionette Theater will move to a site that's been a movie theater, barbershop, organ sales and repair store, and Korean church. Of course.
If you like this newsletter, please share it with friends. Comments or ideas? Email us at headlines@latimes.com.
---