Newsletter: Today: Trump Faces New Pressure on the Hill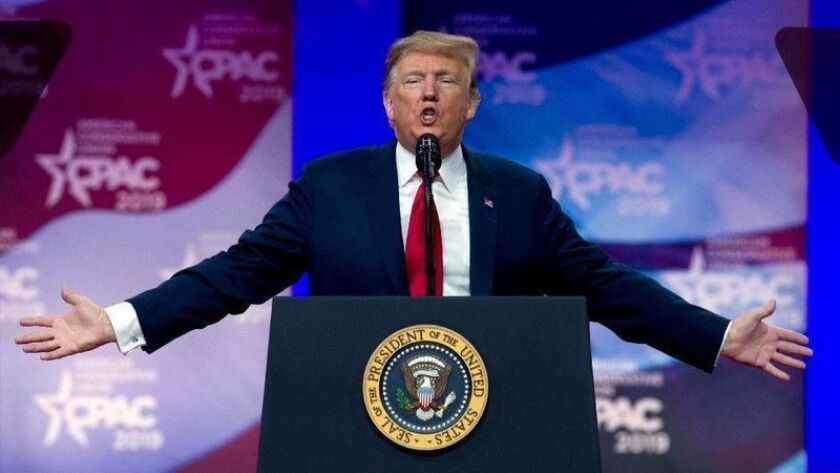 President Trump is looking at a likely rebuke in the Senate over his border emergency declaration — and a new House investigation of his actions.
TOP STORIES
Trump Faces New Pressure on the Hill
President Trump's relationship with Congress is about to get much rockier, and not just in the Democratic-controlled House. With Sen. Rand Paul now opposing Trump's emergency declaration to get funding for a border wall, the GOP-led Senate appears poised to pass a resolution to rescind that declaration. That would probably lead to Trump's first veto, and at this point, there's not enough support in the House or the Senate to override it. Meanwhile, House Democrats are signaling the start of a sweeping new investigation into whether the president obstructed justice and abused his power. The head of the House Judiciary Committee, Rep. Jerrold Nadler, says the probe will seek documents from dozens of organizations and individuals, including Donald Trump Jr. and the president's closest business associates. President Trump's response: furious tweeting that he's an "innocent man being persecuted," along with more attacks against investigators, the news media and his former personal lawyer Michael Cohen.
More Politics
-- The Pentagon is permanently canceling the large-scale military exercises in South Korea usually held in the spring. The timing of the decision after Trump's collapsed summit with Kim Jong Un raises questions about whether Trump is giving away a major piece of leverage over North Korea, which has long denounced the exercises as provocative, with nothing in return.
-- At the annual Conservative Political Action Conference, Trump spoke for more than two hours, deriding investigations of himself, repeatedly complaining about coverage of his crowd sizes and abruptly announcing an executive order to mandate protection of "free speech" on college campuses.
-- John Hickenlooper, the two-term former Democratic governor of Colorado, has entered the crowded presidential field.
Will He Turn In His Badge?
When Alex Villanueva took over as L.A. County sheriff in December, he reinstated one deputy — Caren Carl Mandoyan, who was fired in 2016 by then-Sheriff Jim McDonnell in connection with allegations of domestic abuse and stalking. It just so happened Mandoyan had served as a trusted member of Villanueva's campaign team. Now county officials have told Mandoyan his reinstatement was unlawful, his salary and benefits have been stopped, and that he must turn in his gun and badge. But Villanueva has suggested he's not backing down.
An Aerospace Pioneer Pilots USC
She grew up in the tenements and public housing projects of the Bronx, attended elite schools in New York and Pennsylvania and rose through the ranks of the Southern California defense industry to run the Aerospace Corp. in El Segundo. Now, as interim president of USC, Wanda Austin is trying to lead the university to a better place after a series of scandals, even if that means upsetting some donors.
The Killa Commute in Manila
If you think traffic and public transportation in L.A. are bad, welcome to Manila. Rather than take an hour by car or bus to travel across the Pasig River, some commuters choose a riskier option: paying 40 cents for a mile-long ride on a hand-pushed cart on an active rail line. ("It's safe," insists one "trolley pusher." "I know the train schedule. I can hear the train when it's coming.") But with a modernization effort aimed at improving the Philippines' infrastructure and commuter networks, the days of this and other makeshift forms of transportation may be numbered.
Sign up to get Today's Headlines delivered to your inbox. »
OUR MUST-READS FROM THE WEEKEND
-- Firefighter suicides are on the rise. Some fear that longer, more chaotic fire seasons are partly to blame.
-- The Trump-Kim summit was a flop. Columnist Doyle McManus outlines a lesson for the president.
-- Is Democratic presidential contender Sen. Kamala Harris the modern-day sequel to Ronald Reagan?
-- The California bullet train project will probably run out of money before it can fulfill Gov. Gavin Newsom's modest plan to build a segment between Bakersfield and Merced, according to a Times analysis.
-- Under Arizona's desert near Tucson lies a world of weird rocks, caverns and ghosts.
FROM THE ARCHIVES
The Little Brown Church in the Valley in Studio City has hosted more than 23,000 weddings. But it's probably best known as the site of the union between Ronald Reagan and Nancy Davis on this date in 1952. The only guests in attendance at the church, which is indeed a little, brown structure on Coldwater Canyon Avenue: actor William Holden and his wife, Ardis.
CALIFORNIA
-- Newport Beach school officials say they are investigating images posted on social media appearing to show a group of partying students, with arms outstretched in a Nazi salute, gathered around red plastic cups arranged in the form of a swastika.
-- Authorities say a 59-year-old Long Beach man has been arrested in connection with a fatal blast at an Aliso Viejo day spa that claimed the life of his ex-girlfriend and business partner last year.
-- In East Hollywood, some people eat $9.50 avocado toast while others consider Yoshinoya a splurge. How to bring these different versions of L.A. together? Columnist Frank Shyong tries a brunch summit.
-- Southern California's next strong storm will bring rain beginning Tuesday. Here's how the week is shaping up.
HOLLYWOOD AND THE ARTS
-- The documentary "Leaving Neverland," a disturbing portrait of Michael Jackson and childhood trauma, has begun showing on HBO. TV critic Lorraine Ali says that "it's impossible to look away even while it's clear this tale has a tragic end."
-- After "Roma's" three Oscar wins, director Steven Spielberg will propose rule changes that would prevent streaming services such as Netflix from competing without their projects getting a full theatrical run first.
-- Director Gaspar Noé's movie "Climax" opens with an unforgettable dance sequence. It might come as a surprise that the cast rehearsed for only about three days.
-- The 1981 musical "Merrily We Roll Along," a rare Stephen Sondheim flop, has a cult following that's only grown over the decades. This is the back story of how it returned to Broadway.
NATION-WORLD
-- Authorities say at least 14 people were killed by a possible tornado in Alabama. Severe storms destroyed mobile homes, snapped trees and left a trail of destruction and weather warnings extending into Georgia, Florida and South Carolina.
-- In Israel, Prime Minister Benjamin Netanyahu did some very Trump-like lashing out in the face of pending indictments.
-- Separatist Catalans on the lam from Spain have established a "government in exile" in a Belgian house.
-- Brazil has startling rates of domestic violence. Now, therapists, judges and activists agree that if protecting women is the goal, working on men is the answer.
BUSINESS
-- Automakers, engineers, lawmakers and police are working out how self-driving cars will interact with authorities when it comes to traffic stops, hand signals and so on.
-- SpaceX's Crew Dragon capsule successfully docked with the International Space Station after autonomously maneuvering itself. It was another major milestone.
SPORTS
-- Despite Kyla Ross' two perfect scores, UCLA gymnastics fell to Oklahoma for its first loss of the season.
-- Landry Shamet set a Clippers rookie record for three-pointers during the team's win over the Knicks. So how do you say his last name? It rhymes with a curse word.
OPINION
-- Is gulping soda as bad as smoking? California seems to think so.
-- Columnist George Skelton says we should stop thinking about more dams. The future for water storage in California is underground.
WHAT OUR EDITORS ARE READING
-- Sen. Rand Paul writes an op-ed: "I support President Trump, but I can't support this National Emergency Declaration." (Fox News)
-- The Kashmir conflict: How did it start? (National Geographic)
-- British novelist Helen Oyeyemi has a new book coming out. After living in quite a few places, she's settled down in Prague: "I had such a lovely time dating different cities." (The Guardian)
ONLY IN L.A.
In sports, as in life, there are unwritten rules. In the Dodgers' clubhouse, one of those surrounds a certain number. No. 34. That is what Dodgers pitching great Fernando Valenzuela wore. Since 1990, no one has worn it, even though the number has not been officially retired. So when star free agent Bryce Harper, who wore No. 34 with the Washington Nationals, decided to head to Philadelphia instead of L.A., there was a strange sense of relief among the Dodgers' equipment managers.
If you like this newsletter, please share it with friends. Comments or ideas? Email us at headlines@latimes.com.
---