Since the appointment of Neil M. Gorsuch and Brett M. Kavanaugh to the Supreme Court, Republican lawmakers in at least half a dozen conservative states have enacted abortion bans with the intent to challenge Roe vs. Wade. But is the Supreme Court ready to act?
TOP STORIES
Sidestepping Abortion Issue — for Now
In its first abortion decision of the year, the Supreme Court indicated that it is not ready to reconsider Roe vs. Wade. Without dissent, the court rejected an Indiana law, adopted in 2016 and signed by then-Gov. Mike Pence, that made it illegal for women to end pregnancy because of the race, gender of the fetus or a diagnosis of Down syndrome. The justices, however, upheld a provision of the law requiring clinics to bury or cremate the remains of the fetus.
More on the abortion front
— The last clinic in Missouri to provide abortions may be pressured to stop the practice within the next few days. According to Planned Parenthood, the state's health department is threatening to refuse to renew the clinic's license unless its doctors consent to questioning. If the license is not renewed, Missouri would be the only state without a health center to provide women with access to a legal abortion.
— At a televised town hall, Sen. Kamala Harris laid out a proposal that would shift the burden on states or localities to prove that state abortion laws are constitutional before they could go into effect. Currently the burden is on advocates for abortion rights to challenge laws in court.
— UC San Francisco is dropping its plans for expanded affiliation with Dignity Health, a Catholic hospital chain that has restricted abortions, transgender care and other services, writes columnist Michael Hiltzik.
— Netflix Chief Content Officer Ted Sarandos announced the studio and streaming service would rethink its "entire investment in Georgia" if legislation to prohibit an abortion once a heartbeat is detected becomes law on Jan. 1. Georgia is the third-largest production location in the country.
Unlicensed Weed Shops Refuse to Stand Down
Under pressure from lawmakers and cannabis lobbyists, the city of Los Angeles has increased its efforts to shut down unlicensed pot shops, but despite police raids and a ramped-up enforcement of regulations, black-market dispensaries continue to operate. After reviewing an online directory for marijuana businesses in the city, The Times found that out of 365 dispensaries, more than 220 were operating without a license.
Admission Scandal Not Limited to College
As the college admission scandal widens, West Hollywood College Preparatory School is coming under scrutiny for issuing diplomas to individuals who neither took courses nor set foot on the high school campus. The practice seems to go back nearly five years, and all it took was $280, a test and the presiding influence of the school's former director, Igor Dvorskiy, and the mastermind of the national scandal, William "Rick" Singer.
Into Thinner Air
By not restricting permits to climb Mt. Everest, Nepal has opened the once elite mountaineering experience to hobbyists and adventure seekers, creating a traffic jam through the perilous region en route to the summit known as the "death zone." So far this year, 11 people have died, the highest number since 2015. Interested in making the climb? All you need is a doctor's note.
The Fire Next Time
Despite evidence pointing to the effectiveness of prescribed or "controlled" burns for clearing brush, restoring ecosystems and controlling wildfire, the number of intentional fires set in the West has declined over the last 20 years. Despite President Trump blaming state officials for last year's catastrophic fire season, research puts the responsibility on federal agencies, most of which are under the Interior Department.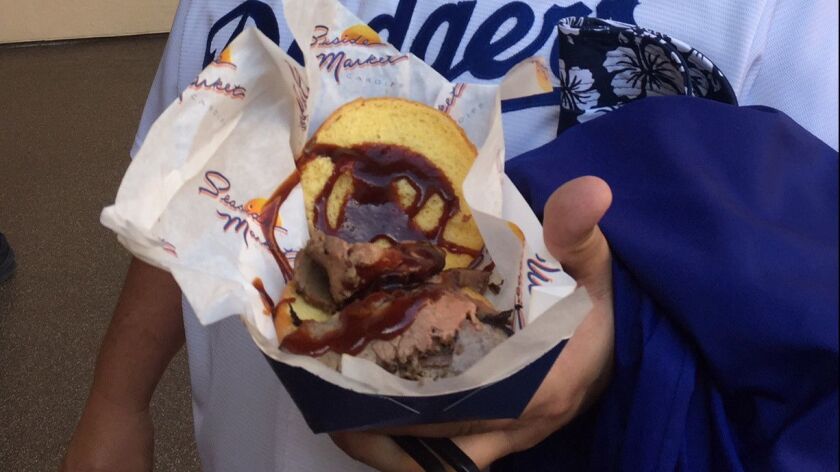 Beyond Ballpark Food
Coconut shrimp, tri-tip nachos, steak tacos, mahi-mahi tacos — the menu at Petco Park in San Diego leaves many Dodgers fans wondering why Padre fans are so lucky. Most agree that the food back home, including the new addition of a $21 hot dog, needs improving. There are good reasons why the stadium lags behind others in culinary feats, but even Dodgers President Stan Kasten admits, "What Petco has done is great, great, great."
Your support helps us deliver the news that matters most. Subscribe to the Los Angeles Times.
FROM THE ARCHIVES
On this date in 1973, Councilman Tom Bradley defeated incumbent Sam Yorty to become L.A.'s first black mayor. Over the next 20 years, Bradley — a former LAPD officer and the grandson of slaves — would go on to shape modern Los Angeles as the longest-serving mayor in city history.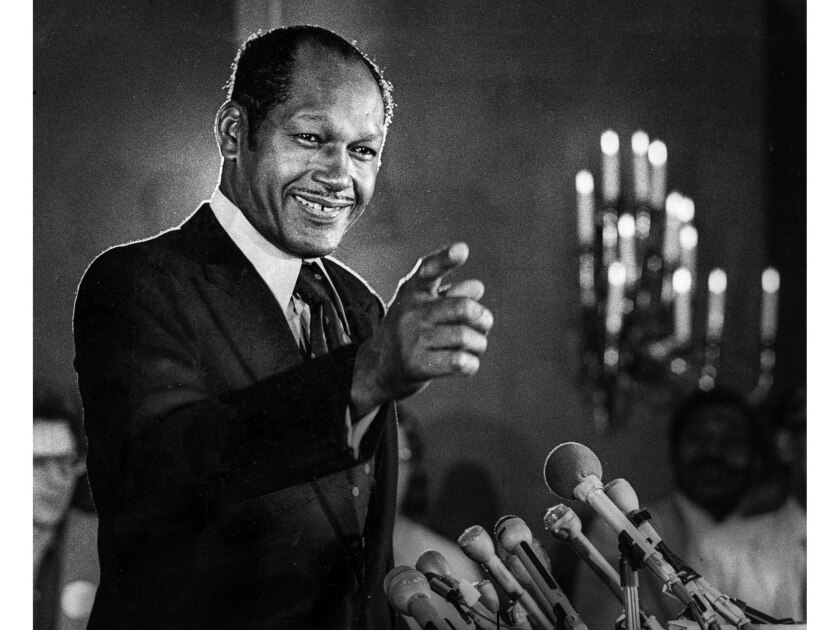 CALIFORNIA
— With opposition lining up against Measure EE — a parcel tax on residential and commercial property that would raise about $500 million a year for L.A. Unified — Steve Lopez met with Supt. Austin Beutner and union President Alex Caputo-Pearl. Onetime adversaries, the two have joined forces to champion the measure, begging the question of what lies ahead for the district if voters say no.
— California lawmakers have drafted legislation that would require manufacturers of smart speakers to obtain permission from consumers before the devices save any recordings. The bill, which faces strong opposition from the technology industry, passed on a bipartisan vote in the state Assembly and heads to the Senate this summer.
— Charles "Chase" Merritt and Joseph McStay were business partners at odds with each other. McStay claimed Merritt owned him $42,845, an allegation that, according to prosecutors, resulted in Merritt brutally killing McStay and his family and burying them in a shallow desert grave. The five-month trial of Merritt, who pleaded not guilty to the charges, is in closing arguments.
— After admitting to running over a school employee, a 16-year-old from Newbury Park will spend 11 months in a juvenile detention facility. "When you decided to hit the gas and just run me down, what was going through your mind?" the victim asked the youth in court.
HOLLYWOOD AND THE ARTS
— Despite stellar reviews, the teen coming-of-age comedy "Booksmart" grossed a disappointing $8.6 million in the first four days of its release ("Aladdin" raked in $112.7 million). Was "Booksmart's" debut botched by the distribution company?
— As Netflix continues to produce its own original films, the studio and streaming service has positioned itself at the forefront of the rom-com revival. Its latest addition, "Always Be My Maybe" — streaming May 31 — captures the confusingly intertwined dynamics between love, friendship and family.
— At Cannes, where female filmmakers have long been underrepresented, Céline Sciamma has become a familiar presence. Last year the director protested gender inequality, and this year she won the festival's screenplay prize for her "Portrait of a Lady on Fire."
Sign up to get Today's Headlines delivered to your inbox. »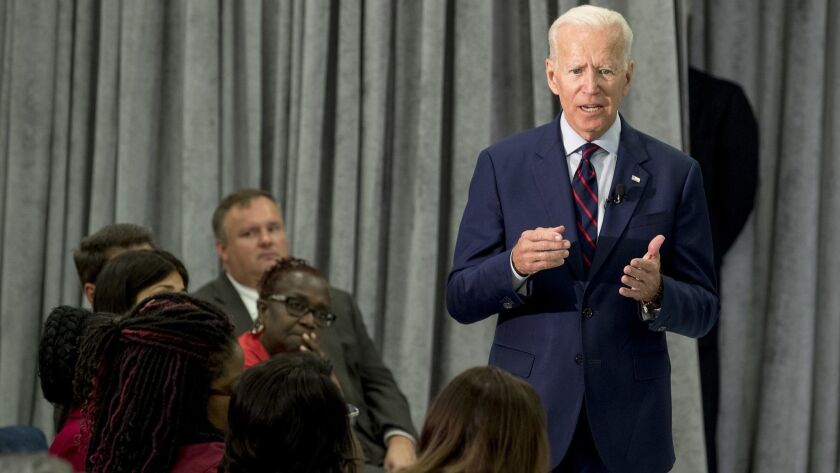 NATION-WORLD
— Standing before an audience of teachers in Houston, Joe Biden unveiled his first major policy initiative: an ambitious plan to triple the amount of federal spending on low-income schools. How much of the spending — some $30 billion for struggling K-12 schools — will go toward increasing teacher pay is unclear.
— At the request of President Trump, Lee Francis Cissna has stepped down as director of U.S. Citizenship and Immigration Services. Cissna, whose mother immigrated to the U.S. from Peru, sought to implement the administration's goals of reducing immigration, both legal and illegal. His exit comes at a time of continued upheaval in the Homeland Security Department.
— When the cards were dealt for the first World Series of Poker in 1969, booze, guns and cigar smoke were prerequisite. Fifty years later, not so much. Run by corporate suits, the annual competition has matured as the city has evolved from mob rule to corporate governance.
— Israel is emerging as one of the world's leading research centers for the medical use of cannabis as well as a top producer. "We are going to write the Torah of Cannabis," said a pharmacist with the health ministry. "This is really the future."
BUSINESS
— In an effort to compete with Walmart, Target and Best Buy, Amazon is considering a "vendor purge" that will cut ties with many of its longtime vendors, allowing the retailer to focus instead on major brands like Procter & Gamble, Sony and Lego.
— AT&T, parent company of CNN, has put network chief Jeff Zucker in charge of its 2020 presidential campaign. Zucker has long riled President Trump, who has called for his firing while citing CNN as "the enemy of the people."
— With LGBTQ travelers spending $100 billion a year in the U.S., more theme parks in the country are planning gay pride events. Taking advantage of this trend, the Walt Disney Co. — which once banned same-sex couples from dancing at its parks — has begun to advertise, promote and organize in-park events.
SPORTS
— Pity the Lakers "owned by a confused Jeanie Buss, abandoned by a frustrated Magic Johnson, run by a domineering LeBron James and operated under the heavy hand of a distrusted Rob Pelinka." How will they ever sign a superstar, asks Bill Plaschke.
— Coming off a guest appearance as a weatherman in Hawaii, Rams cornerback Marcus Peters is returning to L.A. with a cloudy forecast. Coach Sean McVay and General Manager Les Snead would like him to be part of the team's future, but no contract has been offered to Peters, who is trying to maintain a sunny disposition.
OPINION
— Looking to pitch your next brilliant idea to a room full of venture capitalists? Better not to be a woman, otherwise come prepared to answer questions about your age, marital status and personal plans for your future. From Silicon Valley to Singapore, sexism is the norm.
— In 1998, President Clinton was under pressure by a special counsel looking into a potential impropriety over a real estate deal, and yet working with Republican legislators, including Newt Gingrich, he managed to pass a $200-billion infrastructure bill. Why can't President Trump?
WHAT OUR EDITORS ARE READING
— In 2005, Mark Singer profiled one of television's preeminent storytellers, David Milch ("Hill Street Blues," "NYPD Blue"), during the filming of his HBO series "Deadwood." With the movie "Deadwood" set to premiere on May 31, Singer returns to talk to Milch about his life with dementia. (New Yorker)
— In 2016, the Huntington Library received an unusual donation: a 320-year-old home once belonging to a village bureaucrat in feudal Japan. The historic 3,000-square-foot building is now being deconstructed and prepared for shipping to the institution's famed Japanese garden. (Atlas Obscura)
— "Climate crisis," not "climate change": By updating its style guide to "more accurately describe the environmental crises facing the world," the Guardian once again proves that language matters. (OneZero)
ONLY IN L.A.
In the early 1980s, Francis Ford Coppola was in his early 40s when he caught sight of a Tudor-style mansion in Hancock Park. The filmmaker had jettisoned to fame with "The Godfather," "The Godfather Part II," "The Conversation" and "Apocalypse Now," so purchasing a lavish 1927 estate with more than 6,000 square feet was a logical step in his pop-culture ascendancy.
But that was then and this is now.
Thirty years later, pop singer Ariana Grande was not yet 20 and had just finished the first season of "Victorious" on Nickelodeon when she moved into the seven-bedroom home, which had leased for $17,900 a month. The recording studio in the basement was a draw, to say nothing of the coffered ceilings, stained glass and half-acre parcel in the heart of the city.
With such a pedigree, the opulent manse went on the market in April at $6.95 million. It recently sold for $7.05 million.
Coming to Star Tours soon.
If you like this newsletter, please share it with friends. Comments or ideas? Email us at headlines@latimes.com.
---