Will the Trump administration's 5G push interfere with forecasting deadly storms in California and U.S.?
TOP STORIES
The Storm Over Trump's 5G Plan
5G networks are the future of wireless communications. But officials with NASA and the National Oceanic and Atmospheric Administration worry the Trump administration's plan to auction off radio frequency bands adjacent to one that weather forecasters use will hamper the ability to monitor, predict and forecast hurricanes and other dangerous weather events such as California's atmospheric rivers. The solution, they say, is to make the 5G signals much quieter. But the FCC maintains there is nothing to worry about.
Coal States Dig It, but …
The Trump administration has unveiled its final plan to rewrite a major Obama-era climate change policy. The new power plan, dubbed the Affordable Clean Energy rule, does away with what had been aggressive nationwide goals for reducing the energy sector's carbon footprint. It sets no targets, leaving that responsibility to individual states. But like President Obama's so-called Clean Power Plan, it faces a major court fight.
Biden's Big Nostalgia Problem
With a tone-deaf bit of nostalgia, former Vice President Joe Biden has ignited a fire around his presidential campaign. On Tuesday, he spoke wistfully of a time in Washington when he could work civilly with conservatives — including two arch-segregationist senators. The response from many Democrats was quick and angry. And the issue goes beyond Biden's well-known penchant for putting his foot in his mouth, because it directly involves one of the central tenets of his campaign: his call for a return to a bipartisan style of governing.
More Politics
-- Iran's Revolutionary Guard says it shot down a U.S. drone. It comes amid heightened tensions between Tehran and Washington over the collapsing nuclear deal.
-- House Democrats finally got the chance to question Hope Hicks. But, acting under the direction of the White House, she declined to answer questions in the closed-door hearing about her tenure as President Trump's communications director.
-- The debate over reparations for descendants of slaves jumped from the campaign trail to Congress with an impassioned plea from actor Danny Glover and others.
Does Germany Have the Rx for Us?
Like the U.S., Germany relies on private health insurers and private doctors. Unlike the U.S., Germany has a transparent system for pricing medications that limits how much patients pay — usually to about $11. So how does it work? Read on.
Your support helps us deliver the news that matters most. Subscribe to the Los Angeles Times.
Sign up to get Today's Headlines delivered to your inbox. »
FROM THE ARCHIVES
After 2,300 Los Angeles Transit Lines streetcar and bus employees went on strike in 1955, downtown L.A. traffic spiked. This photo illustrated how an already regrettable parking situation went from bad to worse, as cars jammed downtown streets and lots.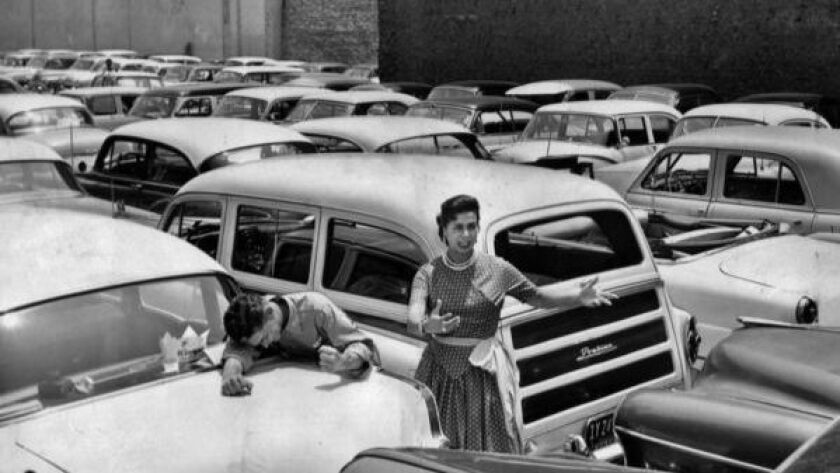 CALIFORNIA
-- How concerned should we be about the seismic storm that unleashed more than 1,000 small earthquakes in San Bernardino and Riverside counties these last three weeks? Enough to be prepared. Here's how.
-- As the state continues to face an affordable housing crisis, Gov. Gavin Newsom and local governments in Southern California are heading toward a clash over just how much the region will grow in the next decade.
-- Los Angeles Mayor Eric Garcetti is now the subject of a recall campaign effort over his handling of the homelessness crisis.
-- The LAPD has targeted a possible MS-13 presence in the San Fernando Valley with early morning raids.
HOLLYWOOD AND THE ARTS
-- The five-part HBO/Sky Atlantic co-production "Chernobyl" isn't the likeliest of hits. Here's how it became must-see TV.
-- Jim Jarmusch's "The Dead Don't Die" features at least one actor from every one of Jarmusch's previous fiction feature films, going all the way back to his 1980 debut, "Permanent Vacation." What inspires such devotion?
-- Joy Harjo, the award-winning poet and musician, has been appointed the 23rd U.S. poet laureate, and will become the first Native American writer to hold the position.
-- What's the mission of a children's museum in 2019? The Cayton, set to open in Santa Monica June 30, has some ideas.
NATION-WORLD
-- The former leader of the purported self-help group NXIVM has been convicted of federal charges that centered on lurid details of what prosecutors called a secret society of "sex slaves" in Upstate New York.
-- A new independent United Nations report provides a glimpse of the horrific last moments of journalist Jamal Khashoggi. It details how the men lying in wait for him coolly discussed how they would dismember his corpse.
-- Five years after a Malaysia Airlines jetliner was shot down over Ukraine, killing 298 people on board, Dutch prosecutors have charged four militants associated with the Russia-backed separatist movement in eastern Ukraine.
-- The rent is too verdammt hoch: Officials in Berlin have announced a plan for a five-year ban on rent increases for publicly and privately owned apartments.
-- Who will succeed Theresa May as prime minister of Britain? The race has been whittled down to these four candidates.
BUSINESS
-- The Federal Reserve, facing heavy pressure from Trump to lower borrowing costs, left interest rates unchanged but made clear that it is leaning toward cutting them because of rising risks from trade tensions and a softer global economy.
-- Trump and Chinese leader Xi Jinping have agreed to restart trade talks, but Chinese officials are increasingly cautious, and appear unwilling to make the kinds of major compromises on industrial policy that U.S. officials demand.
SPORTS
-- Zion Williamson is expected to be picked No. 1 by New Orleans in the NBA draft today. But the most intriguing and polarizing player may be Bol Bol, son of the tallest player in NBA history.
-- In the Women's World Cup, the U.S. team doesn't care if a win over Sweden would make its journey tougher. It just wants to win.
OPINION
-- It's not just the shooting at a Costco in Corona. Disabled people are often killed by police.
-- A plan to clean up L.A. and help the homeless? Get it done already.
WHAT OUR EDITORS ARE READING
-- A tax cut in the GOP tax overhaul of 2017 that was meant to help the poor ended up helping a billionaire. (ProPublica)
-- How Cedella Marley, daughter of the late Bob Marley, rescued the women's national soccer team in Jamaica. (Huffington Post)
-- Where did the idea of "summer reading" come from? (The New Yorker)
ONLY IN L.A.
Who couldn't use a little more peace and love in their lives? Or, more specifically, 800 pounds of it created by Ringo Starr? That was the question before officials in Beverly Hills, who wrestled with what to do with a polished steel monument depicting Starr's hand making a peace sign. At first the city said no thanks. Now it's giving "Peace and Love" a chance.
If you like this newsletter, please share it with friends. Comments or ideas? Email us at headlines@latimes.com.
---