Downey congresswoman backs Antonio Villaraigosa for governor
California farmworkers will have to undergo sexual assault prevention training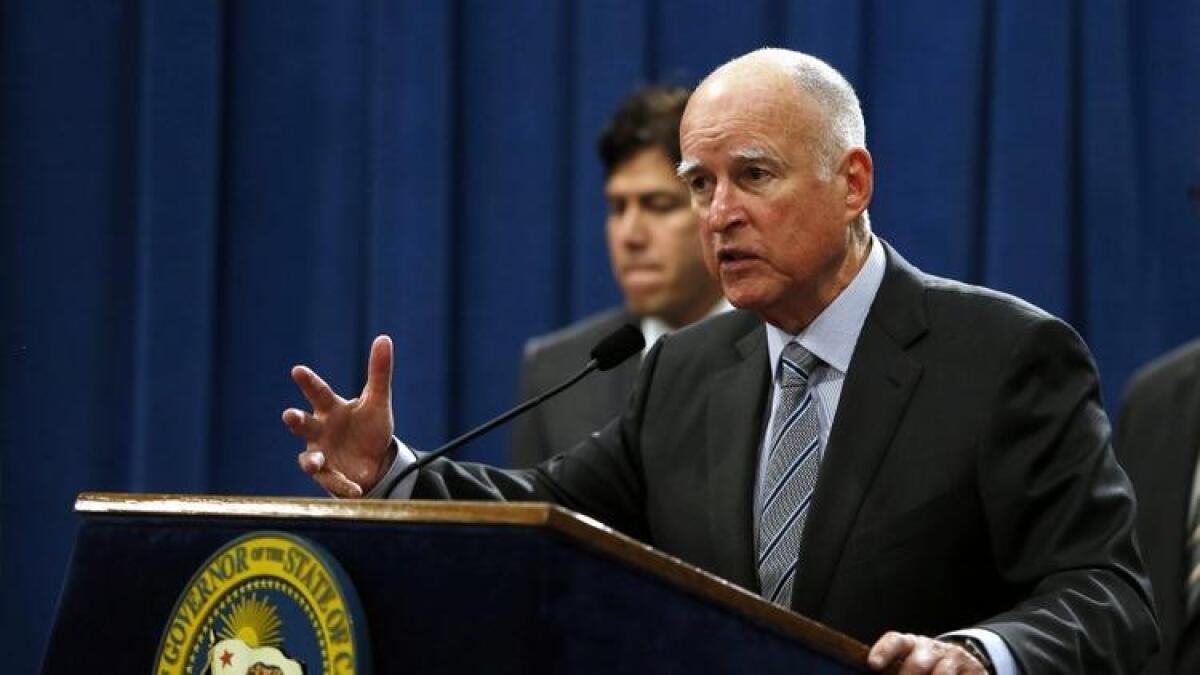 Gov. Jerry Brown on Monday signed legislation to ensure farm labor contractors train employees on how to prevent and report sexual assault, a response to a 2013 PBS Frontline investigation that found sexual violence against women was a pervasive problem in California fields.
Senate Bill 295 by Sen. Bill Monning (D-Carmel) makes sexual harassment training mandatory at all businesses that supervise farm employees or provide them with lodging, transportation or other services.
The training has to be conducted or interpreted in a language that employees can understand, the law stipulates, and farm labor contractors will have to provide proof of all of their materials and resources to the Farm Labor Commission as part of the license renewal process.
Under the new law, the state labor commission also will be able to charge a $100 civil fine for any violation of the new requirements.
The PBS Frontline investigative documenatory, "Rape in the Fields, The Hidden Story of Rape on the Job in America" found more than half a million women work in U.S. fields. Most do not have legal residency in the country, and sexual harassment and violence often go unreported. A 2012 Human Rights Watch survey found 80% of 150 women in California's Central Valley had experienced some form of the abuse.
Los Angeles voters can cast ballots in Assembly race on Tuesday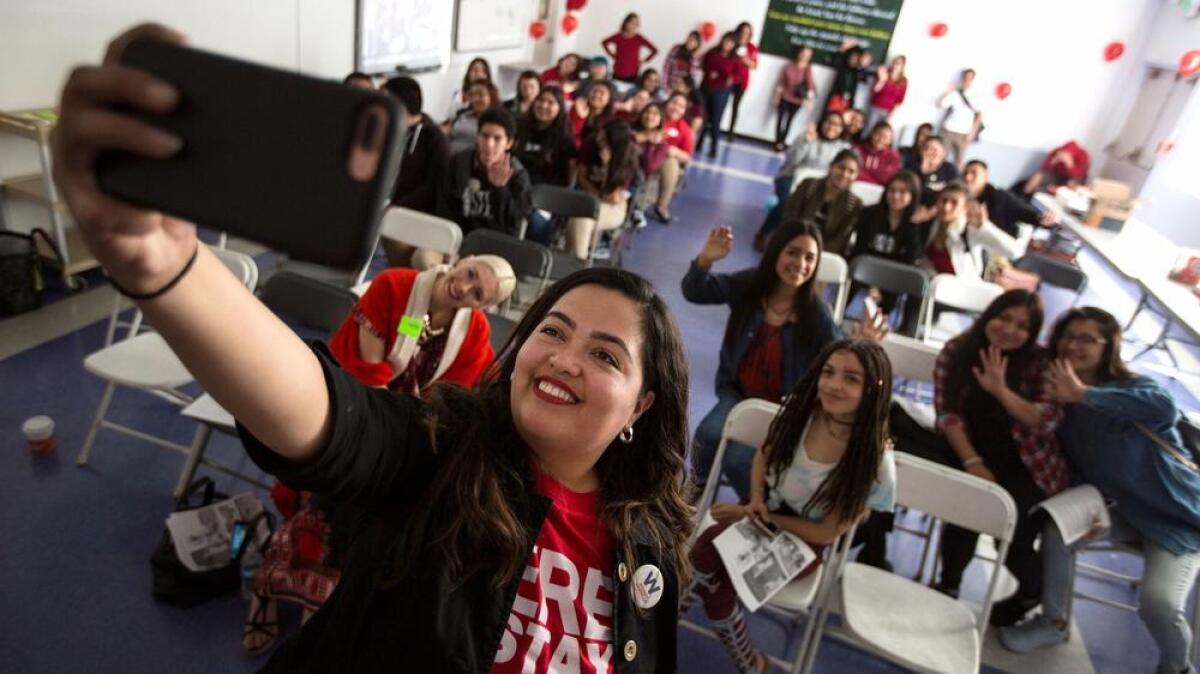 The political dominoes from U.S. Sen. Barbara Boxer's retirement are almost done falling.
Her decision two years ago to forgo reelection led to a reshuffling that eventually left vacant a state Assembly seat in Los Angeles.
There are 13 candidates running in the special election, and the primary is Tuesday.
California Politics Podcast: Lawmakers say their focus on housing has just begun
Gov. Brown signs major housing legislation
At a signing ceremony in San Francisco on Friday morning, Gov. Jerry Brown signed 15 bills aimed at addressing the state's mounting housing problems.
"It is a big challenge," Brown said. "We have risen to it this year."
The bills could add nearly $1 billion in new funding for low-income housing developments in the near term as well as lessen regulations that slow growth.
Watch live: Gov. Jerry Brown signs bills to tackle California's housing crisis
Gov. Jerry Brown and state lawmakers are gathered in San Francisco for the signing into law of a package of proposals designed to tackle some of the most pressing parts of California's housing crisis.
Businesses in California will be required to tell customers exactly how much their automatic renewal will cost
California will require online businesses that offer free trials to tell customers exactly how much an automatic renewal will cost under a law signed by Gov. Jerry Brown on Thursday.
The law's author, Sen. Bob Hertzberg (D-Van Nuys), thinks the bill, known as SB 313, will make it easier for customers to cancel service.
"Consumers need to know what they are signing up for and that they can just as easily cancel any service or subscription online as when they started it online," Hertzberg said in a statement.
Streaming services like Hulu and Spotify and the file-sharing site Dropbox have elicited lawsuits and consumer complaints about their automatic service renewals, according to Hertzberg's statement.
The law goes into effect in July.
Antonio Villaraigosa wants to bring back an urban renewal program to fund low-income housing
California candidate for governor Antonio Villaraigosa wants the state to bring back an urban renewal program to fund low-income housing.
"Solving our state's growing housing crisis will take a sustained commitment and creative thinking," Villaraigosa wrote in an op-ed in the San Francisco Chronicle. "But when it comes to giving local governments the tools they need, we don't need to reinvent the wheel."
Gov. Jerry Brown and lawmakers eliminated a state redevelopment program in 2011 as a cost-cutting move aimed at saving nearly $2 billion during the state's budget crisis. The program allowed cities to target run-down neighborhoods for investment and use a share of property tax dollars generated by development to fund improvements, including financing low-income housing. But doing so required the state to spend more to support public schools, and Brown derided the agencies as being rife with abuses of taxpayer dollars.
Villaraigosa, a former mayor of Los Angeles, said a revived program would allow for greater state assistance to address housing problems.
Lawmakers passed a large package of housing legislation earlier this month, including a new real estate transaction fee and a bond measure for the November 2018 ballot. But even with that new spending, state subsidies will remain billions of dollars' short of what's needed to finance housing for its neediest residents, according to state and third-party estimates.
Will California Republicans in the House support a tax proposal that would hit their districts hard?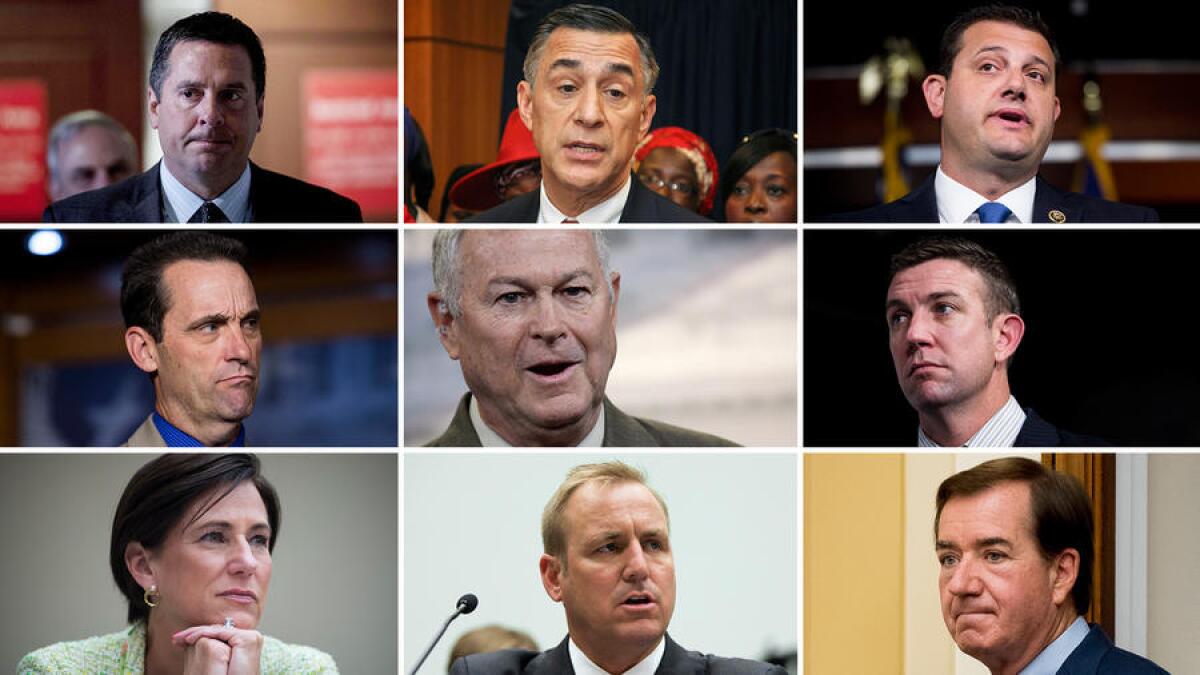 One-third of Californian taxpayers could be forced to pay thousands more in federal taxes from the repeal of one deduction under a GOP proposal released Wednesday, setting up another political dilemma for California Republicans facing tough reelection battles next year as Democrats work to win back the House of Representatives.
The potential repeal of the state and local tax (SALT) deduction, which allows taxpayers to write off those taxes on their federal returns, would hit especially hard in wealthier areas, some of which are on the exact turf Democrats are trying to win over in Southern California.
Details of the overall tax reform plan have yet to be worked out, but so far, vulnerable California Republicans are not joining GOP colleagues in other states who have said they won't accept the repeal of the deduction, and some of them seem willing to negotiate.
Here's why California's early primary in 2020 is destined to pick the next president. (Nah, not really)
Today we answer questions.
Woo-hoo! Now that Gov. Jerry Brown has signed the bill, it looks like California is moving up its 2020 presidential primary. Finally!
Uh.
No more watching from the sidelines as small-fry states like Iowa and New Hampshire throw their weight around.
Um.
I'm already fluffing pillows and prepping the guestroom for all the 2020 hopefuls who'll be camped out.
Er.
What? You don't seem too excited.
Look, it would be great if California voted in a truly meaningful presidential primary. It's been about 50 years since that happened. But it's about as likely in 2020 as President Trump dumping Vice President Pence and running for reelection on a unity ticket with Hillary Clinton.
How can that be?
Lots of reasons, both political and practical.
Do tell.
Poll: Californians like Obamacare more than ever but are divided on single-payer healthcare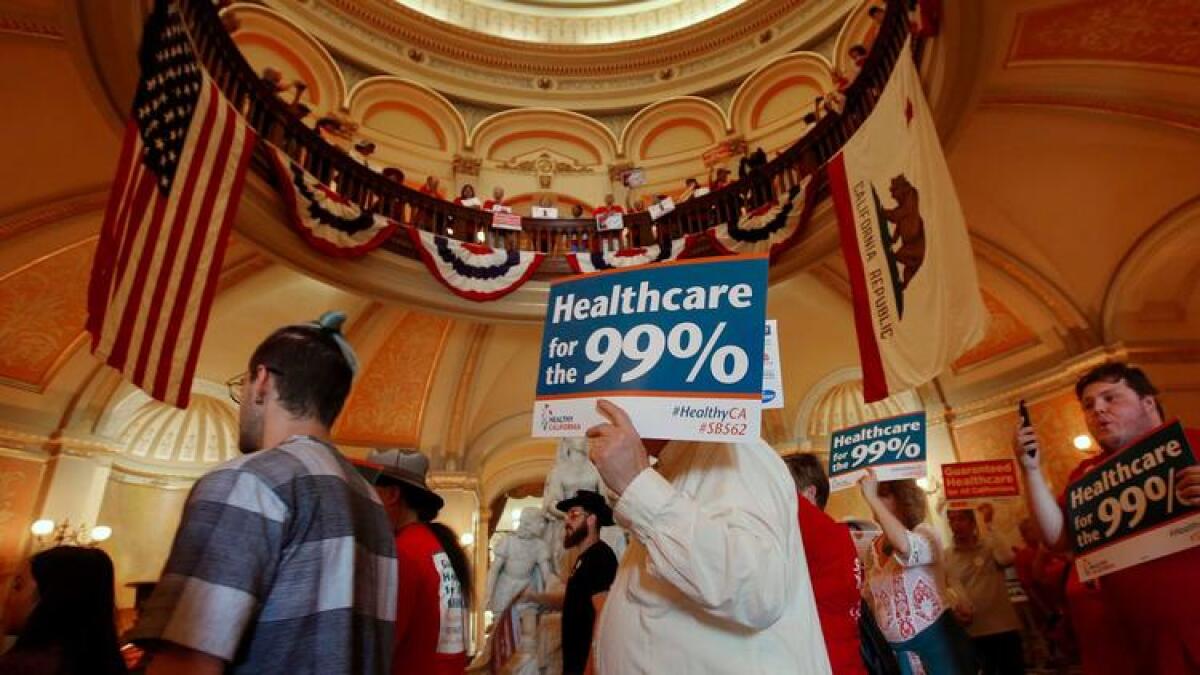 As the latest attempt to repeal the Affordable Care Act fizzles, the law has reached its highest popularity in California in four years, according to a new poll released Wednesday by the Public Policy Institute of California.
Nearly 60% of the Californians hold a generally favorable view of the healthcare law, and just over a third of Californians see it unfavorably — the highest approval rating since PPIC began tracking the law's popularity in 2013.
But while Democrats and independents back the law, known as Obamacare, with strong majorities, three-quarters of Republicans have negative views of it.
Only 18% of Californians believe congressional Republicans should try again to repeal and replace the Affordable Care Act, and 58% of adults want to see bipartisan efforts to improve the law.
Underscoring the GOP's challenge in dramatically reducing government's role in healthcare, two-thirds of the state's adults believe it is the federal government's responsibility to ensure that all Americans have health coverage.
But Californians are divided on whether to substantially increase government involvement through a single-payer system, such as the "Medicare for All" proposal recently introduced by Sen. Bernie Sanders (I-Vermont).
A national single-payer insurance program such as "Medicare for All" gets support from 35% of Californians, according to the poll. Support is higher among Democrats — 44% — and independents — 34% — than among Republicans. Only 6% of Republicans back such a system.
But the current system, a patchwork of government and private insurance options, isn't particularly adored by Californians.
Just under 30% of adults support continuing with a mix of private and public insurance options, while 36% of Democrats, 21% of Republicans and 31% of independents see that mixed system as the best way to provide health coverage.
Half of California's likely voters think Sen. Dianne Feinstein should retire, poll finds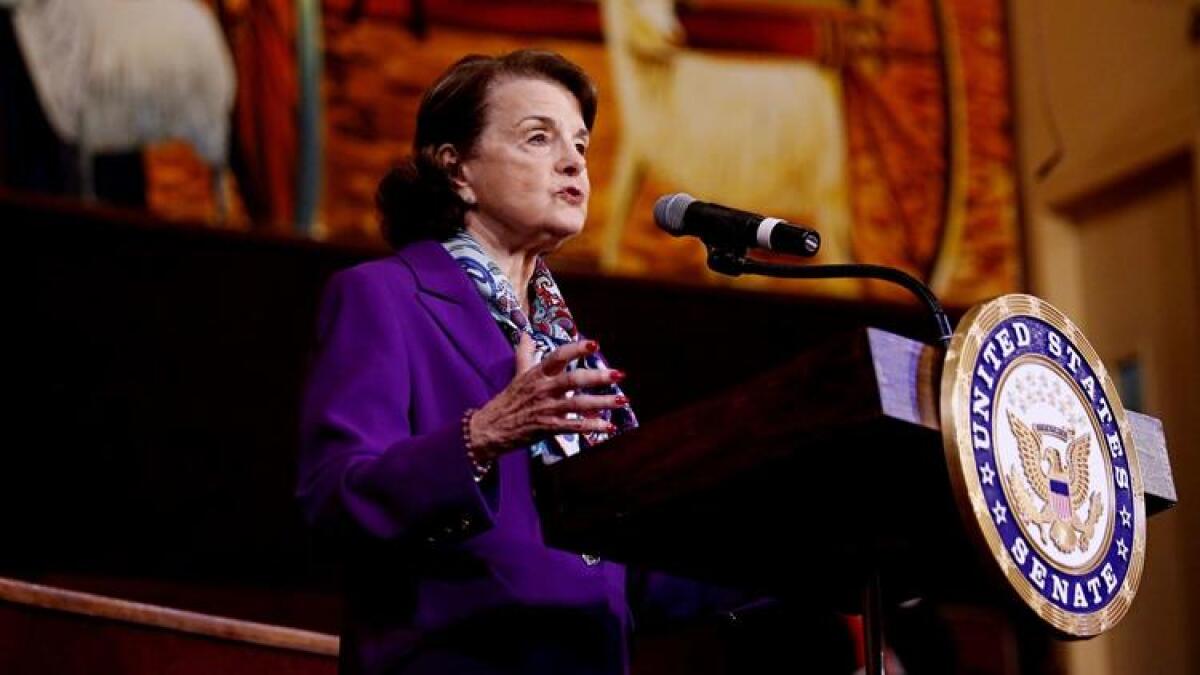 As Democratic Sen. Dianne Feinstein contemplates a 2018 bid for reelection, a new poll has found that 50% of California's likely voters think she shouldn't run again.
Just 43% of likely voters support Feinstein running for a sixth term, according to a Public Policy Institute of California poll released Wednesday. The results are similar among all California adults, not just likely voters, with 46% saying she should not run for another term and 41% saying she should run.
Feinstein, 84, has come under increased pressure from members of California's left, many of whom were infuriated when earlier this month she called for "patience" with President Trump and refused to back demands for his impeachment.
Still, the poll found that Feinstein remains popular. More than half of likely voters — 54% — approve of the job she's doing, compared with 38% who disapprove.
That's on par with Gov. Jerry Brown's approval rating, and it bests the marks for California's other Democratic senator, Kamala Harris. When likely voters were asked about Harris, the former state attorney general elected to the Senate in November, 47% approved of the job she was doing in Washington and 30% disapproved. Almost a quarter of voters didn't offer an opinion about Harris.
The contrasting results on Feinstein are difficult to decipher but at the very least indicate voters remain restless.
"Partly, this is a holdover from last year's election in which you saw many Democrats wanting a more liberal alternative at the presidential level and you saw many independents wanting an outsider," said Mark Baldassare, president of Public Policy Institute of California. "As people are looking to next year, there's a desire for something new."
Speculation continues that Feinstein may face a Democratic challenger. Among those who have been mentioned is state Senate leader Kevin de León (D-Los Angeles), who is weighing his next political move after he terms out of office in 2018. De León lashed out at Feinstein after her comments about Trump in early September.
In her last election, Feinstein trounced her Republican opponent, Elizabeth Emken, by a 25-percentage-point margin in 2012. She won by almost an identical margin in 2006 when challenged by former Republican state Sen. Richard Mountjoy.
However, California has since switched to a top-two primary system. The two candidates who receive the most voters in the June primary election will advance to the 2018 general election, regardless of their party.
Two Democrats faced off in the finale of California's 2016 U.S. Senate election, with Harris besting then-Rep. Loretta Sanchez.
Want to see 'Hamilton' in L.A.? Rep. Cardenas is raffling tickets as a fundraiser
Barbara Boxer says if Sen. Dianne Feinstein runs for another term, she should expect a tough race
It's one of the hottest political parlor games in California right now: Will she run again?
Everyone is waiting for Sen. Dianne Feinstein to announce if she'll seek a sixth term.
And even though they served as colleagues in Washington for more than two decades, former Sen. Barbara Boxer said she has no inside intel on what Feinstein will do in 2018.
"I believe she is running until I see any other indication," Boxer said Wednesday at a Sacramento Press Club lunch. "Every single race is hard.... Anyone who runs against her will give her a tough race."
Feinstein, 84, has made clear she is taking her time, even as ambitious politicians eye the seat she has held since 1992. One long-shot Democrat already is raising money for the race, and Feinstein recently drew criticism from California Senate President Pro Tem Kevin de León, who has not ruled out a primary challenge against her.
Boxer said Wednesday her own priority for next year's midterm election is flipping several Republican-held House seats in Southern California.
"There's no such thing as an off election year," she said. "It's an on year."
Much of this work will be done through the political action committee Boxer founded, PAC for a Change. The organization also supports electing more Democrats to the Senate and standing up to President Trump's policies, she said.
Since leaving the Senate in January, Boxer has also given speeches and promoted her book, "The Art of Tough." She doesn't like to consider herself a retiree.
Boxer also skirted a question about her pick for governor in a race that already is crowded with several Democrats. All of the candidates, she joked, are "like my sons and daughters."
California's top elections officer now says his agency's website wasn't the one 'scanned' by Russian hackers
Five days after saying he had been told Russian hackers scanned the state's main elections website for weaknesses in 2016, California Secretary of State Alex Padilla said Wednesday that it turns out it didn't actually happen that way.
Padilla said that his office was given incorrect information by the U.S. Department of Homeland Security and that the Russian operation was instead focused on "scanning" the network of the state Department of Technology.
"Our notification from DHS last Friday was not only a year late, it also turned out to be bad information," Padilla said in a statement.
Bryce Brown, a spokesman for the state's information technology agency, said officials had long known about "suspect activity that occurred on our network last summer" but didn't know anything else until the notification from federal officials.
"Although we did not have knowledge of the source until now, we have confirmed our security systems worked as planned and the activity was blocked as it happened in 2016," he said.
The Department of Homeland Security did not respond to a request for comment.
On Tuesday, the Associated Press reported that federal officials also reversed course in a notification they had made to Wisconsin elections officials about Russian activity. In June, federal officials told Congress that 21 states' elections systems were targeted by Russian activity.
Padilla insisted last week that the "scanning" incident found no vulnerabilities or access to any California voter information, and he criticized DHS officials for the delay in sharing information about 2016 activities. On Wednesday, he said hopes that federal officials will continue to work with the states in preventing cyberattacks.
"I remain committed to a partnership with DHS and other intelligence agencies; however, elections officials and the American public expect and deserve timely and accurate information," Padilla said.