Newsletter: Essential Politics: End of the Mueller investigation starts new partisan battles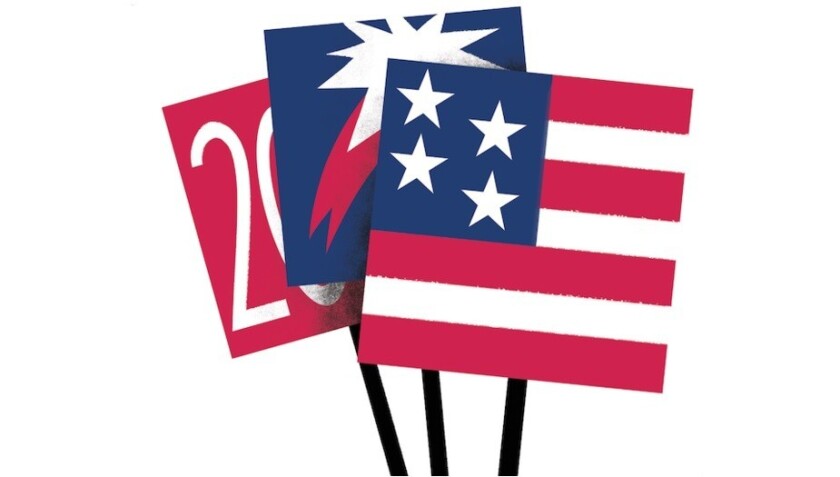 More than 48 hours after the world learned the nearly two-year investigation into Russian interference with the 2016 presidential campaign was over, very few people have actually seen the report submitted by special counsel Robert S. Mueller III.
But the summary of the report — sent to Congress on Sunday by Atty. Gen. William P. Barr — has the nation in a full-tilt tizzy as the new week begins. President Trump and his supporters say the inquiry has exonerated him; Democrats and other Trump critics say they want to see the actual document filed by Mueller, among other things.
And in case you're wondering: We're almost exactly 19 months away from the 2020 presidential election.
Sign up for the Essential Politics newsletter »
'DID NOT ESTABLISH' COLLUSION BUT 'DOES NOT EXONERATE' TRUMP
The four-page letter from Barr is a summary of Mueller's findings, offering a road map that was quickly the subject of intense debate between supporters and opponents of the president.
Barr's principal observations were two-fold. First, he told lawmakers that the report did not establish that Trump or his campaign conspired with Russians during the 2016 election. Second, he said Mueller did not determine whether the president obstructed justice but that the evidence "does not exonerate" Trump.
Trump made it clear on Sunday he saw no gray area from the investigation.
"It was a complete and total exoneration," he told reporters before boarding Air Force One to fly back to Washington from Florida, where he spent the weekend at his Mar-a-Lago resort. "It was a shame that our country had to go through this."
THE INVESTIGATION: LOOKING AHEAD AND BACK
Democrats were quick to insist that the attorney general should testify before Congress. They also will push to have the full report filed by Mueller to be made public.
"Americans deserve to know all the facts, which is why the report itself should be released — to the fullest extent of the law — in addition to the attorney general's summary," said House Majority Leader Steny Hoyer (D-Md).
But the political path forward is simply a mystery. As Chris Megerian and Janet Hook wrote over the weekend, "The special counsel's leak-free investigation, which has shadowed Trump for most of his presidency, had spawned unrealistic expectations in both parties."
It's also worth noting that the weekend bombshell was simply the latest twist in a tale that's included indictments, guilty pleas and plenty of courtroom drama.
And even now, there's a lot we still don't know.
IN OTHER NATIONAL POLITICS NEWS…
-- Although TV coverage and polls indicate many Democratic hopefuls have almost no shot to win the nomination, voters in early states are still up for grabs, and eager to hear from even longshots before deciding.
-- The U.S. military isn't drawing down at its sprawling 3,600-acre Army base in South Korea, as Trump sometimes seems to favor. It's building up, creating one of the Pentagon's largest and most modern overseas facilities.
-- Razor wire makes the U.S. southern border look like a war zone. Now several cities — concerned about their images and the risk of injuries — are demanding it be removed.
NEWSOM'S POWER: DEATH PENALTY PROSECUTIONS
The decision by Gov. Gavin Newsom to impose a moratorium on any executions of death row inmates in California may not be the end of the story when it comes to his support for abolishing the punishment altogether.
Newsom has floated the idea that he, in consultation with state Atty. Gen. Xavier Becerra, could intervene in pending murder trials — instructing local prosecutors not to seek the death penalty.
Becerra, however, has frequently expressed support for the death penalty. And at least one legal observer says in the event of a conflict, Newsom could prevail.
TODAY'S ESSENTIALS
-- Calling smartphones a distraction from learning, a state legislator wants to follow the lead of France and require school districts to adopt policies that restrict or prohibit students from using them on campus.
-- The University of California should expel students and revoke degrees after the recently revealed admissions scandal, says one prominent Democratic legislator.
-- Newsom declared a wildfire state of emergency in California last week and waived environmental regulations to expedite nearly three dozen local forest management projects.
-- A year after receiving $500 million in state funding to combat homelessness, Los Angeles Mayor Eric Garcetti and counterparts from other large California cities are asking the governor and state lawmakers for more money.
-- The most ambitious policies on creating more affordable housing are coming from Bay Area lawmakers. Will those plans meet the needs of other metro regions?
-- Will the largest Democratic majority in the Legislature's modern era and one of the state's most liberal chief executives be able to further push policies that expand government oversight in the business world? If so, it would break a two-decade winning streak for the California Chamber of Commerce.
LOGISTICS
Essential Politics is published Monday and Friday.
You can keep up with breaking news on our politics page throughout the day. And are you following us on Twitter at @latimespolitics?
Miss Friday's newsletter? Here you go.
Please send thoughts, concerns and news tips to politics@latimes.com.
Did someone forward you this? Sign up here to get Essential Politics in your inbox.
---
Get our Essential Politics newsletter
The latest news, analysis and insights from our bureau chiefs in Sacramento and D.C.
You may occasionally receive promotional content from the Los Angeles Times.