Apple and Calvados croustade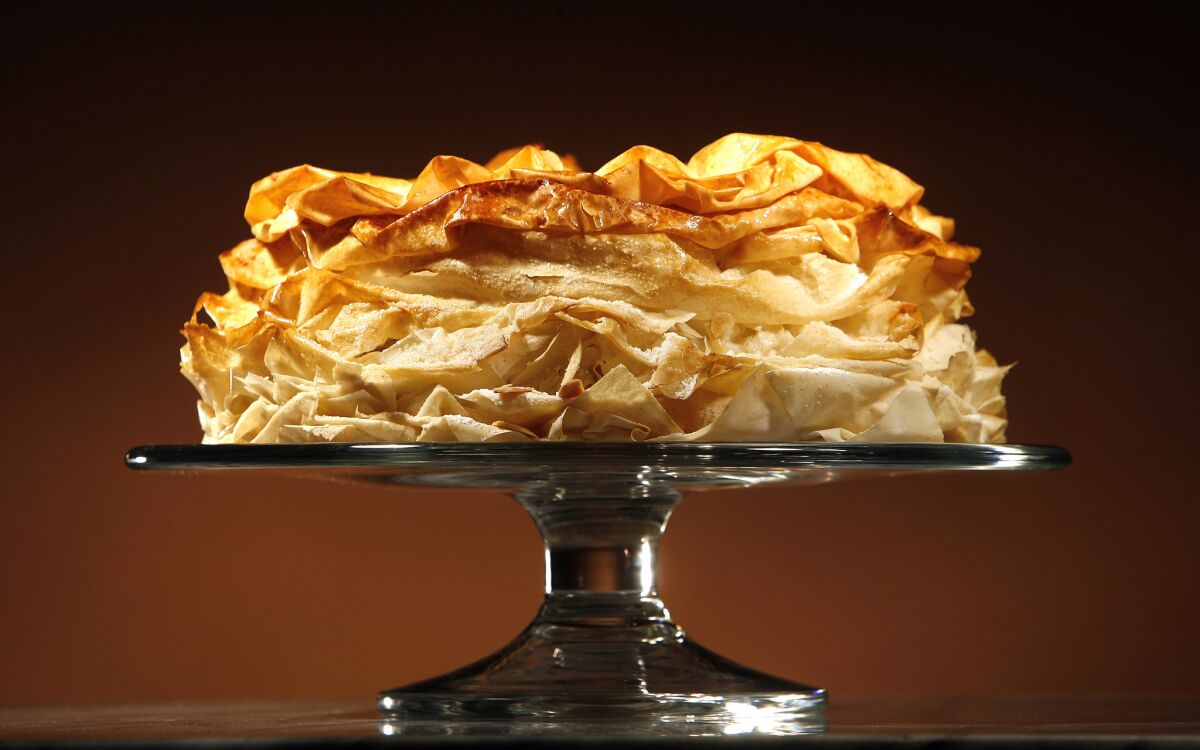 Print Recipe

Print Recipe
The world, as every cook knows, is divided into people who cook and people who bake. Those of us in the former camp who feel a panic attack coming on at the sight of a Mixmaster will be happy to know that, yes (Virginia), there is a Santa Claus.
This year Santa came to me in the form of a recipe. If there had been a photograph of the dessert in "Daniel Boulud's Cafe Boulud Cookbook" -- an apple and Armagnac croustade -- I doubt I would have attempted making it. It would have looked too gorgeous, too complicated, something my sorry skills would probably have botched. (Yes, I can cook, but I'm no baker.) But the recipe looked easy, so I gave it a try.
The result? A dessert so beautiful, so dramatic, so different, that it's just the thing for Christmas dinner or New Year's Eve. My friend who had come to dinner gasped when I brought it to the table. I cut into it to serve it, and the tall slice -- layers of crisp, delicate, caramelized filo, studded with sliced almonds and filled with apples cooked in Armagnac -- held together picture-perfectly. The texture was brilliant, the flavor wonderful. OK, so the apples weren't quite sweet or tender enough, but I could tweak the filling next time I made it.
The croustade, as I learned from the recipe's headnote, is a specialty of Gascony, but I had never seen nor tasted one -- nor even heard of it -- though I'd spent quite a bit of time in southwestern France. My husband, a native of the region, had heard of it but didn't know what it was. Traditionally, it's made of thin sheets of a hand-pulled, streudel-like dough, but Boulud's recipe used filo dough.
Boulud's recipe calls for four layers of buttered, sugared sheets of filo, crinkled into circles, strewn with sliced almonds and stacked. On top of that go apples that have been sauteed with sugar and vanilla, then flambeed with Armagnac and cooled. Another crumpled, buttered, sugared, almond-strewn filo sheet goes on, then another, then you bake it. Take it out of the oven, add one more crumpled layer, which you dust heavily with powdered sugar, then back in the oven it goes. When it's caramelized, shiny and golden-brown, it's done.
I was smitten. The filo was so easy to work with, building up layers that you could drape to beautiful effect. Later, I read the recipe again more closely and realized I hadn't quite followed the directions, which say to press the dough into the pastry ring you use as a form; "it should be fairly flat and shouldn't come up the sides of the ring," wrote Boulud and his co-author Dorie Greenspan. I had gone for height, not knowing what I was doing, and the effect was fantastic.
Another confession: I didn't have any Armagnac, but I had Calvados, the apple brandy from Normandy, and I used that. The apple-on-apple flavor, with the burnt edge of flambe, was terrific. (The next time I made it, I sliced the apples thinner, added more sugar, and cooked a little longer . . . .)
Hungry to know more about this mysterious dessert, I grabbed the best source on Gascon cooking I know: Paula Wolfert's "The Cooking of Southwest France." Leave it to Wolfert, who had a whole page on the pastry-covered pies of the southwest, including croustades.
Croustade, she wrote, is the name used for them in the Languedoc and Guyenne, but it's "pastis in the Quercy and the Perigord," and "tourtiere in the Tarn and the Landes." In each case, paper-thin sheets of strudel-like pastry are "brushed lightly with clarified butter or goose fat and wrapped about a sweetened fruit filling, shaped according to the custom of the region, then baked."
On the next page was a dessert that sounded even better than the one I had made: a croustade with apples and prunes in Armagnac. It called for prunes soaked in Armagnac and sugar syrup for two weeks, but I couldn't wait that long. I came up with a quick version, steeping them in tea for a couple hours, followed by a soak overnight in the Armagnac-syrup mixture. They were pretty fabulous. Wolfert suggests cooking the apples in a vacuum-pack pouch, but I didn't have the equipment, so I used her alternative, cooking them over low heat in a covered pan.
Wolfert's way of shaping the croustade involves brushing filo sheets with butter, folding them in half vertically, and arranging them on a pizza pan so they radiate like spokes, with the ends overlapping to cover the pan. The prunes go in the middle, topped with the apples, then you twist the spokes of filo loosely and wrap them into rose-shapes, folding them up and over the filling, until the entire top is covered with filo roses. Drizzle with a mixture of prune-Armagnac liquid, butter, sugar and a little straight Armagnac, then sprinkle with sugar and bake. More sugar goes on when it comes out of the oven, beautifully browned and caramelized, then, just before serving it, you dust it with powdered sugar.
This one doesn't have the height of my tweaked Boulud recipe, but it's just as gorgeous. The filling is absolutely killer, and filo dough is my new best friend.
But I was curious -- do cooks in France use filo as a substitute for the famously difficult-to-make fragile pastry leaves that are traditionally used?
I called Wolfert, who told me she brought filo to the Gascon town of Auch in 1981 or 1982 for a big Moroccan dinner she cooked for a number of French chefs. No one present had ever seen filo, which she used for bestila, and it occurred to her that it would be perfect to use for a croustade. Whether or not she was actually the first to introduce it to southwestern France, we don't know, but in any case, filo's popular there today.
As for the marvelous croustade, she approved of my choice, and she didn't even seem bothered by my prune shortcut (I didn't have the nerve to tell her I didn't clarify the butter, as her original recipe calls for, and the croustade didn't suffer for it). To serve it, she reminded me, "you always cut it with long scissors." That's what they do in Gascony.
"There are other croustades," she said (her book includes a recipe for one involving quince and prunes), "but the apples and prunes in Armagnac is the one I like best. When I teach southwestern French cooking, that's always the dessert I teach."
1
Melt 4 tablespoons (one-half stick) of butter in a large skillet over medium heat. Place the apple slices in a bowl. Cut the vanilla bean lengthwise in half and, using the tip of a small knife, scrape the seeds over the apples and drop the pod on top. When the butter is foamy, add the apples with the vanilla and the sugar and cook, stirring very gently but frequently, until the apples are lightly caramelized and soft, about 15 to 20 minutes. Add the Calvados and, using a long match and standing well back, set it aflame. When the flames subside, turn the apples over in the Calvados; when the flames have died out and the Calvados has reduced to a glaze, transfer the apples to a bowl and allow them to cool to room temperature.
2
Center a rack in the oven and heat it to 350 degrees. Place a 10-inch tart ring on a baking sheet lined with a silicon mat or parchment. Melt the remaining 6 tablespoons butter and set it aside. Unfold the filo dough on your work surface and cover it with a damp towel.
3
Remove the top sheet of filo (re-cover the remaining sheets), brush it lightly with butter, and dust it with powdered sugar shaken from a fine-mesh strainer. Gently and loosely crumple the dough into a circle and lay it into the pastry ring. Sprinkle it with about one-fifth of the almonds. Repeat this procedure three more times, until you have four buttered, sugared and almond-sprinkled sheets of filo layered in the ring. Do not press them together -- let them keep some height.
4
Spoon the apples into the center of the croustade, leaving a 1-inch border bare. Working as you did before, butter, sugar and crumple a sheet of filo, fitting it over the apples. Sprinkle this layer with the remaining almonds, and cover this with another crumpled sheet of buttered and sugared filo. Do a little styling and draping; arrange the filo so it looks good.
5
Slide the croustade into the oven and bake for about 10 to 12 minutes, watching the top of the tart carefully to make certain it doesn't brown too much. The top should be just lightly browned. Remove the croustade from the oven.
6
Increase the oven temperature to 400 degrees. Butter and sugar another sheet of filo, loosely crumple it and place it on the last layer to make a light, airy crown. Bake the tart for 5 to 10 minutes, or until lightly browned, then remove it from the oven again.
7
Butter the last sheet of filo and, once again, crumple it to make a crown. Place it on top of the croustade and dust it heavily with the remaining powdered sugar. Return the tart to the oven and bake until the top layer caramelizes evenly, about 5 to 10 minutes. Check the progress of the sugar frequently because it can go from brown to burned in a flash. Pull the croustade from the oven as soon as the top is a golden caramel color and allow it to cool for 5 to 10 minutes.
8
To serve, lift off the tart ring and, using two large, wide metal spatulas, transfer the croustade to a serving plate. Serve the tart warm or at room temperature the day it is made, with creme fraiche, whipped cream (or even better, creme fraiche lightened with whipped cream) or vanilla ice cream.
Adapted from a recipe for apple and Armagnac croustade in the "Cafe Boulud Cookbook" by Daniel Boulud and Dorie Greenspan. Boulud's recipe is traditional from Gascony, hence the Armagnac, but Calvados, the apple brandy from Normandy, is also wonderful. Feel free to use the traditional Armagnac, if you prefer. Be sure to use a large enough skillet (13 inches is perfect) so the apples caramelize properly.
---
Get our new Cooking newsletter.
Your roundup of inspiring recipes and kitchen tricks.
You may occasionally receive promotional content from the Los Angeles Times.