Avis Hatheway's wild rice dressing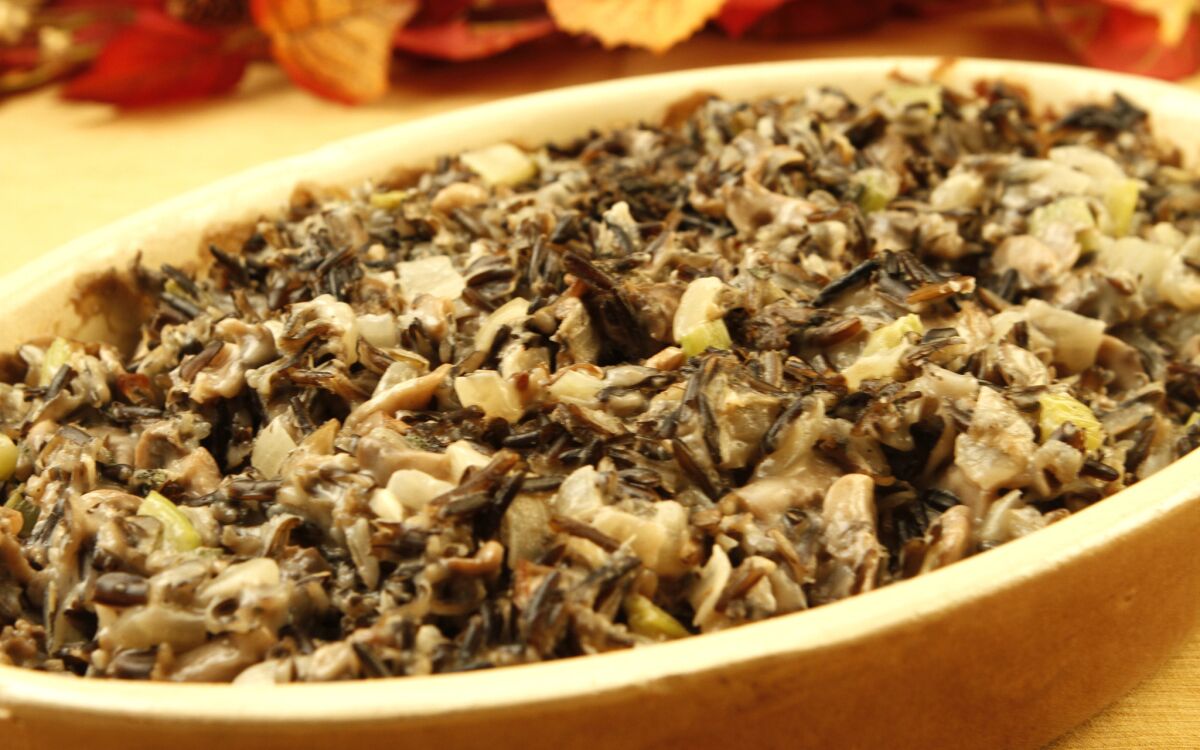 Print Recipe

Print Recipe
Every year at our house, we host what we call the "Long Table Thanksgiving." It's a simple tradition, and it does a lot to minimize holiday stress. We provide the birds, and everyone else brings a side dish. Oh, and we eat at a very long table.
Guests may bring a cherished recipe from their childhood or a dish they've continued to perfect for every gathering. The dishes are often classic comfort food, sometimes heavy on the cream of mushroom soup, crackers or French-fried onions. There is no shortage of Velveeta at our table. These are dishes from home, and they speak to the cooks' memories, not their gourmet aspirations.
Ron always brings this wild rice dressing he grew up with in Minnesota, reminiscing how, as a young boy, his father would take him out in a canoe and teach him how to harvest wild rice on the river, knocking it down into the boat.
From the story: A long Thanksgiving tradition in Southern California
1
Heat the oven to 375 degrees.
2
Rinse the rice well, then boil rice, according to directions, in salted water with the bay leaf until the rice just begins to "pop," about 40 to 50 minutes. Do not overcook. Drain any excess water and place the rice in a large bowl.
3
In a large saute pan heated over medium-high heat, melt 1 tablespoon butter. Cook the onion and celery just until the onion is translucent, 6 to 8 minutes. Remove from heat and season with one-fourth teaspoon salt and several grinds of pepper. Toss the onions and celery with the rice and set aside.
4
Heat the same saute pan over high heat. Melt the remaining tablespoon butter, then add the mushrooms. Saute the mushrooms, stirring frequently, until cooked through and lightly browned, about 6 minutes. Stir in the wine and cook, scraping any flavoring from the base of the pan. Continue to cook, stirring frequently, until the wine is absorbed by the mushrooms or evaporates, 2 to 3 minutes. Remove from heat and toss the mushrooms with the rice mixture.
5
Stir in the sage and garlic with the rice, mixing well, then stir in 2 cans of the cream of mushroom soup. Add additional soup, if desired, for a more moist dressing (we used 2 1/2 cans).
6
Place the dressing in a 13-by-9-inch baking dish or casserole and bake until bubbly and lightly toasted on top, about 30 minutes. Cool slightly, then toss the dressing to fluff it before serving.
Shared by Avis' son, Ron.
---
Get our new Cooking newsletter.
Your roundup of inspiring recipes and kitchen tricks.
You may occasionally receive promotional content from the Los Angeles Times.