Blender mayonnaise
Yields
Serves 16 (about 1 cup)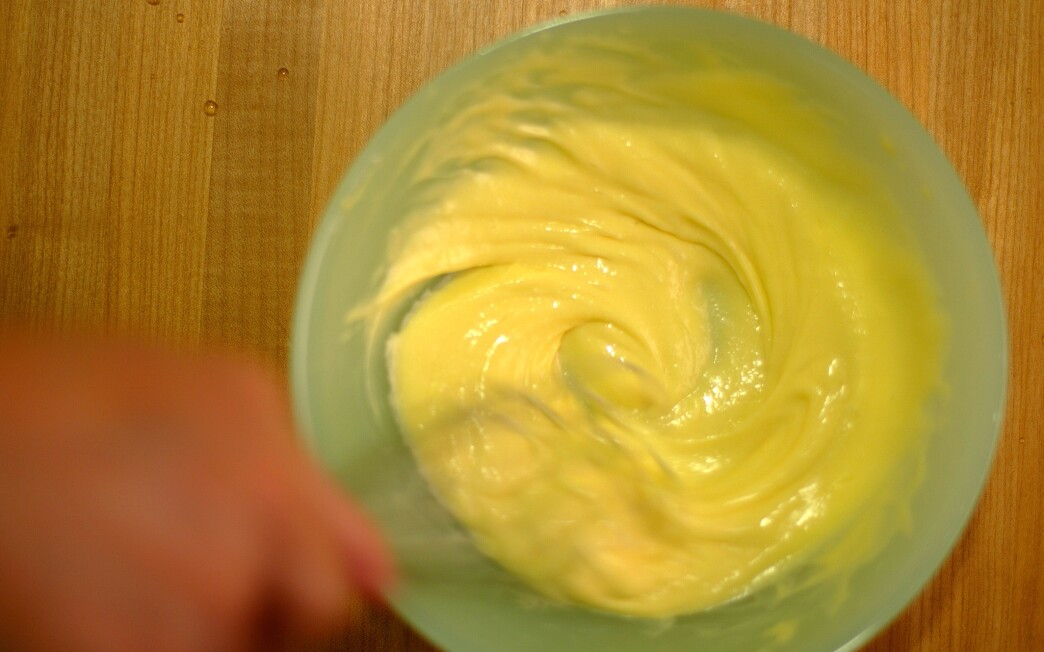 Print Recipe

Print Recipe
Mayonnaise is the latest proof that good things come to those who wait. All through the '80s and '90s it was demonized by the food police as the high-fat spread. Now it seems as socially acceptable as steak.
The sauce remains the same. What's changed is the perspective.
As the reign of nutrition terror subsided, real cooks -- and major manufacturers -- started to remember the reason mayonnaise is one of the mother sauces in classical French cooking. A little richness is a wondrous thing, and a tablespoon of real mayonnaise is worth cupfuls of sugary "lite" alternatives. Plus if you blend in a little garlic or mustard you get a whole new taste game.
Partly because it's so easy to jazz up, mayonnaise is undergoing a revival to rival beef's. It's in two-thirds of all American homes (87% if you count Miracle Whip-type salad dressings). Restaurants routinely serve it flavored as an alternative to ketchup for dipping French fries. In supermarkets, jars of plain "lite" are now being pushed aside by full-flavored newcomers, souped up with herbs or mustard or even bacon. The stuff is as indispensable as cheese on a burger.
These days, mayonnaise is also on more and more menus, if only because chefs are trying to cover their chicken tracks in recessionary times. What other condiment can be turned into rouille or aioli or remoulade to make the grilled chicken on ciabatta sound just a little different from the grilled chicken on sourdough? Mayonnaise by any name sounds almost like inspiration.
Unlike so many chef and supermarket standards, though, mayonnaise is one indulgence that's easy to make. All you need is an egg yolk, a lemon and some oil. (You don't even have to have a whisk, although you can fight the good fight if you want to try it the low-tech way.) The rawness of that yolk may seem a little scary, but in fact, for healthy people, the risk is apparently minuscule. Last year, a U.S. Department of Agriculture study found that one in 30,000 eggs may be tainted by salmonella.
Homemade mayonnaise is almost a different animal from what is sold in supermarkets and health food stores, and even snooty food shops. The lemon and egg make it custardy, rather than white as cream. The texture is not quite as gelatinous. And the flavor is more direct: Freshly made mayonnaise tastes like what's in it, nothing more.
Even the fresh mayonnaise from France that is sold in dairy cases in high-end stores, the Delouis fils brand, is different from homemade. The color and texture are closer, but the taste is much saltier and more aggressive, possibly because the last three ingredients listed in order are white wine vinegar, salt and lemon. It makes you realize how much sweetness counts with the big brands of mayonnaise, both from the same company but sold as Best Foods west of the Rockies, Hellmann's to the east.
Open the jar, with no apology
Still, most commercial mayonnaise is the Haagen-Dazs of the condiment aisle, a seriously good product with no kitchen stigma. Cooks -- and some big-name chefs too -- who would never use canned stock see no threat to their reputation in breaking out a jar of Hellmann's.
And there are countless ways to use it besides as an emollient for macaroni in a salad and turkey in a sandwich. You can actually cook with it. Biscuits baked with mayonnaise substituting for shortening (in the same quantity) are actually superior to the Crisco kind. One of my favorite fast dinners is flounder or sole broiled under a coating of mayonnaise and mustard, which melts into a cross between a crust and a sauce. And the most irresistible dip I know combines equal parts mayonnaise, chopped Vidalia onion and grated sharp Cheddar cheese, baked for 20 minutes at 325 degrees.
In French cuisine, mayonnaise is tweaked to make myriad other sauces, like tartar, verte (colored and flavored with watercress and herbs) and indienne (curry). But the two that have really caught on here are aioli and rouille, maybe because they go so well with steak.
Aioli is made a little differently from mayonnaise, with pounded garlic blended with egg yolks and oil, with no acid to help them emulsify. It's tricky to concoct the way the Provencal purists do it, but you can get the same effect by blending regular mayonnaise with some pounded garlic. (The blender destroys garlic's personality, turning it almost inedibly bitter; I always add it minced or pounded at the end.)
Rouille is not traditionally a mayonnaise at all, although American chefs have adopted it like pesto. In Marseilles, where it originated, the sauce is made by pounding water-softened bread with potatoes and garlic and then seasoning and coloring it with paprika and cayenne.
But again, shortcuts are not all bad: If you mix cayenne, paprika and garlic into mayonnaise, you can get a reasonable facsimile. You could even use it the way it was intended, as a pungent spread on a crouton designed to soak up the broth in bouillabaisse.
A whirring start
Making mayonnaise from scratch is almost foolproof as long as you use a blender with a narrow base (not one of the new broad-bottomed models) and remember a few rules.
All the ingredients should be at room temperature, particularly the egg yolk, so they emulsify. The blender jar should be completely dry for the same reason -- just a drop of water will leave you with an oily mess. Once the egg yolk, lemon juice and salt are whirled together, the oil should be added very, very slowly to keep the mixture from breaking or separating.
If the mayonnaise does break, you can fix it by getting out a whisk and a bowl. Whip a fresh egg yolk in the bowl, then gradually whisk the curdled mayonnaise in until it binds together.
Some people say the whisk is preferable to the blender for making mayonnaise, but I still remember the weeping and cussing in cooking school whenever we tried to hold the bowl straight while adding the oil. You need six hands to keep from needing fresh egg yolks for every broken batch. The blender works for me.
Vinegar can be substituted for the lemon juice, but the flavor is sharper. You can also use a mixture of lemon and Cognac if you want a fruitier taste. I always use peanut oil for basic mayonnaise because the flavor is so mellow -- olive oil is too aggressive and heavy. Corn oil would also work. For rouille and aioli, though, a mix of peanut and olive oils makes a better sauce.
Homemade mayonnaise will last up to five days in the refrigerator, tightly covered. I make only a cupful at a time, knowing how long a quart jar lasts me.
And according to Best Foods, its mayonnaise could last indefinitely. The eggs in it are pasteurized, and a preservative is added.
Christiane Paul, a marketing manager for Hellmann's/Best Foods in Englewood Cliffs, N.J., says commercial mayonnaise does not even have to be refrigerated once you open the jar, despite what the label advises. Chilling is for flavor and texture only.
"Mayonnaise can never go bad to the point where it makes you sick," she said.
And that little fact is just one more reason mayonnaise is back on top. Shelf-stable foods have never looked more appealing than in these uncertain times, when fat in food seems like the least of America's worries. No one can live on peanut butter alone. And with mayonnaise, you can get creative.
*
How to dress up mayo
Mayonnaise is not just a choice between regular and low-fat -- it comes in many flavors, from garlic to mustard to miso. But not one of the commercial types I've tried tastes as good or as fresh as what you can make yourself.
Blending your own is also a great way to use up the more esoteric items in an overstocked American pantry, from Chinese garlic-chile paste to Thai green curry to Spanish piquillo peppers. With mayonnaise, the globe's the limit.
1
Combine the yolk, lemon juice, mustard and salt in a blender. Process the mixture briefly on low speed.
2
With the motor running, very slowly dribble in the oil until the mixture emulsifies. Taste and adjust the seasoning, adding more lemon juice or salt as needed, then season with pepper. Serve immediately, or transfer to a bowl, cover and refrigerate up to three days.
3
Variations: For easy aioli, make mayonnaise according to recipe above but omit the salt and use really good olive oil for one-third of the oil. Use the flat side of a chef's knife to smash 4 garlic cloves to remove peels and crush flesh. Cut out any green sprouts in the garlic (they're bitter). Using a mortar and pestle, crush the garlic with 1 teaspoon coarse sea salt to make a smooth paste. Whisk into mayonnaise.
4
For easy rouille, make mayonnaise according to recipe above but use half olive oil, half peanut oil. Blend in 2 cloves minced garlic, 1 teaspoon cayenne and 3 teaspoons hot paprika. Let stand at least 1 hour to allow flavors to meld.
Variations:
Sesame mayonnaise: To 1 cup mayonnaise, add 2 tablespoons Asian sesame oil, 1 teaspoon hot sesame oil, 1 to 2 teaspoons tamari or regular soy sauce, 1/4 teaspoon Chinese hot chile paste and 2 tablespoons chopped fresh chives. (Great as a sauce for asparagus.)

Chipotle mayonnaise: To 1 cup mayonnaise, add 1 finely chopped chipotle chile in adobo sauce, 1 clove minced garlic and 2 tablespoons chopped cilantro. Add adobo sauce if you want it hotter. (Serve with roast beef or grilled salmon or tuna.)

Green curry mayonnaise: To 1 cup mayonnaise, add 2 to 3 teaspoons Thai green curry paste, 1 tablespoon fresh lime juice, 1/8 teaspoon Thai fish sauce and 1 tablespoon chopped fresh cilantro or chives. (Try it as a dip for shrimp or as a dressing for coleslaw.)

Nicoise mayonnaise: To 1 cup mayonnaise, add 2 teaspoons anchovy paste, 3 tablespoons finely chopped Nicoise olives, 2 tablespoons drained and chopped capers, 1 large clove minced garlic and 2 to 3 tablespoons chopped fresh basil. (Use it in tuna salad, dolloped onto a veal chop or scallop, or as a dip for roasted potato wedges.)

Chutney mayonnaise: To 1 cup mayonnaise, add 1/2 cup Major Grey chutney (chop any large chunks of fruit), 1 tablespoon fresh lime juice and finely chopped green part of 1 green onion. (Spread it on a turkey sandwich, add it to pasta salad or mix it with an equal part grated sharp Cheddar and bake it on baguette rounds.)
To make by hand, whisk the first four ingredients in a bowl, then whisk in the oil in a stream.
---
Get our new Cooking newsletter.
You may occasionally receive promotional content from the Los Angeles Times.