Blueberry Biscuits with Rhubarb Compote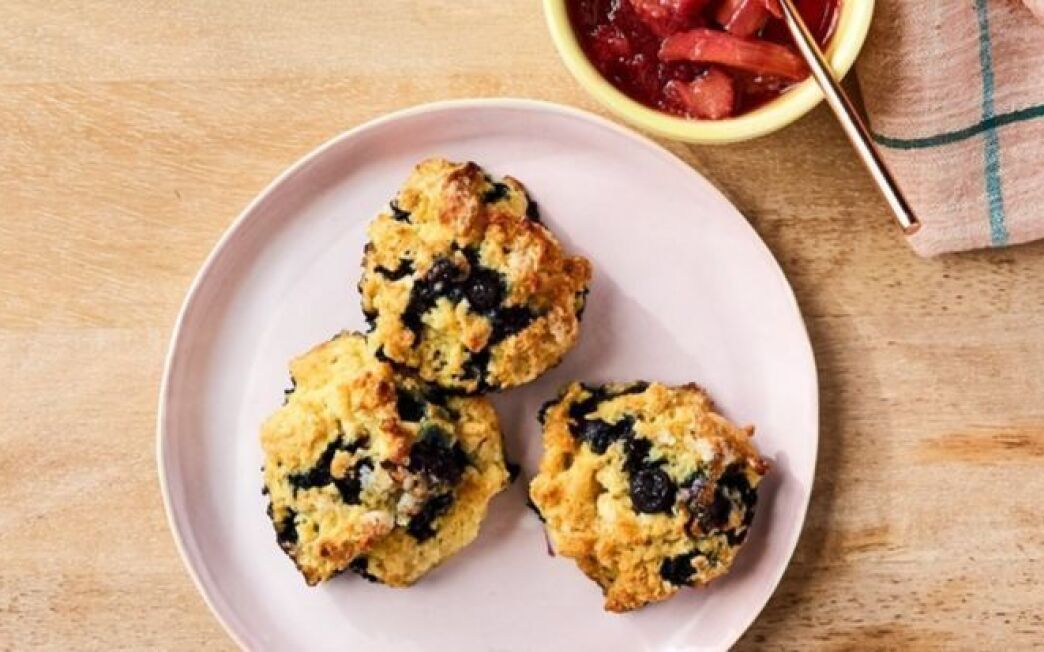 Print Recipe

Print Recipe
This time of year, rhubarb is at its ripest and reddest. It's still tart enough to make you pucker, but it is juicier and mellower than early spring harvests. That means you can keep big chunks of it intact when cooking it quickly into a compote, which is like a super chunky yet saucy jam. When you bite into a still-crisp piece, it will be refreshing and bright, not unpleasantly acidic. And you may get green notes of something like artichokes.
To complement this compote is another sweet-tart treat. Blueberries are just starting to show up in gardens and markets, and they're tiny and a little tart with a touch of crunch. They may not be ideal for snacking, but they're great for baking. Instead of couching them in a sugary muffin or pancake batter, I fold them into a one-bowl drop biscuit dough. If you want to veer sweeter into scone-land, you can shower the tops with sugar before baking.
I prefer tangy bursts of berries in the savory, tender biscuits since they get slathered with rhubarb compote. To highlight the delicious nuanced tartness of both, I add lime zest to the biscuits and its juice to the compote. Combining the end of winter citrus with height-of-spring rhubarb and almost-summer blueberries results in the perfect weekend brunch or teatime treat.
1
Heat oven to 425 degrees. Line a large baking sheet with parchment paper.
2
Mix the flour, sugar, baking powder and salt in a large bowl with a fork. Add the butter, toss to evenly coat, then press the butter into the flour quickly with your fingers until the mixture resembles coarse meal with pebbly pieces remaining. Add the blueberries and lime zest and toss to coat. Add the milk all at once and stir gently with a fork just until no dry bits remain and a shaggy dough forms.
3
Drop 24 heaping spoonfuls of the dough onto the prepared baking sheet, spacing 1 inch apart. Sprinkle the tops generously with sugar if you'd like.
4
Bake until golden brown, 18 to 20 minutes. Cool on a cooling rack. Serve warm or room temperature with the compote.
Rhubarb Compote
1
Combine the rhubarb, sugar and lime juice in a medium saucepan. Set over medium heat and cook, stirring occasionally, until saucy and with some whole pieces of rhubarb remaining, about 10 minutes. Serve warm or room temperature.
Variations:
Blueberry Buttermilk Biscuits: Reduce the baking powder to 3 teaspoons and add 1 teaspoon baking soda. Substitute buttermilk for the whole milk.
Make Ahead:
The biscuits can be cooled completely, then frozen in resealable plastic freezer bags. Reheat in a toaster oven or oven until crisp outside and warmed through inside.
---
Get our new Cooking newsletter.
Your roundup of inspiring recipes and kitchen tricks.
You may occasionally receive promotional content from the Los Angeles Times.