Brown sugar pound cake with caramel glaze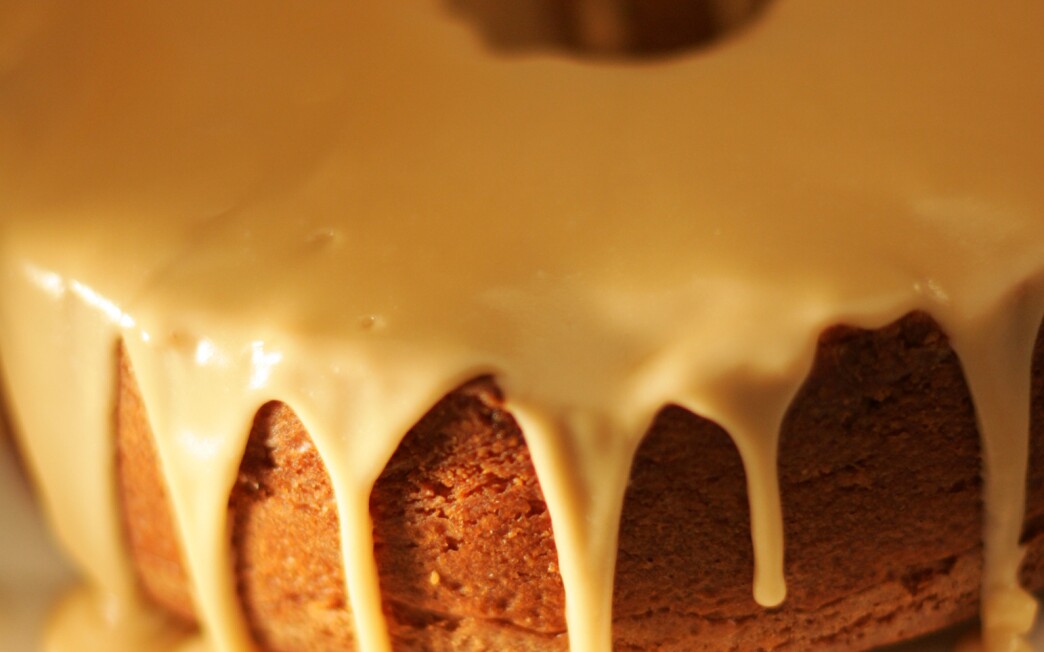 Print Recipe

Print Recipe
Succulent pork ribs with a spicy chipotle sauce, sweet zucchini braised to a buttery softness, the miracle of a Meyer lemon posset (like a mousse but with livelier flavor and a more elegant texture), a spectacular summer pie packed with nectarines and berries. All of the recipes published in the Food section in 2007 were so appealing that it was especially especially hard this time around to choose the year's 10 best.
We couldn't resist Amy Scattergood's sauteed-shrimp taco topped with a pumpkin seed sauce vibrant with cilantro and chiles. She opened our eyes to making fantastic tacos at home. And we were dazzled by her crostini with English pea puree and Greek yogurt.
And there was Russ Parsons' squid stuffed with Italian sausage and braised chopped tomatoes and fingerling potatoes, exactly what we want to eat right now.
And we loved test kitchen director Donna Deane's lemon upside-down cake -- slices of lemons on top of the cake turned to a jammy richness. But we'd also fallen hard for a brown sugar pound cake with a caramel glaze that spilled down its sides, a recipe from Nancie McDermott's "Southern Cakes." It had it all -- it was luscious, gorgeous and easy to make.
Our new favorite hot-weather treat is the paleta, the Mexican ice pop that comes in every imaginable tropical fruit flavor, which Betty Hallock wrote about in the summer. Noelle Carter won us all over with her hot-and-cold paleta of cucumbers, lime juice and three kinds of chiles.
But what about that spectacular platter-size Pavlova heaped with fresh berries, or that delicious Tunisian lamb shank tagine. . . . ?
Cake
1
Heat the oven to 325 degrees. Grease and flour a 10-inch tube pan.
2
In a mixing bowl, combine the flour, baking powder and salt and stir with a fork; set aside. Into a small bowl, pour the milk and add the vanilla; set aside.
3
With a mixer, beat the butter at high speed until light and fluffy. Add the brown sugar in three batches, then add all of the white sugar, beating after each addition. Add the eggs one by one, beating well after each addition.
4
Reduce the speed to low and add half of the flour mixture and then half the milk, beating until the flour or milk has disappeared into the batter. Add the rest of the flour and the rest of the milk in the same way. Quickly scrape the batter into the tube pan and bake until the cake is nicely browned at the edges, springs back when lightly touched at the center, and a wooden skewer inserted into the center comes out clean, about 1 hour and 10 minutes.
5
Remove the pan from the oven and leave it on a wire rack for 20 to 30 minutes. Loosen the cake from the pan with a table knife and turn it out onto a wire rack or plate, then leave it to cool completely. When cool, glaze with caramel glaze.
Caramel glaze
1
In a large saucepan, place the butter and brown sugar over medium heat. Stir until the butter melts and blends with the brown sugar to a smooth sauce, 2 to 3 minutes.
2
Add the milk and let the icing come to a gentle boil. Stir well, remove from the heat and add the powdered sugar and vanilla. Beat well with a mixer, whisk or spoon until the glaze thickens and loses a little of its shine, 1 or 2 minutes.
3
Use at once. If the glaze hardens, stir in 1 or 2 spoonfuls of evaporated milk to soften it.
This easy-to-make, delicious cake with a lush caramel glaze spilling down the sides was part of Charles Perry's Aug. 22 review of Nancie McDermott's "Southern Cakes.".
---
Get our new Cooking newsletter.
You may occasionally receive promotional content from the Los Angeles Times.