Buckwheat blini
Yields
Makes about 5 dozen blini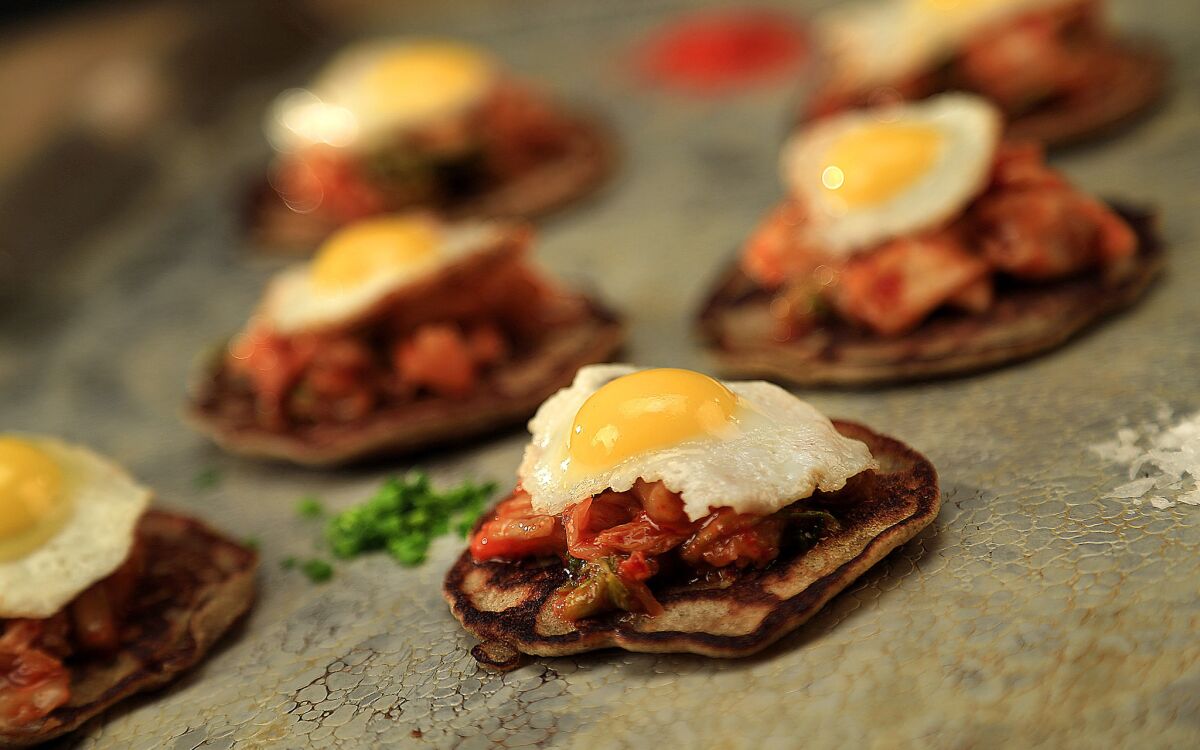 Print Recipe

Print Recipe
According to Alice Waters in the "Chez Panisse Menu Cookbook," whenever legendary chef Jeremiah Tower made blini at Chez Panisse, he'd recount how his Russian uncle felt about butter. You had enough only when it ran down and dripped off your elbows as you ate the blini. His were, of course, topped with sour cream, that glorious melted butter and a stupendously indulgent amount of caviar.
If not Chez Panisse, you could be indulging in blini and caviar at Spago or Pétrossian, certainly. But what if you didn't have to go out? What if you could be at home luxuriating in front of the fire listening to Thelonious Monk playing on the stereo and popping warm blini in your mouth between sips of vodka?
Picture a tray set with shot glasses, an icy bottle of vodka, a generously sized tin of osetra caviar and freshly made blini kept warm inside a linen napkin. There's a small bowl of crème fraîche — and melted butter for anyone who wants to drizzle that over the cream. Very old school, true, but nevertheless outrageously delicious. Their history goes back a thousand years in Russia and they used to be eaten before Lent during what was known as "Butter Week," celebrating the end of winter. An entire week of eating pancakes. Maybe we should revisit that tradition here in L.A.
Blini don't travel well, so the only way to make this scenario happen is to get in the kitchen and make those little pancakes yourself. It's a much easier cooking project than you'd think. We've rounded up recipes for classic yeast-raised buckwheat blini from former Cooks County and Ammo pastry chef Roxana Jullapat, a tender potato blini from the French Laundry's Thomas Keller and lemon herb blini from Lee Hefter, Wolfgang Puck's longtime corporate executive chef.
If you know how to make a regular buttermilk pancake, you'll have no trouble with blini. You just make them smaller — the size of silver dollar pancakes, if you like. And because they're so fragile, it helps to have a spatula with a thin lip in order to turn them over without breaking when the time comes.
You can make them on a griddle (Keller likes to use an electric one), in special cast-iron blini pans with shallow depressions or in a regular cast-iron or nonstick skillet. Put two pans on the fire if you're making them for a crowd. And have a basket lined with a cloth napkin at the ready to keep them warm.
No need to wait until you win the lottery, and can bring home a big tin of top-of-the-line caviar. Salmon eggs are delicious — and pretty, atop a smear of crème fraîche sprinkled with minced chives. Smoked salmon or trout, even smoked sturgeon, make great toppings too. You can shave bottarga over butter-drenched blini.
You don't always have to stick with tradition — and can certainly do something unexpected, such as topping buckwheat blini with fried eggs and kimchi. Or try rabbit rillettes, or salmon tartare, or sautéed wild mushrooms. But stay away from sliced duck breast or meats that would make the blini difficult to eat. Avoid piling on ingredients — as with many things, less is always more — but do experiment with the blini as a canvas for flavors. Cauliflower florets with pan-roasted spices, fresh uni, even a warm oyster might work. You'll never know until you try it.
Before you start making the blini, it's a good idea to lay out all your toppings on a tray. Then once you've finished making them, rush them to the table warm, tucked inside that napkin and let everyone garnish their little pancakes with whatever and however they like.
1
Heat up the milk in a small pot until it is lukewarm. Transfer to a heat-resistant container, and rain the yeast over the warm milk. Stir to help the yeast dissolve, and let it sit for 5 minutes to activate.
2
Meanwhile, transfer the egg yolks to a medium mixing bowl and slowly add the oil in a thin, steady stream while whisking vigorously. The idea is to emulsify the oil into the yolks.
3
Sift flours, 1 tablespoon of the sugar and salt into a separate bowl, and make a well in the center. Pour the yolk mixture and the dissolved yeast into the well, and start whisking from the center out, slowly drawing in more and more flour while working out the lumps. Once the mixture looks smooth, cover with a kitchen towel or plastic film and let rise at room temperature for 1 1/2 to 2 hours or until it has doubled in size.
4
In the stand up mixer, set up with the whisk attachment, beat the egg whites until foamy. Add the remaining 2 tablespoons of sugar and continue to whisk at high speed until soft peaks form. Fold the egg whites into the batter, alternating with the melted butter.
5
To make the blinis, heat up a non-stick skillet over medium heat. Coat the skillet with a thin film of equal parts oil and butter. Spoon dollops of about 1/8 cup of batter over the hot surface just as if you were making silver dollar pancakes. Flip each one when small bubbles start to form, and continue to cook on the other side for another minute. Put finished blinis on a separate plate. Wipe the skillet clean with a kitchen rag or paper towels and repeat previous steps to make more blinis.
Adapted from a recipe by Roxana Jullapat. Blini can be topped with a fried egg and kimchi. See story for ideas on toppings.
---
Get our new Cooking newsletter.
Your roundup of inspiring recipes and kitchen tricks.
You may occasionally receive promotional content from the Los Angeles Times.