Caramelized Lemon Pasta With Mushrooms and Broccoli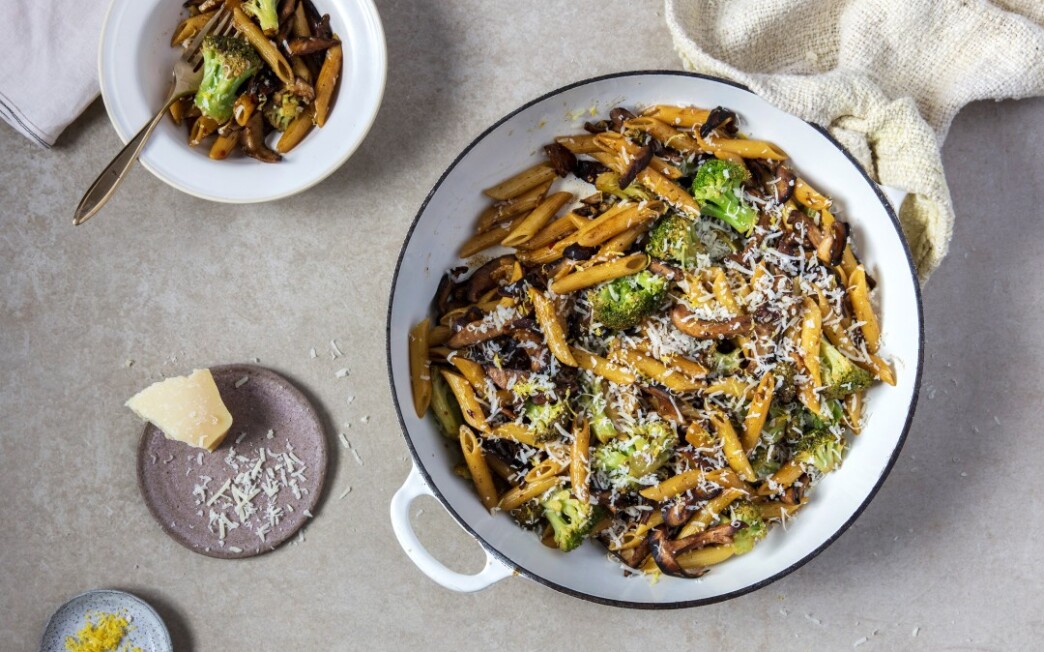 Print Recipe

Print Recipe
This dish is easy to make vegan: just sub nutritional yeast in place for the parm.
1
Using a Microplane grater, remove the zest from the lemon over a bowl, leaving no patchy parts. Trim and discard the ends from the lemon then chop into rough ½-inch pieces, discarding any seeds.
2
Heat 2 tablespoons olive oil in a large skillet over medium heat until it begins shimmering in the pan. Add the chopped lemon, season with salt and pepper, and cook, stirring occasionally, until the lemon is caramelized in spots and the pith is tender, 6 to 8 minutes. Transfer the lemon pieces to the bowl with the lemon zest and return the skillet to medium heat.
3
Heat 3 tablespoons olive oil in the skillet then add the mushrooms and garlic, and cook, stirring occasionally, until the mushrooms are deep golden brown, 16 to 20 minutes. (At first the mushrooms will absorb all the oil and seem dry, but give them time and they will release a lot of moisture and once it evaporates, become deep golden.) Remove from the heat and reserve until ready to use.
4
Meanwhile, bring a large pot of salted water to a boil. Add the pasta and cook until al dente, 9 to 10 minutes, or according to package instructions. Reserve 1 cup of the pasta water, then drain the pasta.
5
Return the pot (without washing) to medium heat and add the broccoli and reserved pasta water. Add the mushrooms, reserved caramelized lemon and zest, and chile flakes, then add the cooked pasta last. Cover the pot and cook, stirring once halfway through, until the broccoli is just warmed through and all the cooking liquid is absorbed, 3 to 4 minutes.
6
Uncover and season to taste with salt and pepper. Serve hot, sprinkled with Parmesan on top, if you like.
---
Get our new Cooking newsletter.
You may occasionally receive promotional content from the Los Angeles Times.