Carousel's fattet al aubergine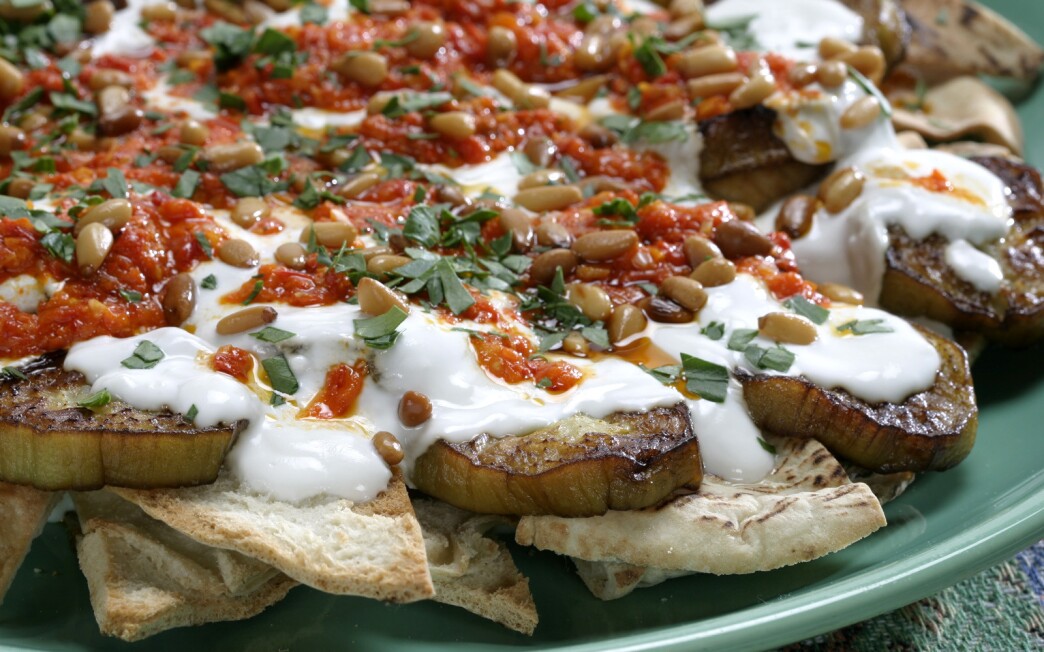 Print Recipe

Print Recipe
We couldn't resist the terrific blend of textures and tastes in this yogurt-smothered fried eggplant appetizer from Carousel restaurant in Glendale. It's creamy, crisp, smoky, garlicky, just a little hot. "And vegetarian, for that matter," says staff writer Charles Perry, who tracked it down. The recipe is from Carousel chef Rose Cholakian.
1
Peel the eggplant and cut in half-inch slices. In a large saute pan, heat the oil on medium heat about 3 minutes, until very hot. Fry the slices in batches until dark golden, about 2 to 3 minutes per side. Drain on paper towels, sprinkle them with one-fourth teaspoon of the salt and keep warm.
2
Adding more oil if necessary, brown the pine nuts in the same pan and drain. Set aside.
3
Heat the oven to 500 degrees and toast the pita wedges for 5 to 8 minutes until deep golden brown. Set aside.
4
With a mortar and pestle, make a paste of 2 medium garlic cloves and the remaining one-half teaspoon salt and mix it with the yogurt. In a small pot, warm the yogurt mixture over medium heat for about 2 minutes, stirring constantly. Set aside.
5
Chop the remaining 3 cloves of garlic. In a small pan, saute the garlic in the 3 tablespoons olive oil. Add the pepper paste and mix until dissolved.
6
Arrange the toasted pita bread pieces on a round serving platter. Place the eggplant over the bread. Pour the yogurt mixture on top. Garnish with the garlic and pepper paste mixture, browned pine nuts and parsley. Serve immediately.
Red pepper paste can be found at most Armenian, Arabic, Italian and Indo-European delis and groceries. Look for brands of Ajvar red pepper paste by ZerGut or MidEast.
---
Get our new Cooking newsletter.
You may occasionally receive promotional content from the Los Angeles Times.