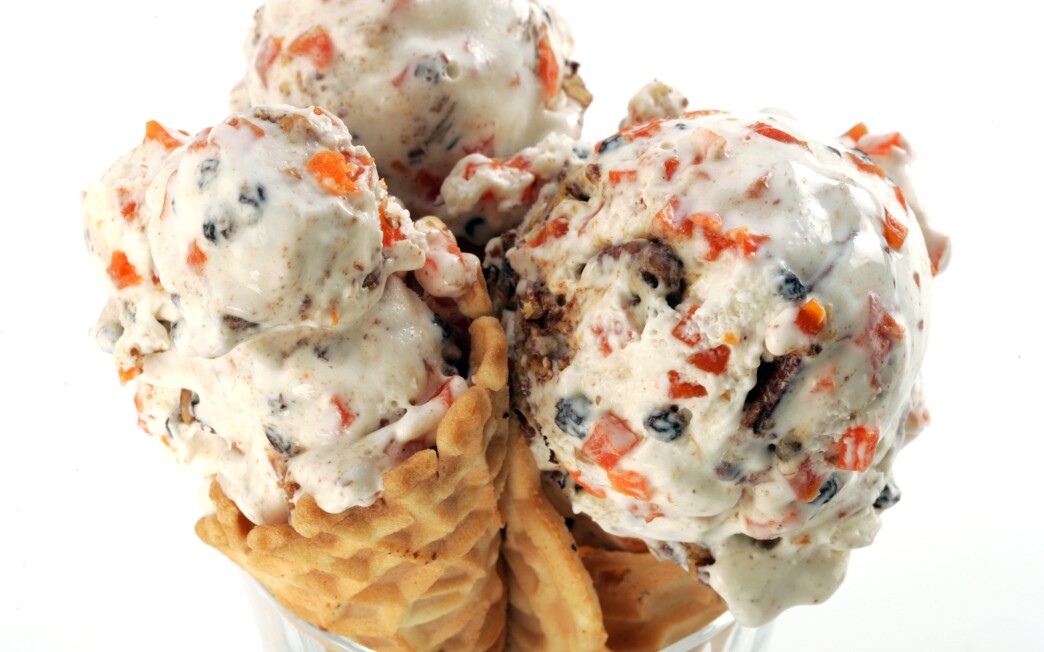 Print Recipe

Print Recipe
When I baked in a restaurant, one day someone gave us a flat metal instrument called the Wacker. It was basically a shovel-shaped tool normally used for scooping ice cream, but the slogan on the package suggested it had other possibilities, noting "its only limitation is your imagination" -- which for years bothered me because I had no idea what that meant. In the meantime, I used it, unimaginatively, for shoveling ice cream.
But when it comes to making ice cream, I've been learning how unlimited my imagination really is.
Vanilla may be the most popular flavor, but being popular isn't everything (which I kept telling myself in high school), and I sometimes find it hard to get excited about a bowl of plain vanilla ice cream. I like vanilla as much as the next guy, but I rarely eat a scoop all by itself. At my table, it invariably gets paired with a warm apple pie, a fruit and berry crisp, or I douse it with chocolate or caramel sauce.
And although I do like the classics, lately I've been using ice cream as a base for some wacky flavors, including an earthy buckwheat ice cream, extra-tangy frozen lemon yogurt enlivened with a few crystals of citric acid, and carrot cake ice cream, which combines everything I love about carrot cake in one colorful scoop.
These are ice creams that can stand on their own for dessert and don't need any embellishment or adornment. (Although in my opinion, a plate of cookies alongside any dish of ice cream is obligatory.)
And busy and imaginative cooks will appreciate these unusually flavored ice creams, which not only can be made in advance, but will perk up guests whose interest might be waning after a long dinner.
Ever since I learned that true French buckwheat crepes, or galettes, as they're called, shouldn't contain even a speck of regular flour, I've been hooked on the hearty taste of buckwheat.
While most Americans, as well as our French counterparts, confine buckwheat kernels to the savory side of the kitchen, infusing a custard-based ice cream with roasted buckwheat (sometimes called kasha) imparts a wonderful nutty-sweet flavor to the smooth creaminess of the rich base. And when I tasted a few of the roasted bits of buckwheat, I was delighted by their pleasant crunch. Hold back a few to add to the ice cream after it's been churned.
Another option is to use cocoa nibs, crackly unsweetened morsels of ground cocoa beans. They used to be an oddity but have become so popular that dozens of chocolate makers have been packaging their nibs and making them available to all. If nibs aren't available, but you still want to please chocolate lovers, you won't get any complaints if you douse a few scoops with plenty of warm chocolate sauce.
Ever wondered why your homemade frozen yogurt lacks the tangy tartness of the store-bought stuff? The answer lies in a magical powder: citric acid. It can be hard to find in grocery stores, but you can use the commercial product Fruit-Fresh, which is a mixture of citric acid and sugar and is more widely available.
You can use these in any frozen yogurt recipe to dial up the tanginess. Just be sure you know that a little goes a long way -- start with the recommended amount for a quart of frozen yogurt, and add more as you go.
This frozen yogurt couldn't be easier to put together; unlike traditional ice cream, just a few seconds in a blender and you're ready to go. And though plain whole-milk yogurt will yield perfectly good frozen yogurt, with the puckery lemon juice use thick, full-fat Greek yogurt for the smoothest texture and tastiest results.
I wouldn't have believed it either, but at last, carrot cake is just making it into the local lexicon in Paris, where I live. If I have anything to say about it, I think carrot cake ice cream may be coming next. I wasn't sure how this one would go over with the notoriously finicky French, but everyone loved it. And I mean raved. After all, what's not to like? A base of cream cheese and sour cream studded with candied pecans, whiskey-soaked currants and the surprising, colorful addition of candied carrots.
If it sounds complicated, it's not. True, there are a couple of simple steps you need to do for the mix-ins (and if you can keep your hands off the candied pecans while the ice cream is churning, you have more restraint than I). But the mitigating factor is that this is a Philadelphia-style ice cream, which refers to the non-custard base, not just the star ingredient: all-American cream cheese. All the components can be made a day or so ahead of churning, so you can get everything together at your leisure.
So while you may not have the Wacker to inspire you, you can take a cue from it and realize with ice cream, there really is no limit to your imagination.
Spiced pecans
1
Heat the oven to 350 degrees. Toss the pecans with the butter.
2
In a small bowl, whisk together the cinnamon, cloves, brown sugar and salt. Pour the mixture over the pecans and toss to coat completely.
3
Spread the pecans on a baking sheet and cook for 12 minutes, gently stirring halfway during baking to candy the nuts. Remove the tray to a rack and cool the nuts completely. Once cool, coarsely chop the pecans. Set aside.
Currants
1
In a small saucepan, heat the currants and whiskey until boiling. Simmer until the currants have absorbed almost all of the liquid. Remove from heat and cover the pan. Set aside to cool completely.
Candied carrots
1
In a medium saucepan, combine the carrots, sugar, corn syrup and water. Bring to a low boil and cook until the syrup is reduced to about 2 tablespoons and the carrots are translucent and candied, 20 to 30 minutes. Keep an eye on the carrots during the last few minutes so they do not burn. Drain the carrots and set aside to cool.
Ice cream base and assembly
1
In the bowl of a stand mixer, or in a large bowl using a hand mixer, blend together the cream cheese, sour cream, sugar and lemon zest until smooth. Chill thoroughly.
2
Freeze the base in an ice cream maker. After churning, gently fold in the spiced pecans, soaked currants and candied carrot cubes. Freeze until firm.
---
Get our new Cooking newsletter.
You may occasionally receive promotional content from the Los Angeles Times.