Carrot cake with ginger frosting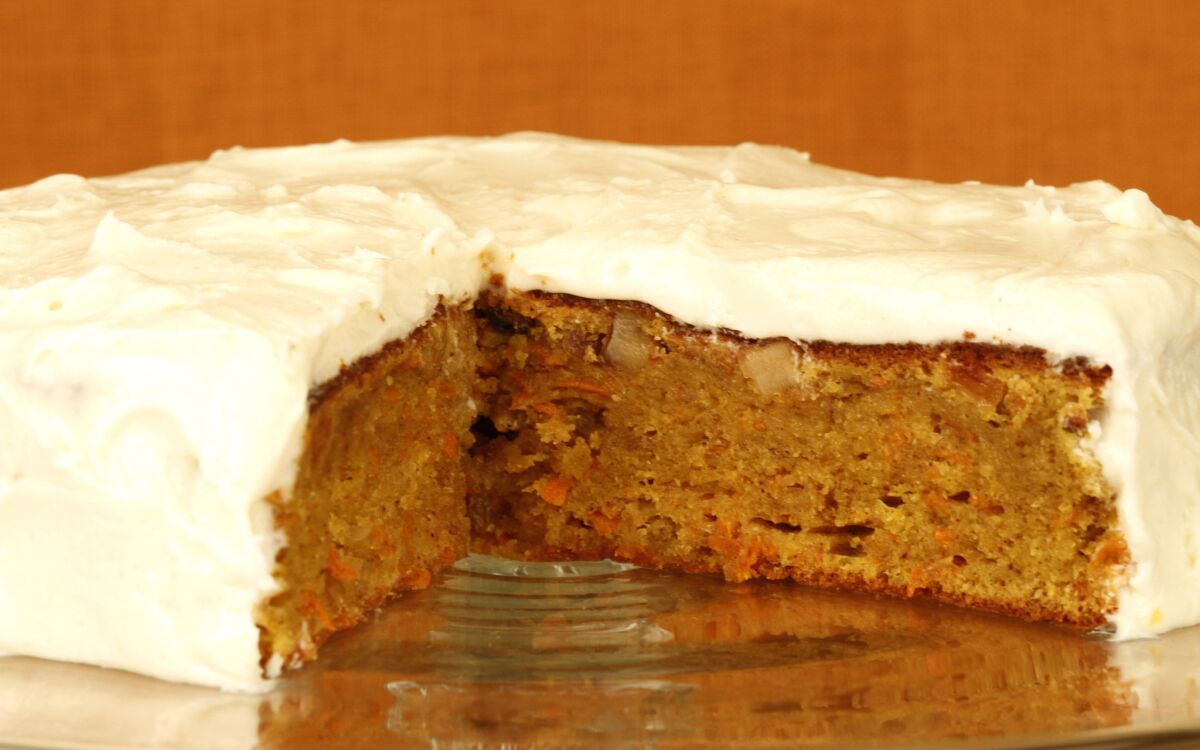 Print Recipe

Print Recipe
The long narrow plate arrived at her table, and, like any good food blogger, Shauna James Ahern paused to take it all in: roasted red piquillo peppers -- plump with a lentil stuffing -- alongside graceful strands of quick-pickled green beans and red onions, and emerald pools of cilantro-ginger sauce.
"When people hear 'gluten-free,' the reaction can be 'poor thing,' and I just want to say, 'Look at what's on my plate -- does this look like deprivation to you?' "
In the blogosphere, Ahern, 44, is best known as Gluten-Free Girl. She's a Pacific Northwest blogger who was diagnosed in 2005 with celiac disease, ending decades of mysterious ailments and endless medical exams and tests. At one point, she was largely subsisting on jarred baby food because she was too sick to cook for herself. She says the crippling symptoms vanished, overnight, when she stopped eating wheat, barley and rye and anything else that contained gluten.
In hindsight, the diet overhaul was pretty easy. Ahern wanted nothing to do with the breads and the pastas that had been making her so sick. "After I was diagnosed, I just kept it simple. I just ate 'real' food. One of the first things I remember eating was a plate of spinach sauteed in garlic and olive oil and with a little salt. And I just remember looking down at how gorgeous it looked and the feeling of hot food going down my throat. I was so grateful for it."
Harder, though, has been convincing skeptics who greet the term "gluten-free" with an eye roll, or the newly diagnosed who fear it is a culinary death sentence. They all turn to Ahern -- who has become one of the highest-profile food writers on the subject -- for answers.
Ahern usually does it with a sense of humor: "I know there are people who think, 'gluten-free? That's a fad, it's all about the celebrity,' but I'm like, 'Do you really think I'd give up pizza and pasta unless I had to?' "
"I think of the day of my diagnosis as my birthday, because life started all over for me again on that day," Ahern adds. "Before, the food was making me sick.... Now, I eat better than I ever did before. I know food in a way I never knew before."
The simple beauty of butter softening on her kitchen counter now gives her delight.
Building community
Her blog has become an online coffeehouse for people who share the digestive condition, which prompts the body's immune system to attack the lining of the small intestine. But don't expect a lot of moaning and groaning and symptom-swapping. In fact, it's easy to forget that the blog revolves around gluten-free eating because there are so many gloriously decadent food photos. And because Ahern is determined to celebrate what she can eat -- not what she can't. (Recently, her recipe for homemade Oreos -- pretty chocolate wafers clutching rich buttery icing -- went pinging through the food blogosphere. That the cookies happened to be gluten-free was a mere aside.)
Same goes for her new cookbook, "Gluten-Free Girl and the Chef," which is as much a guidebook for new cooks in the kitchen -- it covers basics such as how to select ingredients, properly season foods and make sauces -- as it is a collection of gluten-free recipes.
Woven around dishes that celebrate seasonal eating and locally sourced ingredients -- blackberry-peach crumble, braised veal cheeks with stuffed squash blossoms, roasted chicken with apricot-corn relish, and mussels with rosemary, cream and mustard -- is her story: her illness and recovery, her romance with the titular chef, Danny Ahern, how he taught her to cook, their marriage and more.
"You know what it's like when you fall in love. You want to feed each other. We had this immediate connection through food."
So did readers. In fact, roughly half of the nearly 500,000 visitors to Ahern's website each month don't suffer from celiac disease. They just want to know what will happen next for Gluten-Free Girl. Readers are so invested in the storyline that Ahern sees the comments section light up whenever the Aherns' daughter, Lucy, now 2, makes an appearance.
"Never in my wildest dreams did I think people would want to follow along with all of this," says Ahern, whose online popularity also led to the 2007 memoir, "Gluten-Free Girl: How I Found the Food That Loves Me Back ... and How You Can Too."
Ahern is now a stay-at-home mom and full-time writer on rural Vashon Island in Washington, where her husband is the chef at a restaurant called the Hardware Store. He's expanded the restaurant menu to include gluten-free dishes, such as those piquillo peppers. "I'm a writer, so when I started the blog I just did it as an outlet, as a way to get my thoughts down and document this. And then people started finding the blog -- I have no idea how that happened -- and I realized, 'Hey, I can help people with this.' "
She says that before her diagnosis, life seemed like one revolving doctor's appointment.
A long struggle
Ahern, who grew up in Claremont and Pomona, remembers being 15 and doubled over with intestinal pain. Symptoms dogged her through her teens, 20s and early 30s, following her as she settled into a high school teaching career and lived at various times in London and Manhattan. Along the way there were days when she could barely get out of bed, as well as repeated bouts with pneumonia, MRIs, CAT scans, a memorable day where she had both an endoscopy and a colonoscopy, and, once, the words, "We think you have ovarian cancer."
And what did Ahern often do during these dark times? Curled up with comfort food such as a bowl of mac 'n' cheese -- no clue that the gluten-filled wheat in the pasta or pizza or cake was the very substance that was causing her body to turn on itself.
And then in early 2005, a friend from Maine called and said, "I was listening to this interesting story on NPR. It's about this thing called celiac disease."
Today, Ahern keeps a gluten-free home and almost never yearns for the forbidden. Instead, she and her husband develop recipes that can scratch that comfort food itch, such as chocolate-peanut butter brownies that use gluten-free oat flour, or a crusty bread they make with almond flour. They are addicted to the trial-and-error of it all. He, after all, is a chef always in search of a new dish. And she's a food writer who uses it as fodder for the blog. The pair toiled for months to develop their recipe for homemade pasta. (They use corn and quinoa flours.) "For us, that is fun in the kitchen," she says.
"I just never get over the amazement at looking down at the food on my plate and realizing that food can be a great way to heal yourself."
1
In a small saucepan over medium heat, bring the carrot juice to a boil, then reduce the heat to low. Slowly reduce the juice, stirring occasionally, until it is reduced to one-fourth cup and is darkened in color, about 20 minutes. Remove from heat and set aside to cool.
2
Heat the oven to 350 degrees. Cut a circle of parchment paper to fit the base of a 9-inch cake pan. Grease both sides of the paper with oil and place it in the pan. Set aside.
3
Into a large bowl, sift together the almond flour, tapioca flour, sweet rice flour and brown rice flour. Sift in the xanthan gum, guar gum, baking powder, salt, cinnamon, nutmeg, one-half teaspoon ginger and cloves. Stir together the flour-and-spice mixture to make sure the ingredients are evenly distributed and set aside.
4
In the bowl of a stand mixer, or in a large bowl using a hand mixer, beat 1 cup butter and the white and brown sugars until creamy and fluffy, 3 to 5 minutes. Add the 4 whole eggs and 2 egg yolks, one at a time, until fully incorporated. Beat in the orange zest and vanilla, then the reduced carrot juice.
5
Slowly add the flour-and-spice mixture to the liquid until combined. Gently stir in the carrots, and walnuts and raisins (if using). The cake batter should be quite thick, but you should still be able to work a rubber spatula through it easily.
6
In a clean, dry mixing bowl, beat the 2 remaining egg whites with the cream of tartar with the hand mixer until they form stiff peaks. Gently fold the stiff egg whites into the cake batter until they are entirely incorporated.
7
Pour the batter into the prepared cake pan. Slide the pan into the oven and bake until a knife inserted into the center of the cake comes out clean and the top is golden brown, about 45 minutes. Transfer the pan to a wire rack and set aside for 15 minutes before removing it from the pan. Turn the cake out onto the rack, turn it right side up, and cool completely before frosting it.
8
Make the frosting: In a mixing bowl, beat together the cream cheese, remaining 1 cup butter, remaining 1 tablespoon ginger and cardamom with the hand mixer until smooth. Gently beat in 3 cups powdered sugar, then beat in more if you prefer the frosting thicker and sweeter. Spread the frosting on the top and sides of the cake before slicing and serving.
Adapted from "Gluten-Free Girl and the Chef" by Shauna James Ahern and Daniel Ahern. Almond, tapioca, sweet rice and superfine brown rice flour, as well as xanthan gum and guar gum can generally be found at health food stores and select well-stocked markets.
---
Get our new Cooking newsletter.
Your roundup of inspiring recipes and kitchen tricks.
You may occasionally receive promotional content from the Los Angeles Times.