Chickpea and noodle soup with Persian herbs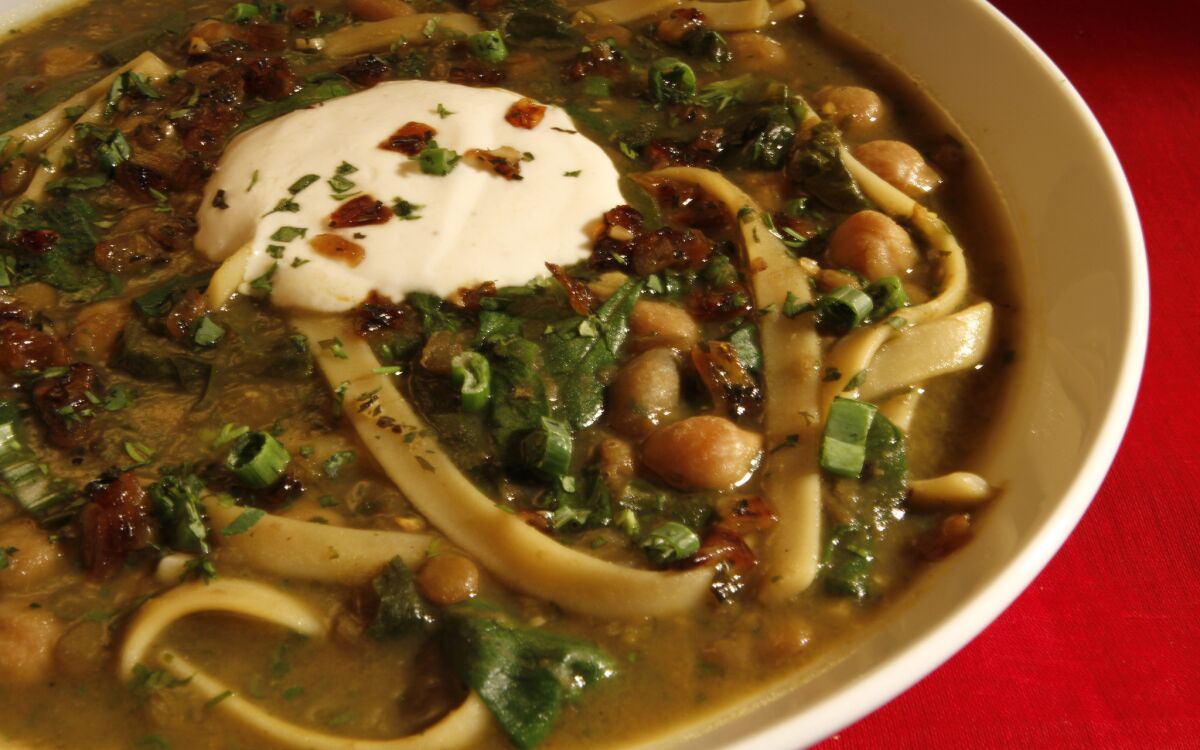 Print Recipe

Print Recipe
Persian cooking has much in common with other Middle Eastern cuisines, but its flavor combinations are unique, with gentle spicing and lavish use of fresh herbs. The Persian love of herbs and greens is evident in this festive noodle and bean soup, made with sauteed onions and garlic, and enhanced with spinach and liberal amounts of fresh herbs: dill, cilantro and green onions.
At serving time, each portion is garnished with a spoonful of kashk, a flavorful Persian yogurt-like dairy product used to top soups, the way Americans add sour cream. Often labeled "whey," kashk is salty and adds good flavor to vegetable soups. It's widely available at Middle Eastern markets. Some recommend sour cream as a substitute, because kashk has an intense flavor but I find that labneh or lebni, a flavorful kind of strained yogurt, works better if you can't find kashk.
From the story: Chickpea And Noodle Soup With Persian Herbs
1
Heat the oil in a medium, heavy-bottom saucepan over medium heat. Add the onion and cook, stirring occasionally, or until it is soft and deep golden brown, about 25 minutes; as the onion starts to brown, reduce the heat and stir more often. Add the garlic and cook over medium-low heat, stirring often, for 1 minute. Transfer about one-third of the mixture (about 1/3 cup) to a small bowl; reserve it for garnish.
2
Add the chickpeas, broth and 2 cups water to the pan. Stir well to blend in the onion mixture and bring to a boil. Cover and cook over low heat for 1 1/2 hours. Add the lentils, turmeric, salt, pepper and 2 cups water. Return to a boil. Cover and simmer over low heat until the chickpeas and lentils are tender, about 30 minutes. At this point you can refrigerate the soup.
3
Boil 4 cups water in another medium saucepan. Add a pinch of salt and the linguine. Cook uncovered over high heat until just tender, checking about 2 minutes before the time on the package instructions. Drain the linguine, reserving the cooking liquid. You should have a scant 2 cups cooked pasta.
4
Meanwhile, mix 2 teaspoons each of the dill, cilantro and green onion; reserve as garnish.
5
Mix the remaining dill, cilantro and green onion and divide in two parts. Divide the spinach in two parts.
6
Reheat the soup to a simmer. Add one part of the spinach and one part of the herb mixture. Cook over medium heat, uncovered, for 10 minutes. Add one-half cup of the pasta cooking liquid and cook until the spinach is very tender and the soup takes on a spinach flavor, about 5 minutes. If the soup is too thick, add 1/4 cup pasta cooking liquid and return to a boil.
7
Just before serving, bring the soup to a simmer. Stir in the remaining spinach and add the cooked pasta. Cook uncovered until the spinach just wilts, about 1 minute, adding more pasta liquid by tablespoons if the soup is too thick. Stir in the second part of the herb mixture. Taste and adjust seasoning.
8
Reheat the onion and garlic mixture reserved for garnish in a very small skillet over medium heat until sizzling. Add the dried mint, stir and remove from heat.
9
Ladle the soup into a tureen or into bowls. Garnish each serving with a spoonful of kashk and with the onion-garlic mixture and the reserved herbs and green onion. Serve hot.
Kashk, a flavorful Persian yogurt-like dairy product, is widely available at Middle Eastern markets and can be substituted with labneh (strained yogurt).
---
Get our new Cooking newsletter.
Your roundup of inspiring recipes and kitchen tricks.
You may occasionally receive promotional content from the Los Angeles Times.