Chocolate chip cookies
Yields
Makes 12 very large cookies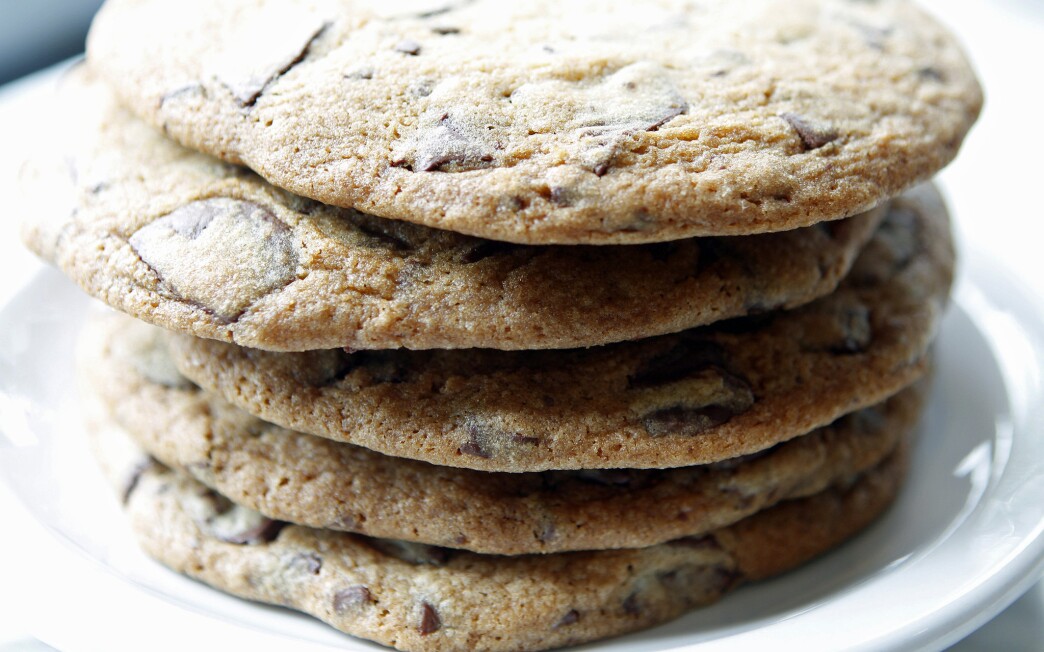 Print Recipe

Print Recipe
The crowd is shoulder to shoulder at Joan's on Third. Power couples buy their toddlers "babyccinos" (steamed milk sprinkled with cocoa), and lithe women with "it" bags dangle their forks over Chinese chicken salads. A voice from a loudspeaker interrupts the thrum: "If you are driving a white Jaguar parked in the back behind another car, please move your vehicle."
Just another morning at Joan's. What started as a tiny catering kitchen on 3rd Street, is, 14 years later, an L.A. institution. Former Gourmet editor Ruth Reichl breakfasts here when she's in town. So does Vogue's Andre Leon Talley. Actor Alexander Skarsgard reportedly comes for the meatloaf sandwiches and Kate Bosworth for the salads.
The 3,000-square-foot spic-and-span cafe has a deli, bakery, cheese counter, and gelato bar. More than 2,000 customers a day come through the doors. The woman behind it all is Joan McNamara, a hip, cherubic, black-clad grandmother who drives a Mini Cooper and lives in a loft on Melrose. On the cusp of expanding to a second location, she's still working the hot line making omelets. She's also the mastermind whose vision is manifested in every detail: the baby fig trees, vintage dolly tubs, private-label sauces.
The $13 boxes of dried pasta? She originally spotted those at a market in Bologna. The chandeliers are from London. Shelves are from an 18th century convent in Albany, N.Y.
A glimpse into McNamara's kitchens, offices and home reveal the inner workings of an obsessive who has steadfastly grown a company that now employs 110 people. And if all goes as planned, a Joan's on Third will open in a former post office on Ventura Place in Studio City this year.
The daughter of Czech immigrants, McNamara grew up in New Jersey, moved to Manhattan in her 20s and worked for designer Paul McCobb, then with chef Dione Lucas running her cooking school and a restaurant called the Egg Basket.
After moving to L.A. with her late husband, McNamara stayed home with her daughters, Carol and Susie, who've helped her run Joan's since graduating from college. Carol runs the catering operation, and Susie the marketplace. It was their idea to call it Joan's on Third. "I always wanted something clever," McNamara says. "I would read the dictionary every night to find the one right word...."
Despite all the traffic, nothing's ever out of place. "Oh, that drives me crazy," she says of a kaput light bulb in a chandelier. Employees say they take the lead of McNamara, who straightens out-of-place bottles of imported olive oil, makes sure the deli platters are always full, tidies the bathrooms. She takes no days off unless she is traveling.
Customers love McNamara too. "We come here No. 1 because of Joan," says Richard Ingold, a regular who meets friends here every day. He's one of two people for whom Joan's has allowed a private party, the other being Donna Karan. But one couple did marry here, a quiet ceremony at a back table to commemorate the place they met.
The cafe is open from 8 a.m. to 8 p.m., but the commercial kitchen next door runs from 5 a.m. to midnight. On the door to McNamara's office hangs a sign that says "Bureau de Chef." The wall behind her is lined with cookbooks. When Yotam Ottolenghi, owner of McNamara's favorite London cafe, stopped by for a book signing, he turned her on to a website called Eatyour books.com, which indexes recipes. She has 69,477 recipes from seven blogs, 315 magazines and 468 books.
And those are just from her office. Her high-ceilinged loft is filled with cookbooks too. Along with particulars collected from Europe and antiques stores: Cherner chairs, an Italian credenza, a marble-topped candy-making table, dishes from the South of France. In her closet are her all-black clothes, especially the long black skirts she likes to wear. "A friend said I should number them," she says.
1
Heat the oven to 325 degrees.
2
In a medium bowl, sift together the flour and baking soda. Set aside.
3
In the bowl of a stand mixer fitted with the paddle attachment, or in a large bowl using a hand mixer, cream together the butter, brown sugar and granulated sugar until light and fluffy.
4
Add the eggs, beating them in one at a time, until completely incorporated, then beat in the vanilla.
5
Add the flour mixture, then the salt, and mix until completely combined to form the dough. Fold in the chocolate pieces by hand.
6
Scoop a generous one-third cup of the mixture for each cookie, spacing them wide apart on parchment-lined baking sheets. Be sure to leave enough space as the cookies will spread, placing no more than 3 cookies on each sheet.
7
Bake the cookies until set and lightly browned on the edges, 16 to 20 minutes. Remove and place the baking sheet on a rack until the cookies are cooled. Repeat until all the cookies are baked.
Adapted from Joan's on Third.
---
Get our new Cooking newsletter.
You may occasionally receive promotional content from the Los Angeles Times.