Church & State's rhubarb tart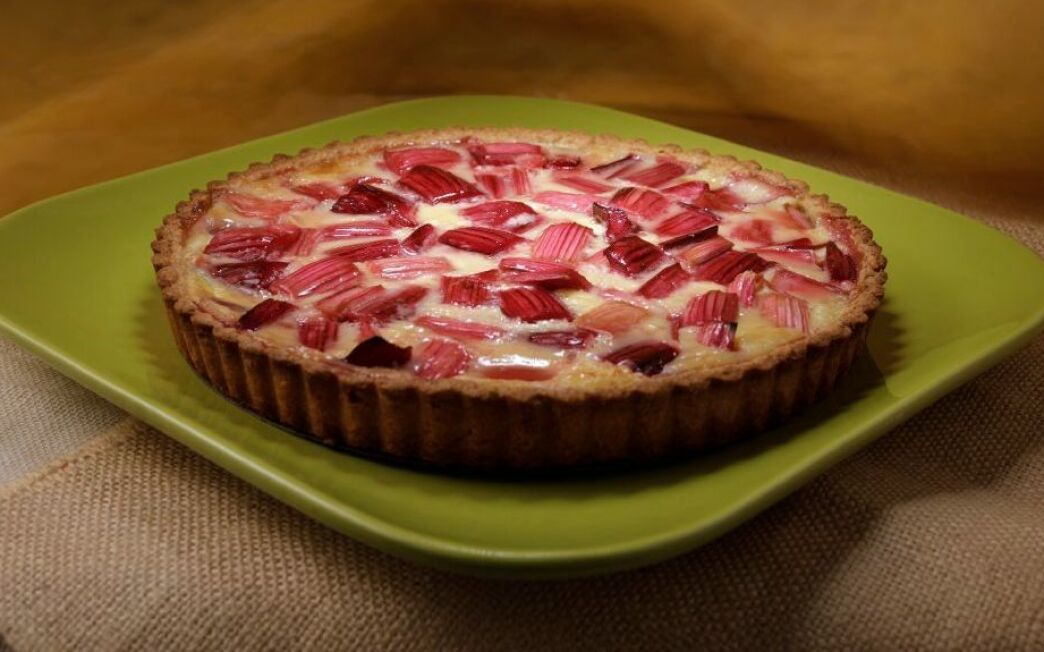 Print Recipe

Print Recipe
At once rustic and refined, the dessert starts with rhubarb stalks chopped into large pieces and slowly macerated with sugar to soften the texture and tame its astringency. After draining the pieces, they're suspended in a delicate flan-like custard filling, and baked in a buttery almond pastry crust until the custard is set and the rhubarb is tender and silky, lightly sweet and with just a hint of tartness. A perfect dish for any rhubarb fan, no strawberries or other supporting players needed.
From the story: Culinary SOS: The rhubarb tart from Church & State
Pate sucrée
1
In the bowl of a stand mixer fitted with the paddle attachment, combine the flour, sugar, almond flour and salt. Add the vanilla and butter and beat over low speed until thoroughly mixed. Add the egg and mix until combined and the dough is smooth.
2
Roll the dough between two pieces of plastic wrap until it is approximately 12 inches in diameter. Refrigerate overnight before using.
Rhubarb preparation
1
In a bowl, toss the rhubarb with the sugar and set aside to give the rhubarb time to macerate for at least four hours.
2
Place the rhubarb in a nonreactive sieve or strainer and drain overnight, saving the syrup. (The syrup will be used to brush the tart after baking.)
Rhubarb tart
1
Parbake the tart shell: Heat the oven to 400 degrees. Remove the dough from the refrigerator and fit into a 9-inch tart pan (if the dough is too firm to work with, set it out at room temperature briefly until it becomes pliable). Make sure the dough covers the edges and corners. Trim the top of the dough so it is flush with the top of the pan.
2
Line the shell with foil or parchment and fill with pie weights. Bake the shell until it is set, about 15 minutes. Remove the liner and weights and continue baking until the crust is a rich golden, about 15 minutes more. Cool the shell on a rack.
3
Prepare the custard base: In a bowl, whisk together the eggs, sugar and cornstarch. Stir in the milk and cream. This makes 1 1/2 cups.
4
Place the cooked tart shell on a baking sheet. Place the rhubarb in the cooled tart shell and pour the base over, leaving just a little space at the top. You might not use all of the base.
5
Bake the tart until the custard is set and lightly golden, 30 to 40 minutes, rotating halfway for even coloring.
6
Cool the tart on a rack before serving.
Adapted from a recipe provided by Church & State in downtown Los Angeles.
---
Get our new Cooking newsletter.
You may occasionally receive promotional content from the Los Angeles Times.