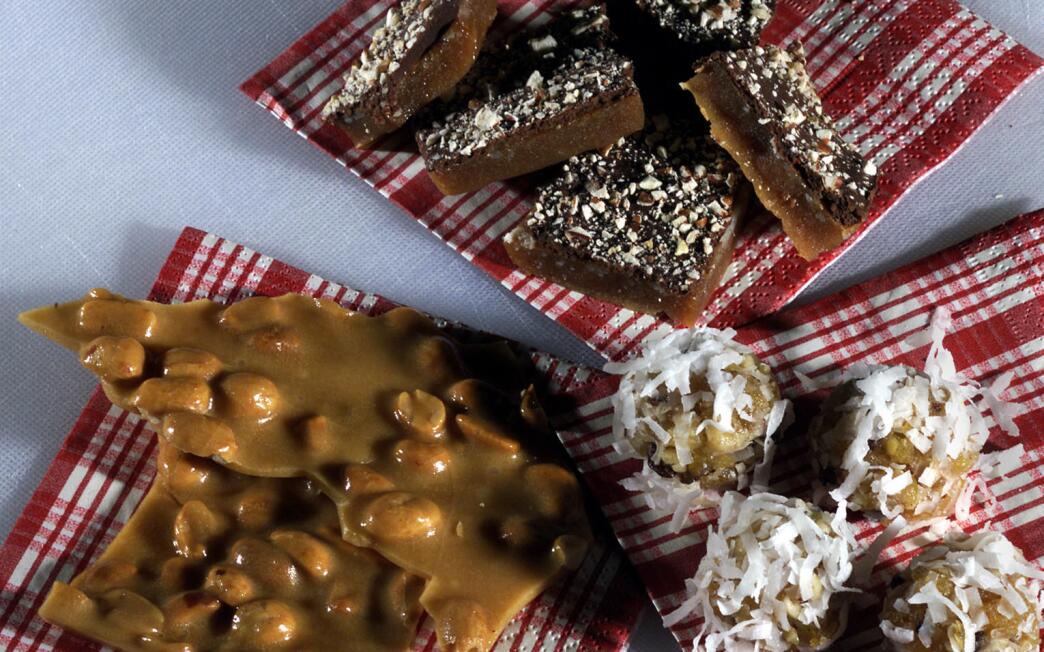 Print Recipe

Print Recipe
Nothing does the trick like candy. Serve it after dinner with coffee for an easy dessert or keep some on hand for a quick pick-me-up. And if you need a hostess gift, take some along; I've never seen anyone protest the gift of candy.
Here are several delicious candy recipes. I like them better than what I can buy. You might need some special equipment to make them. The peanut brittle and toffee must cook to high temperature to harden; this process requires a candy thermometer, which eliminates the guesswork. Also, be sure to use a heavy 2 1/2-quart saucepan with a fairly narrow base so the thermometer can reach into the mixture. You will also need a wooden spoon and potholders.
1
Pulse the apricots, walnuts, currants and sugar together in a food processor until they're minced to a medium texture. Transfer the mixture to a bowl.
2
Use your hands to work in the honey and lemon juice with a kneading motion. Divide the mixture into rounded teaspoons, then roll into smooth balls.
3
Place the coconut on a paper plate. Roll each ball in coconut until it's well coated.
These can be kept up to two weeks refrigerated in an airtight container. They can be varied, using dates instead of apricots and omitting the sugar. Dates need to be pitted and partially frozen to be chopped successfully in the food processor.
---