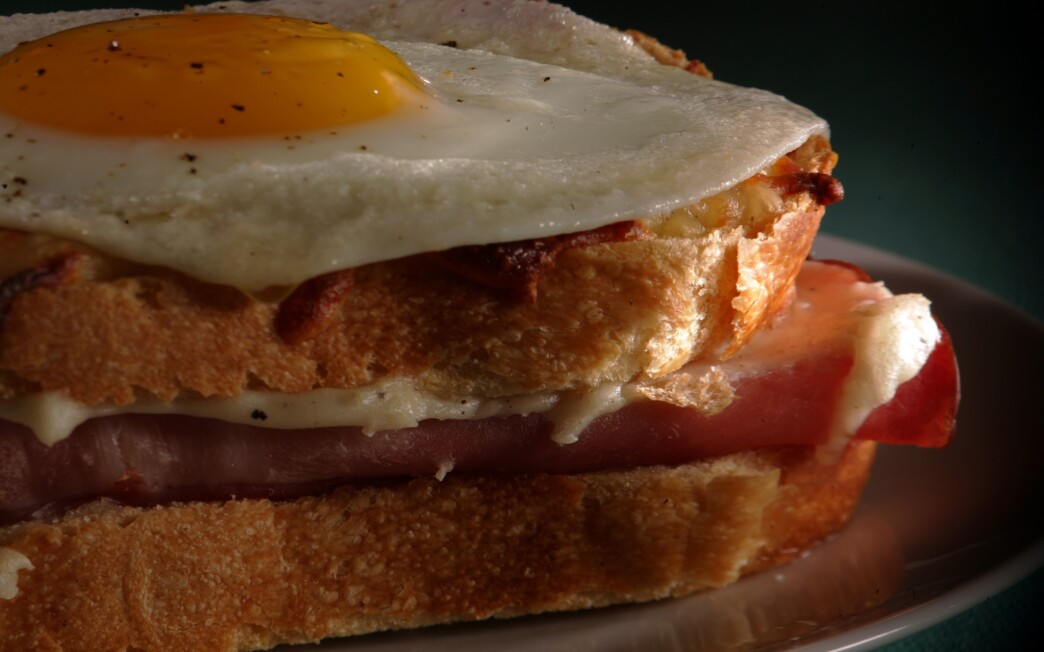 Print Recipe

Print Recipe
My husband and I have breakfast nearly every weekend at La Dijonaise in Culver City. He never orders anything except the croque-madame. It's that good!
Sarah Alexander
Los Angeles
Dear Sarah: La Dijonaise sandwiches bechamel and ham between two slices of bread, then adds melted cheese. Top with a fried egg (this is what distinguishes the "madame" from the "monsieur").
Bechamel sauce
1
In a medium, heavy-bottom saucepan, heat the milk over medium heat just until bubbles appear around the edge. Reduce the heat and keep the milk warm over very low heat.
2
Meanwhile, in a large, heavy-bottom saucepan, melt the butter over low heat. When it bubbles, whisk in the flour and continue to cook until the mixture forms a golden roux, 3 to 4 minutes.
3
Whisking constantly, add the warm milk in a steady stream. Bring the mixture to a gentle simmer and continue to whisk until the sauce thickens, about 10 minutes. Season to taste with one-half teaspoon salt and a few grinds of black pepper, along with the nutmeg, or to taste. Remove from heat and set aside until cooled. This makes about 2 cups sauce.
Sandwich assembly
1
Heat the oven to 350 degrees.
2
Butter 6 slices of bread. Top each slice of bread with 2 slices of ham, then divide the bechamel sauce evenly between the sandwiches, spreading it over the ham. Top each of the sandwiches with a second slice of bread.
3
In a small bowl, toss together the diced Swiss cheese and the mozzarella. Season the mixture with one-fourth teaspoon salt and a few grinds of pepper, or to taste.
4
Divide the cheese mixture evenly between the sandwiches, mounding it on top of each sandwich.
5
Place the sandwiches on a baking sheet and bake until the cheese is melted, 5 to 8 minutes, depending on the oven. This may need to be done in more than 1 batch.
6
Top each sandwich with a fried egg and serve immediately.
Adapted from La Dijonaise Cafe et Boulangerie in Culver City. The restaurant uses bread from a local bakery and recommends pullman-type bread for the sandwiches.
---
Get our new Cooking newsletter.
You may occasionally receive promotional content from the Los Angeles Times.