Eggplant and tomato salad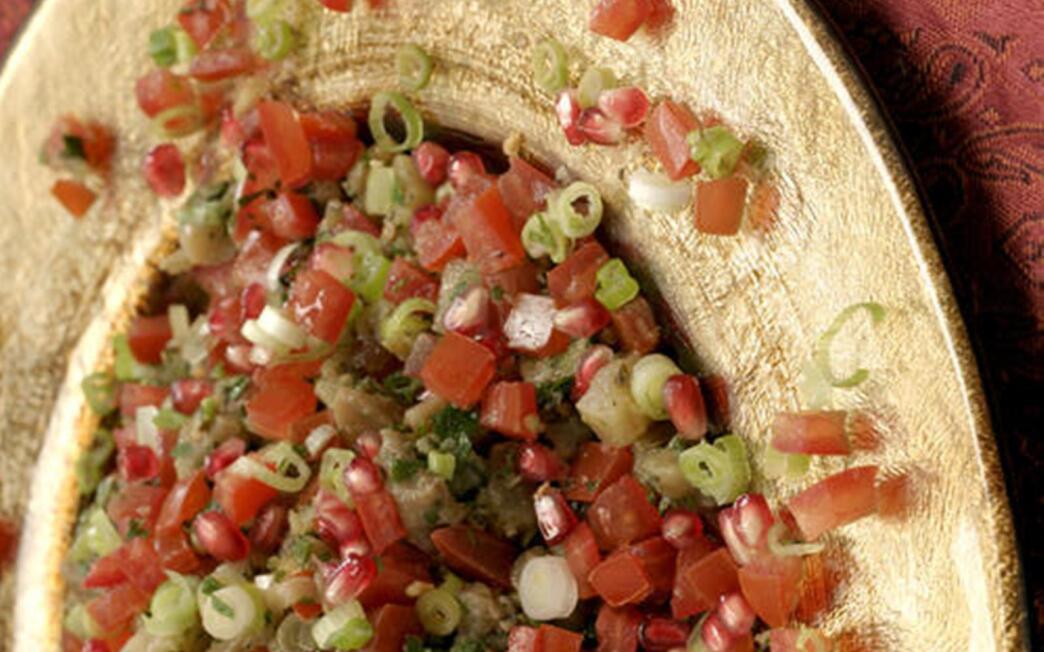 Print Recipe

Print Recipe
Claudia Roden's new cookbook, "Arabesque: A Taste of Morocco, Turkey, & Lebanon" ($35, Knopf), is a generous, warm, open-door invitation to explore the tenets and nuances of a rich culinary legacy. With recipes for such dishes as sophisticated tagines from Morocco, fragrant Turkish kebabs and a dazzling assortment of Lebanese mezes, she evokes the devotion to hospitality in a region where Muslims are, in this season, observing the holy month of Ramadan.
It's a time when the concerns of daily life are set aside, and fasting is required from sunup to sundown. But in cities such as Marrakech and Istanbul, gates and house doors are opened and cafes extend their evening hours so that friends and family can gather and talk over clattering dishes and tinkling glasses until the sun rises and the ritual of fasting begins again. It's a perfect time to explore Roden's book, as she's an excellent source for the tradition and history of Middle Eastern cuisine.
Roden's first book, "A Book of Middle Eastern Food," was published nearly 40 years ago, long before harissa or preserved lemons or sumac punctuated the menus of so many American chefs. With hundreds of recipes, it became a definitive primer of Arabic cooking; it's now in its third edition.
In "Arabesque," Roden manages to do what she had said seemed impossible in the earlier book: streamline the recipes she has culled from a vast Arab and Ottoman cuisine and neatly divide them into distinct geographical categories. The result is a book of about 250 recipes that's extremely manageable and easy to use. The three main sections -- Morocco, Turkey and Lebanon -- are further divided into starters, main courses and desserts.
I miss the tales, proverbs and riddles that are strewn throughout "Middle Eastern Food," but each section of "Arabesque" starts with an introduction that compresses personal and cultural history and some of the rituals and customs related to each region's food. It's not just recipes that she hands down but also a savoir-vivre, a nudge to enjoy the pleasures of the table.
She shows, for example, that savoring mezes -- the appetizers that developed as an accompaniment to the Lebanese national drink arrack (raki in Turkey and ouzo in Greece) -- reflects the value the community places on leisure and the gratification of sitting at home on a terrace or in a courtyard or at a cafe, sipping drinks and nibbling fattet hummus bi laban, chickpeas with toasted bread and yogurt.
*
Eggplant for a party
Among her array of meze recipes are a batinjan raheb, a gorgeous eggplant salad limned with pomegranate seeds, scallions and diced tomatoes, and lahma bi ajeen, tiny meat pizzas made with a wonderful dough that contains yogurt and olive oil. The eggplant salad is easy to make but also impressive enough for a party.
That's what's great about so many of Roden's recipes. They're straightforward and often can be prepared in advance, but they also can be spectacularly impressive: exquisite stuffed quinces, grilled quails, piles of sweet extra-fine couscous studded with almonds and dates -- dishes that recall the courts of glamorous sultans.
Even during Ramadan, when religious contemplation takes precedence over, say, lunch, food takes on a profound significance. Iftar is the evening meal that breaks the fast; sometimes it starts with dates or olives and bread or a bowl of soup, such as the Moroccan stew harira.
Food prepared during the day is eaten at night, to be enjoyed in moderation. The holiday that closes the lunar month of Ramadan, Id-al-Fitr, is celebrated with three days of feasting and feting.
It's a time of festive desserts, and Roden offers plenty of appropriate recipes: pistachio cake; apricots stuffed with cream; pastries such as m'hencha, filled with ground almond paste and shaped into a stunning long coil.
Honeyed pastries filled with sweetened walnuts and orange zest and perfumed with orange blossom water are especially delicious. The filling is simply walnuts, a bit of sugar and orange zest, rolled up in sheaves of filo. Roden recommends store-bought filo and baking the pastries instead of frying them, so they're easy to make.
Roden, born in Cairo and educated in Paris and London, is Jewish but is fascinated with Islamic civilization, crediting the spread of Islam for the development of a gastronomy comparable to that of France and China. She has been archiving recipes from all over the Middle East for decades. Though she's well-versed in culinary history and tradition, she offers a lot of freedom in the preparation of her dishes. "Cooking does not stand still: It evolves," Roden says.
She is a deft writer who delivers recipes that call for readily available ingredients, and she trusts her readers' ingenuity and tastes, encouraging them to adjust seasonings and to "weigh with the eye." But at times she might put too much faith in their abilities. With little information on technique, it might be difficult to judge how much a sauce should be reduced or to make a Turkish almond and milk pudding, called keskul, perfectly smooth (even after taking an electric beater to it, which she recommends as a remedy for lumps of rice flour).
But more typically she walks readers through the essential basics of Middle Eastern cooking, such as how to roast eggplants, peel tomatoes, preserve lemons and make perfect couscous.
Even the most elaborate dishes are surprisingly easy to make. Shaariya medfouna, is known as "buried in vermicelli." Roden calls it "a fabulous surprise dish," a chicken tagine tucked under a mountain of vermicelli, a traditional Arab pasta. The broth for the tagine is rich with saffron, ground ginger, cinnamon and cilantro.
The vermicelli is topped with rays of cinnamon, powdered sugar and fried almonds. It's a stunning dish that serves more than 10 people, and the most difficult part is chopping the onions.
My kitchen is humble: 3 feet of free counter space and not nearly enough room in my cupboards for all of my cooking equipment. But with Roden as a guide, I can turn out a meal fit for a sultan.
1
Prick the eggplants in a few places with a pointed knife to prevent them from exploding. Turn them over the flame of a gas burner or hot barbecue, or under the broiler, until the skin is charred all over (this gives them a distinctive smoky flavor) and they feel very soft when you press them. Alternatively, place them on a sheet of foil on an oven tray and roast them in the hottest preheated oven for 45 to 55 minutes, until the skins are wrinkled and they are very soft.
2
When cool enough to handle, peel and drop them into a strainer or colander with small holes. Press out as much of the water and juices as possible. While still in the colander, chop with a pointed knife, then mash with a fork or wooden spoon, letting the juices escape through the holes.
3
Mix the eggplant puree with the lemon juice, garlic, olive oil, salt, pepper, parsley and mint. Spread the puree on a large, flat serving plate. Sprinkle with the scallions, tomatoes and pomegranate seeds, if using.
From "Arabesque" by Claudia Roden.
---
Get our new Cooking newsletter.
You may occasionally receive promotional content from the Los Angeles Times.