English pea and goat cheese tart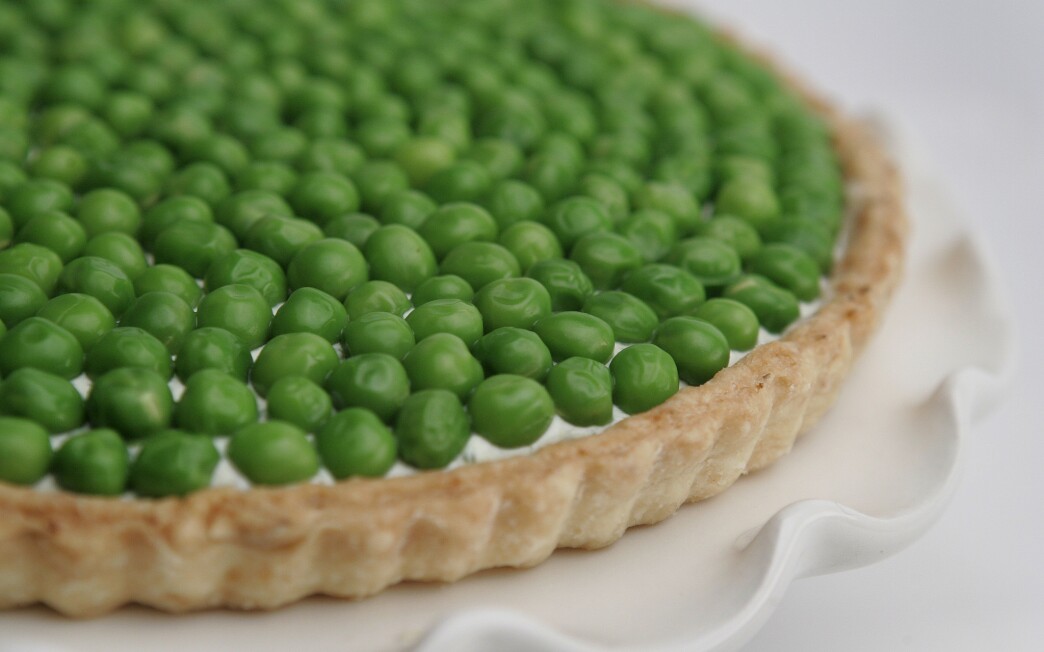 Print Recipe

Print Recipe
Ephemeral as the early spring that bestows them upon us, English peas arrive like this season's epiphany. They're only here for a few blissful weeks, and then, once the temperatures rise, they're gone. Serene in their emerald pods, the peas nevertheless come with a quiet sense of urgency. Not only is their time here fleeting, but they're on a clock from the moment they're picked.
"Heaven," wrote M.F.K. Fisher, "is fresh green garden peas, picked and shelled by my friends, to the sound of a cowbell." In a modern city without backyard cows, the heavenly quality of peas depends upon how quickly you can get them home and onto your dinner plate.
The abundant sugars that make them so glorious also break down into starch as soon as they're picked from the vine. That bright emerald color, that full succulence, that surprisingly sweet flavor: All of it is transitory.
Peas benefit from a minimalist's touch, deft treatment that befits their short-lived presence here. They're lovely to eat just out of the pod. Otherwise, a few minutes of heat is all they need to temper their rawness -- a quick saute in butter or a short dip in boiling water. The ticking clock applies to the cooking process as well.
Blanching peas in water infused with a couple of generous tablespoons of salt and sugar further brings out their bright flavor and gorgeous color. Depending on how fresh the peas are, toss them into a pot of water for no more than three minutes, or considerably less if you want them al dente. Then lift them out and shock them in a bath of ice water to stop the cooking.
Neither raw nor utterly cooked, the peas are caught in time, arrested at the peak of their flavor.
After such a quick baptism, put English peas on display in simple dishes that showcase their bright nature. They have a surprising affinity for tangy dairy, especially when laced with a light zing of lemon: Goat cheese, creme fraiche and Greek yogurt all showcase the peas' sweet side.
Spread a quick, luxurious puree of blanched peas on a slice of toasted baguette and top it with Greek yogurt enhanced with lemon zest, and a chiffonade of mint. The method and presentation are both quite simple, but the crostini reverberate with layers of flavor.
Or toss the season's tender lettuce leaves -- speckled, nutty Forellenschluss, pillowy red butter lettuce or the more common green butter lettuce -- with a lemony vinaigrette, then top with torn prosciutto and warmed goat cheese and, lastly, a handful of tender blanched peas.
The peas nestle into the salad's architecture; they also counter the earthier elements with a marvelous bright note.
Whole blanched peas become the emeralds encrusting a sophisticated goat cheese tart like a jeweled carapace. The tart, with an ethereal crust laced with lemon zest, looks complicated, but it comes together in a flash.
And the smooth cheese, shot with tarragon and mint, balances the peas and simultaneously underscores their sweet clarity.
Such clarity is best celebrated in the same way that the peas come to us. Brought quickly home, shared with others in their all-too-brief epiphanic moment -- and then gone.
Tart dough
1
In a food processor, blend the flour, salt, sugar and lemon zest until combined, then add the butter and pulse until it's the size of small peas. Add 3 tablespoons of ice water and pulse until the dough just comes together. Form the dough into a disk, wrap it in plastic film, and refrigerate for at least 15 minutes.
2
Once it's chilled, take out the dough and roll it out to about a 12-inch circle. Gently fold the rolled dough into quarters and place it in the pan, with the point in the center, then carefully unfold. Fold the edges over and crimp, trimming any excess dough. Prick the bottom of the shell all over with a fork. Put the tart shell in the freezer for 30 minutes while you heat the oven to 425 degrees and make the filling.
3
Place the frozen tart shell in the oven and bake until golden, about 20 to 25 minutes. Let cool on a rack.
Tart filling and assembly
1
In a food processor, blend together the goat cheese, creme fraiche, pepper and olive oil. Add the fresh herbs and pulse briefly to combine. Reserve.
2
Bring 4 quarts of water to a boil with the sugar and salt. Blanch the peas for about 3 minutes, then shock them in a bowl of ice water. Drain and reserve.
3
When the tart shell has cooled, spread the cheese filling evenly over the surface, then cover the entire surface with a single layer of the blanched peas. Cut the tart into 8 slices and serve.
You will need a 9-inch removable-bottom tart pan; the tart shell can be made ahead of time. You also will need a bowl of ice water to shock the peas.
---
Get our new Cooking newsletter.
You may occasionally receive promotional content from the Los Angeles Times.