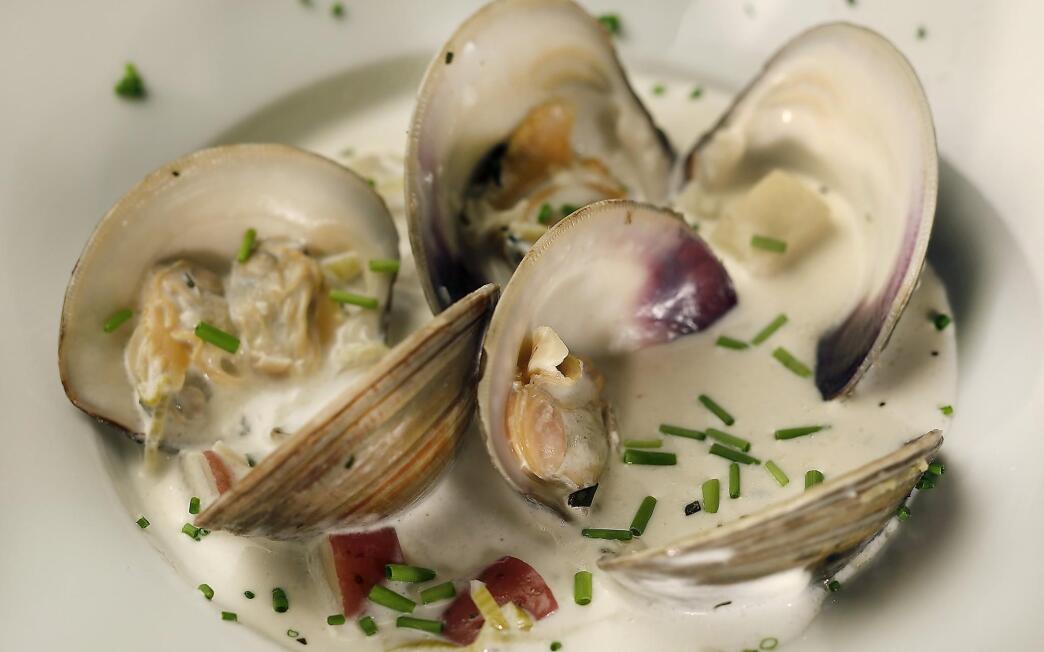 Print Recipe

Print Recipe
Dear SOS: This spring my husband and I toured the Northwest and made a stop in Port Townsend, Wash. We had an amazing clam chowder with whole clams in the shell for lunch at Fins Coastal Cuisine. Could you possibly get the recipe from the chef? My husband would be forever grateful!
Jill Burnham, Loma Linda
Dear Jill: Rich and filling, this is a perfect dish for a chilly fall evening. Fins Coastal Cuisine was happy to share its recipe so you can have a taste of Port Townsend here at home.
1
Heat a large, heavy-bottomed pot over medium-high heat. Add the oil, shallot, leek and potato, and cook, stirring constantly, until the leek is translucent, 3 to 5 minutes. Stir in the garlic, clams and add the wine. Continue to cook, scraping any flavoring from the bottom of the pan, until the wine is reduced by half, about 10 minutes.
2
Stir in the cream, thyme and parsley, and bring to a simmer. Reduce the heat to a gentle simmer and continue to cook until the clams are opened and the potatoes are tender, 10 to 12 minutes. Taste and season as desired with salt and pepper.
3
This makes about 3 quarts soup. Garnish each serving with 2 chive blossoms or a sprinkling of minced fresh chives.
Adapted from chef Woody Scanlon of Fins Coastal Cuisine in Port Townsend, Wash. Fresh chive blossoms can be found at select farmers markets as well as in well-stocked herb sections of many gardening and hardware stores.
---
Get our new Cooking newsletter.
You may occasionally receive promotional content from the Los Angeles Times.