Fragrant chicken with figs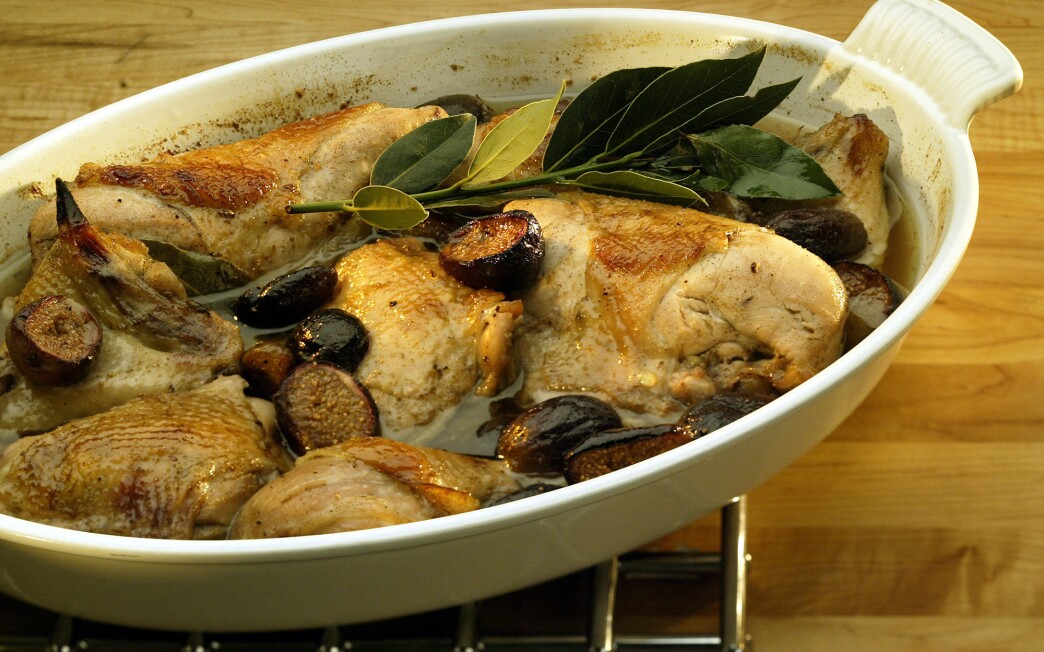 Print Recipe

Print Recipe
It's become tradition at my house to make new traditions, especially during Rosh Hashana, which begins today at sundown.
Unlike the holiday meal for Passover, with its ingredient restrictions, the feast for the Jewish New Year is guided by symbolism: Food should be sweet for a sweet new year, and it should highlight the holiday's theme of renewal. Across the globe, Jews will dip apples or challah into honey, eat carrots cut into coin-like rounds and accent dishes with pomegranates.
Ten days later on Yom Kippur, the Day of Atonement, Jews often prepare special dinners to break the fast that began the preceding evening.
When food is part ritual, pressure builds to find dishes that are both meaningful and delicious -- as well as different. "The Essential Book of Jewish Festival Cooking" (HarperCollins, $29.95) offers a good store of such recipes, updating traditional favorites while adding original dishes that marry international flavors with seasonal ingredients.
Honey cake is my new favorite. Made without the usual coffee, tea or brandy, it has a delightfully clear honey flavor and a light, spongy texture. It's not, however, perfect: The whipped egg-white base made an unpredictable batter that overflowed the pans and oddly separated and sank during baking. Still, the cake was delicious.
Fragrant chicken with figs is just right this time of year, holiday or no. It pairs nicely with mint-scented herbed rice with seasoned currants; the currants marinate in a garlicky mix of olive oil and balsamic vinegar. Another simple recipe simmers slices of quince in Muscat dessert wine scented with cinnamon, cardamom and vanilla.
The authors, Tel Aviv-based food journalist Phyllis Glazer and her sister, Miriyam Glazer, a literature professor at the University of Judaism in Los Angeles, add historical and cultural context to the recipes and holidays. Moroccan carrot salad, a year-round staple in Israel, according to the authors, has resonance for Rosh Hashana. It's a simple preparation of carrots in a cumin-and-garlic-flavored olive oil.
The carrots are thinly sliced to resemble coins, as a symbolic wish for more health and increased charity in the new year. They also describe the new year's tradition of giving gifts to family members, care providers and employees. It's customary too, they tell us, to wear new clothes. (Who knew? I thought it was because everyone was in the shmatte business!)
But any culture that spans more than 5,700 years and hundreds of countries isn't easily summarized in the notes to a recipe or a three-page chapter introduction. That's the problem with cookbooks that want to be interesting reading material: Often, neither the recipes nor the headnotes are well written.
With the Glazers' book, the historical material does not go far enough to trace the origins of food traditions. (But in the authors' defense, even the best scholars can't agree.)
Readers must have a rather vivid grasp of Jewish history and culture to understand the religious references and even a few of the recipes. Other cookbooks have attempted more successfully to marry food and Jewish history, including the many by Joan Nathan, Gloria Kaufer Greene and Marlene Sorosky. But cookbook collectors may appreciate the highly international feel of the Glazers' book.
Nor are the recipes perfect: Some I tested suffer from imprecise directions. While making seven-spice vegetable soup, weights didn't match measures (a 1-pound squash shrinks to 10 ounces when seeded and peeled; 4 1/2 cups of shredded cabbage is hardly a pound). The soup becomes more of a thick stew if the canned chickpeas aren't rinsed and drained -- a step the recipe omits. And in any case, the cabbage overwhelmed all the other ingredients.
Recipes with tricky techniques, such as one for a Moroccan Purim challah or another for a Greek "Haman's foot," are difficult to follow without the aid of explanatory illustrations or photographs.
Their book, the authors say, returns Jewish holiday cooking to "the foods and flavors of the seasons in the ancient land of Israel." The richness of L.A.'s ethnic grocery stores means that most of the ingredients are readily available here.
Sometimes, though, the authors neglect to take advantage of seasonal availability: The fragrant chicken with figs offered as a Rosh Hashana dish calls for dried figs at a time when fresh figs are in peak season.
The Times Test Kitchen prepared the recipe two ways. One version used dried figs, as the recipe calls for; the other was adapted for fresh figs. The fresh fig version was even better than the dried.
It's tricky to cultivate new traditions in a culture that's already so rich with them. It seems that the authors can't resist, as I do every year, trying something that sounds just a little bit odd.
Witness the inclusion of their New Age chopped liver, a mixture of steamed tempeh, hard-boiled eggs, cooked onion and soy sauce.
And then there are the tofu brownies featured for the festival of Sukkot. They are dairy- and cholesterol-free -- and heavy and spongy.
Not every foray into new territory yields a great result, but cultures -- and cooks -- can't advance without a little experimentation.
1
Rinse the chicken and place it in a bowl. Pour boiling water over it to cover and let it stand for 2 to 3 minutes. Using a sharp knife, scrape the skin to remove excess surface fat. Pat dry and set aside.
2
Rinse the figs, trim stems and slice in half lengthwise. Place the chicken and figs in a single layer in a large heavy roasting pan.
3
In a small bowl, mix the wine, honey, cinnamon, coriander, salt, pepper and bay leaves and pour over the chicken. Cover and marinate for 1 to 4 hours in the refrigerator, turning occasionally. Remove the figs and set aside.
4
Heat the oven to 375 degrees. Roast the chicken, basting and turning occasionally. Add the figs after 20 minutes. Roast until the chicken is tender and brown, about 50 minutes. Serve the chicken and figs with a little pan juice poured on top, accompanied by herbed rice. (May be prepared several hours in advance and reheated in the oven.)
From "The Essential Book of Jewish Festival Cooking".
---
Get our new Cooking newsletter.
You may occasionally receive promotional content from the Los Angeles Times.