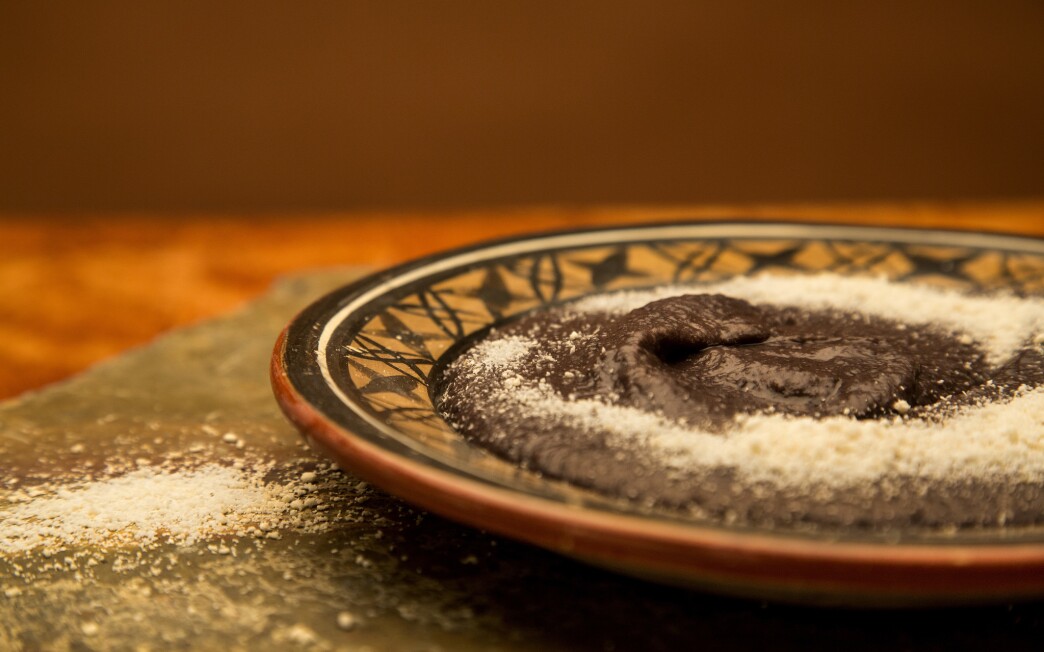 Print Recipe

Print Recipe
The night before the election, and two days after it, visiting chef Tunde Wey cooked the food of his native Nigeria in two L.A. restaurants as part of his traveling Blackness in America dinner series. If you missed the dinners, which were curated both for food and for open discussion, Wey has more planned, albeit in North Carolina and Minneapolis rather than here in Southern California.
But you might consider holding a dinner of your own, with or without overt political discussion — the point of Wey's dinners being to promote conversation even when he is not the one guiding the kitchen or the dialogue. If so, Wey gave us his recipe for frejon, a comforting Nigerian dish of black beans loaded with garlic, cloves and coconut milk.
"I grew up Catholic, in Lagos," said Wey a few days ago. "On Good Friday, Yoruba Catholics would eat frejon with fried fish and plantains and red pepper stew, and gari (processed manioc). My mom would make a whole bunch and send it out to family and friends. The dish is thought to have originated from Brazil and brought back to Lagos by repatriated, formerly enslaved Yorubas. I can't verify this."
So maybe fry or grill some fish, make a pot of this thoroughly comforting stuff, and settle in for a December dinner. There is, of course, plenty to talk about.
"I'm going to keep doing the dinners but moving with a greater sense of doubt," said Wey about how his dinners and his project have changed in the last few weeks. He's going to be "investing more in a pessimistic pragmatism," which he said would likely evolve to focus on "using my dinners to more directly support the emotional labor of black folks working around racial justice — by feeding and celebrating them. They need support, and this is how I know to do."
Wey, who recently hosted dinners in Los Angeles and in San Francisco, has tentative dinners planned this month in North Carolina and in Minnesota in early January, after which he's hosting more events in New Orleans, the city where he ran a food stall before closing it to host his traveling pop-up series.
As for the future, Wey has always planned on a permanent restaurant. "Part of the evolution of my dinner series is getting a permanent brick-and-mortar location, where these conversations can be explored with more vigor and I can develop a pedagogy around food and power discourse."
Here in L.A., chef Farid Zadi, whose Revolutionario taqueria hosted Wey's second Los Angeles dinner — Diep Tran's Good Girl Dinette in Highland Park hosted the first — has started his own dinner series. Called Blackness First Wednesdays, they are not affiliated with Wey's project and are ticketed events happening the first Wednesday of every month, beginning Dec. 7, which will feature a dinner of Ugandan dishes.
For more information about Tunde Wey's Blackness in America series and future projects, go to Wey's website fromlagos.com.
1
Wash the beans. Place the beans in a large bowl and add enough water to cover the beans by a few inches. Set the beans aside for a couple of hours to soften.
2
Drain the beans and place in a heavy-bottom stock pot. Add enough water to cover the beans by a couple of inches. Place the cloves in cheesecloth (a sachet) and add to the pot. Simmer the beans, adding additional water as needed, until softened and the beans are beginning to break apart, 1 to 2 hours.
3
Drain the beans, discarding the sachet. Add the coconut milk to the beans and blend (this can be done in the pot using an immersion blender, or in batches using a stand blender). Stir in the sugar and heat the beans over medium-low heat, stirring until the sugar is dissolved.
4
Reduce the heat to low and stir in the onion and garlic powders, as well as the black pepper. Continue to cook, stirring frequently, to marry the flavors, about 10 minutes.
Adapted from a recipe by chef Tunde Wey.
---
Get our new Cooking newsletter.
You may occasionally receive promotional content from the Los Angeles Times.