Green and yellow beans in lemon mustard vinaigrette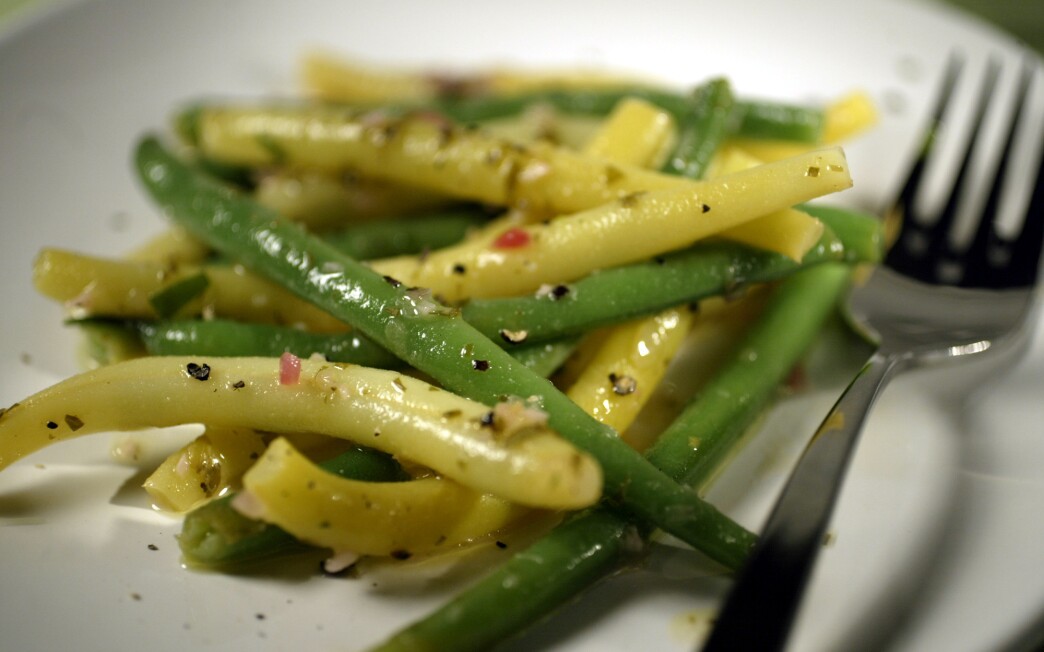 Print Recipe

Print Recipe
One of the joys of shopping at the farmers market is free-associating your way to a fabulous market dinner menu. Strolling along from stall to stall, checking out the heaps of gorgeous Lolla Rossa lettuce here, the purple-tipped bunches of white asparagus there, who can resist the temptation to start imagining what will happen when that spring garlic and those fat Roma beans meet in a saute pan? Catch a whiff of basil or accept a taste of apricot, and your mental menu-planning wheels start whirling. And look over at the next stall: There's the chef of your favorite restaurant doing the same thing.
A market dinner calls for simple cooking -- quick sauteing, steaming, rustic baking -- because the produce itself is at its peak and so full of flavor. In fact, much of the cook's creativity is in selecting felicitous combinations of flavors and textures to make dishes that are like snapshots of the season.
If your farmers market is a busy one, arrive early, even before it opens, so you can scan the stalls before the crowds form, seeing what's available. If you don't know the farm stands well, you might want to check everything out before you buy.
Talk to the farmers. If you see an unusual vegetable or an unfamiliar fruit, they'll be happy to tell you about it. Often they'll know a great way to prepare it. And don't hesitate to ask for a taste.
Then start buying. Choose what you love, what intrigues you or what speaks to you. Probably you'll buy too much -- which isn't the end of the world. Since this stuff is so fresh, much of it will last longer than its supermarket counterparts. As you shop, think about what you'd like to eat tonight.
Like to begin with a salad? Buy some beautiful, tender greens. Imagine them with some of those gorgeous radishes sliced on top, or some lightly marinated string beans. Or a little potato salad, embellished with shallots. This is when you'll want to pull out your best olive oil. Soup? How about simmering those dreamy-looking carrots in chicken stock, adding some chervil, maybe a little creme fraiche on top?
Side dishes write themselves. In fact, if there's a danger, it's that you'll have nothing but side dishes. But would that be so terrible? It would just mean you wouldn't have to make that last stop for fish or meat on the way home.
Last week, at the Santa Monica farmers market, bright yellow wax beans and green beans caught my eye. I picked up some of each to steam and marinate -- how beautiful they would be, their colors still vivid, arranged together on a platter. All they'd need was a good vinaigrette spooned over. Beans in hand, I also picked up fresh tarragon.
Over on Arizona Avenue I spotted the tiniest fingerling potatoes, with skin so thin they wouldn't need peeling. Immediately I imagined their freshly dug flavor, contrasting with the tangy crunch of the marinated bean salad. I'd steam them gently, add a little sauteed spring garlic, spoon them hot onto a serving platter and break them up with a fork. Just a drizzle of great olive oil and a sprinkle of fleur de sel and cracked pepper -- I could already taste them.
Strawberries still looked great (I picked up some Seascapes at Harry's Berries), and another stall had some beautiful blackberries and raspberries. These would make a terrific fruit crisp. Tossed with a little sugar, lemon juice and tapioca, and finished with a cinnamon-and-nutmeg-spiced topping, it would be simple enough to let the beautiful berry flavor come through -- big time.
I couldn't wait to start cooking.
1
Using a steamer, or a saucepan or wok with a steamer insert, steam the beans until they are tender but still crunchy, 7 to 10 minutes. Transfer to a bowl of ice water to stop the cooking. Drain and pat dry.
2
Whisk together the olive oil, lemon juice, mustard, onion, garlic, tarragon, sugar and salt. Pour the vinaigrette over the beans and toss to coat.
3
Spoon the beans onto a serving platter. Sprinkle with freshly ground black pepper to taste.
---
Get our new Cooking newsletter.
You may occasionally receive promotional content from the Los Angeles Times.