Green panini with roasted peppers and Gruyere cheese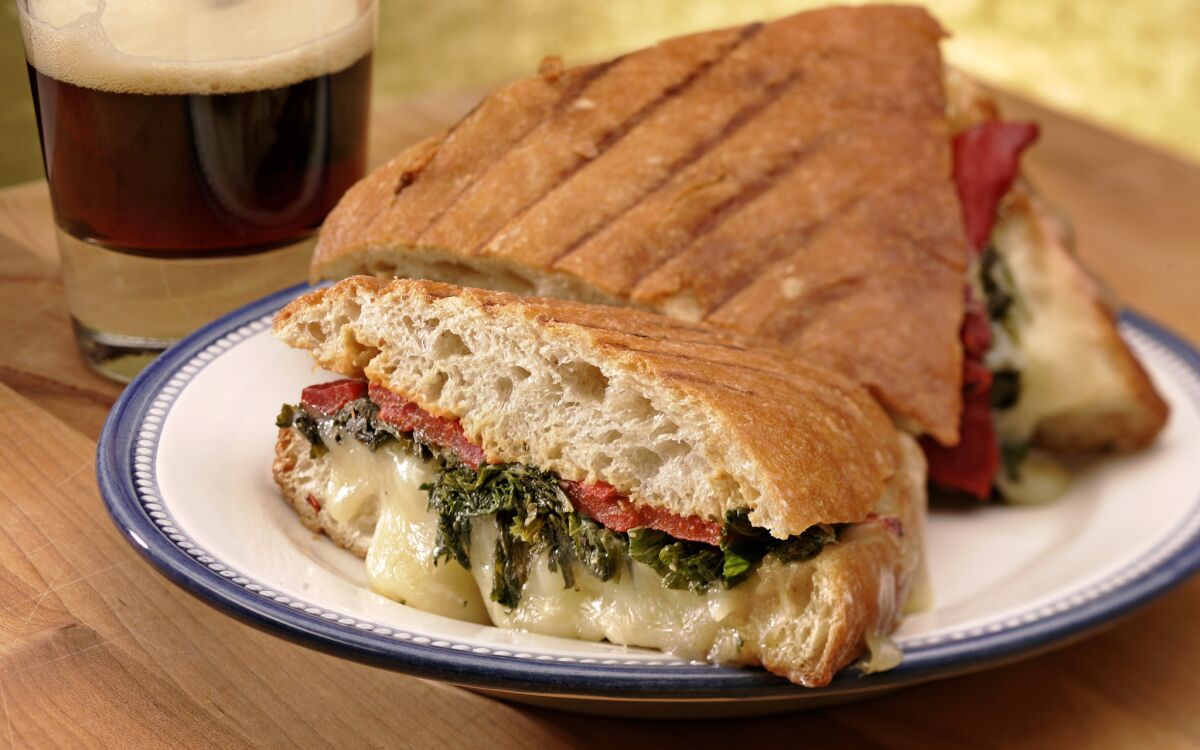 Print Recipe

Print Recipe
When the dinner bell rings and there's no one but you to hear it, is it cause for celebrating with a steak and a glass of wine? Or for whining your way through a bowl of cereal standing at the counter?
The answer is yes, as cookbook author Deborah Madison discovers in her latest book, "What We Eat When We Eat Alone," illustrated with funny, sweet drawings by her husband, Patrick McFarlin, and based on interviews with neighbors, cooks, family and friends about their habits when no one else is in the kitchen.
With so much attention paid to the pleasures of sharing meals, Madison turns to something that all of us do at some point, perhaps as young adults starting out on our own, or at the breakup of a marriage, or later, after the death of a spouse, or even just when our partners are out for an evening.
In a poem that opens one chapter of the book, Daniel Halpern provides elaborate instructions for a leg of lamb dinner, concluding with a toast to the cook -- and the diner: "The company is the best you'll ever have."
Not everyone agrees.
Madison, whose nine cookbooks include "Vegetarian Cooking for Everyone," says her new book has taught her to like eating alone more than she had as a person who spends most of her working day alone, especially when she was "unhappily single." "It was so joyless to be cooking all this food, trying to really taste it, and then eat it or give it away," she writes.
"It's so dismaying how many people don't appreciate their own company and value it," she said from New Mexico, where she lives. "I don't want to be like that."
--
So, what do you eat?
The book began when McFarlin, as an icebreaker, began asking people about their solo eating habits. When he made some drawings based on what he'd learned, Madison knew the subject could be a book, and the interviewing continued. She also is working as a menu consultant for a small hotel chain and with some school gardens. She has a book on fruit desserts coming out next spring.
"What We Eat When We Eat Alone" (Gibbs Smith, $25) is not a book of recipes for smaller portions of the dishes people eat every day. It's full of stories about the way people approach food when they are alone, whether they shop or poke around the fridge; whether they cook or simply assemble what they find; whether they eat odd dishes no one else would touch or take the time for an appealing full meal. Some people make a humble meal of crackers broken into milk; cookbook writer Clifford Wright sometimes makes duck breast -- which he says he can't afford to serve to guests.
In a book that celebrates our differences, no one needs to explain idiosyncrasies at the table -- the strange, perhaps unappetizing ones -- fried Spam with cottage cheese and tomatoes; leftover spaghetti that's stuck together, fried with Swiss cheese; or yellow mustard on a flour tortilla, washed down with "reworked coffee," made by adding fresh grounds to old and pouring in boiling water.
For some people, probably more of them women, eating alone is a luxurious respite from the demands of making supper. Madison takes frequent note of gender differences in the habits of solo diners, and often the stereotypes (more meat for men, more salad for women) prove only somewhat true -- though Madison notes that her book is no scientific study.
One might expect that what people eat alone would be convenient, even stingy: a sandwich or a salad, frozen food or takeout.
That it often is not shows how complicated the relationship between a person and food can be, how, as Madison writes, the kitchen is "a place of relaxation and adventure." The publisher of a food journal relates in detail his preparation of a pork chop, then of a rib-eye steak: "I saute it, or I should say 'fry' it, with a lot of fat. I put olive oil with the fat trimmings in a stainless steel skillet and fry it hot. Salt and pepper go on before, garlic after. I also take a piece of bread, toast it, rub it with garlic, and drizzle it with more oil."
Sandwiches, endlessly changeable and handily portable, work well for solo eating. McFarlin's green panini with roasted peppers and Gruyere cheese was born of his love for his panini maker and for improvising on the fillings. It's become a classic in their house, along with a version using roasted green chiles.
Many people in the book eat salsas, tortillas and other Southwestern foods -- no matter where they live. "It's as if these are the new American foods and flavors, and particularly satisfying ones at that," she writes.
For people who relish the chance to eat alone, there are comfort foods, foods that perhaps no one else likes, or those that seem a little decadent. Kate Manchester, the publisher of Edible Santa Fe, is quoted as appreciating "a stolen moment when I can cook for my own palate," and she often chooses Johnny cakes from her native Rhode Island. Greek food authority Aglaia Kremezi talks about fried potatoes with yogurt sauce, "part of my solo ritual."
And there's a practical approach. Madison writes that her mother "vigorously touts the virtues of having a pot of rice on hand at all times." It can be used for stir-fries or soups, or for a simple saffron-and-cardamom-flavored exotic rice pudding on demand.
Interestingly, Madison finishes with a chapter on eating to seduce, whether for a night or a lifetime. But in any case, food to share. "It just kept coming up," Madison said. "Maybe it doesn't fit in the book, but it was such a fun chapter."
"There are so many things that food says about relationships," she added.
Madison noted that one of the ways she knew her first marriage was dissolving was that she and her husband "couldn't feed each other." He found her food bland, and she found his overwhelmingly "hot and spicy."
1
Put the mustard greens in a pot over high heat with the water that clings to the leaves plus one-half cup. Sprinkle with one-half teaspoon salt, pepper to taste, garlic and the pepper flakes and cover. After the leaves have collapsed, reduce the heat to medium and cook until they're tender when you taste one, about 7 minutes. Drain, then squeeze the excess water out of the greens. Put them in a bowl and season with additional salt, if needed, and pepper sauce or vinegar to taste.
2
Slather the outside of the bread with olive oil. Cover one slice of the bread (the dry side) with cheese, pile on a half or a third of the greens, and add the pepper strips. Spread the top slice with Dijon mustard, then cover.
3
Cook in your panini maker or in a skillet until the bread is crispy and the cheese melts. When a wave of melted cheese hits the hot surface, there's a bonus tang, but don't let it burn. Slice it diagonally; it's easier to eat that way and it looks jaunty too.
Adapted from "What We Eat When We Eat Alone" by Deborah Madison and Patrick McFarlin. It is one of McFarlin's favorites. This recipe makes more mustard greens than are used in the sandwich.
---
Get our new Cooking newsletter.
Your roundup of inspiring recipes and kitchen tricks.
You may occasionally receive promotional content from the Los Angeles Times.