Grilled Asian beef short rib appetizer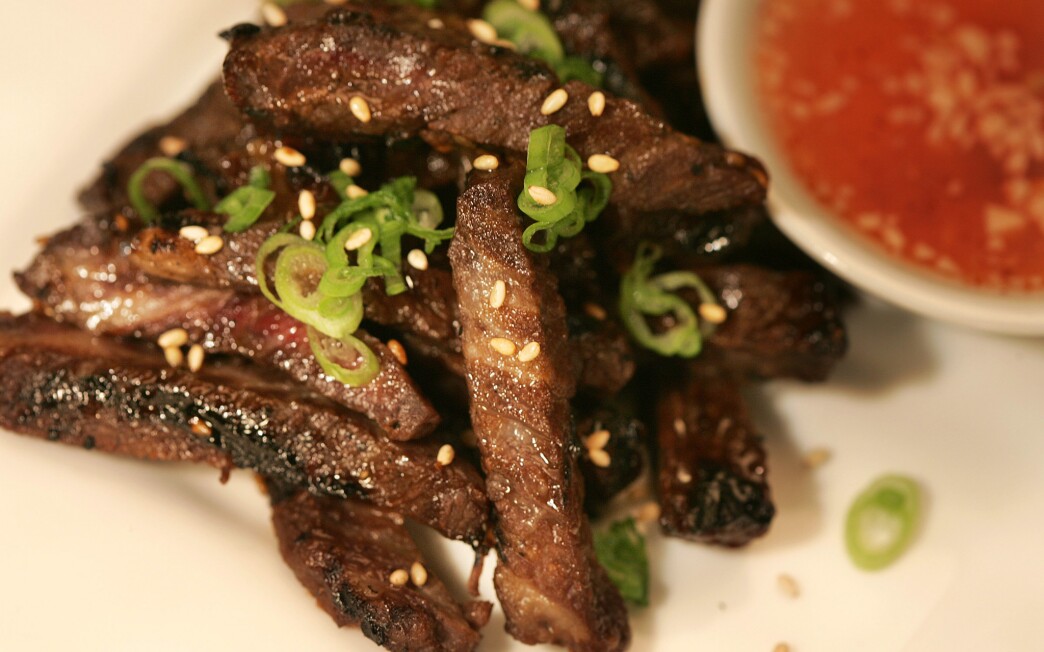 Print Recipe

Print Recipe
These tasty Korean-style short ribs are a perfect appetizer when you're entertaining with little time to spare. Simply marinate the ribs the night before in a lively soy marinade flavored with brown sugar, red wine, ginger, garlic and a little sesame oil. Just before serving, char the beef quickly over a hot grill, then slice and serve with a sweet and spicy Thai dipping sauce. You'll have happy guests in almost no time.
Thai sweet and spicy sauce
1
Combine the sugar, vinegar, chile paste, garlic, salt and water. Stir to combine. Cover and refrigerate until needed. This makes three-fourths cup of sauce and will keep, refrigerated, for 5 days.
Short ribs and assembly
1
Combine the beef in a sealable plastic bag with the soy sauce, sugar, wine, 1 tablespoon sesame seeds, sesame oil, one-fourth cup green onion, the ginger and garlic. Close and shake the bag to evenly distribute the contents. Refrigerate overnight.
2
Heat a grill over high heat until hot. Remove the meat from the bag and discard the marinade. Grill the beef 1 1/2 to 2 minutes per side for medium-doneness, or to taste. Remove and allow to rest a few minutes.
3
Slice the beef crosswise into one-fourth- to one-half-inch strips. Plate each serving with a side of the dipping sauce, sprinkling additional green onions and toasted sesame seeds over the beef for garnish. Serve immediately.
Adapted from Sage on the Coast.
---
Get our new Cooking newsletter.
You may occasionally receive promotional content from the Los Angeles Times.