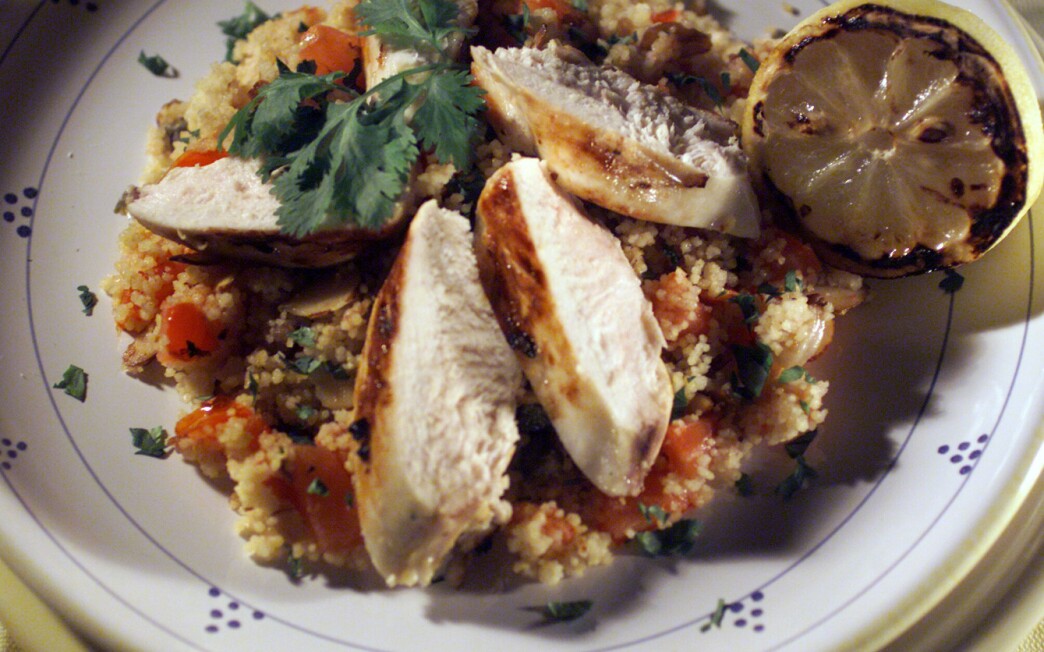 Print Recipe

Print Recipe
Lemon chicken, an easy summertime dinner from the grill, becomes a bit more interesting when served atop a bed of almond couscous.
The nice thing about couscous, which is eaten by just about everyone in North Africa and the Middle East, is that it can be prepared in minutes. Add some fruit, nuts or herbs, and it becomes a delicious side dish.
Thick chicken breasts will grill quicker if you cut them in half horizontally first. To make a prettier plate, grill the lemons after you've removed the zest, then use them to garnish the serving plates.
1
Heat the grill or broiler.
2
Cut the chicken breasts in half horizontally if they're thick and place them on a plate. Combine the olive oil, lemon juice and minced garlic and pour it over the chicken. Season the chicken with salt and pepper.
3
Grill the chicken over a medium-hot fire or broil until a meat thermometer reaches an internal temperature of 160 degrees and the breasts are lightly browned, about 15 minutes. Place the lemons cut side down on the grill until lightly browned, 1 to 2 minutes.
4
To serve, slice the breasts diagonally into 5 pieces. Mound the couscous on each serving plate and place a sliced chicken breast on top. Squeeze the grilled lemon on the chicken and couscous.
---
Get our new Cooking newsletter.
You may occasionally receive promotional content from the Los Angeles Times.