Hamantaschen with poppyseed filling
Yields
Makes about 3 dozen hamantaschen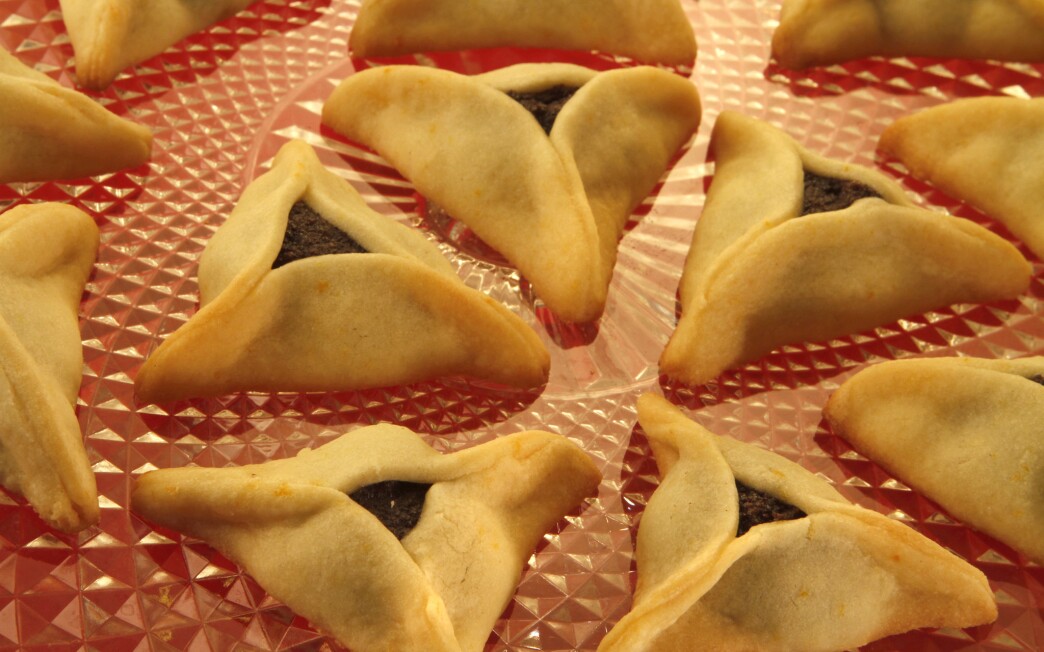 Print Recipe

Print Recipe
The quintessential Purim treat is hamantaschen. This Yiddish word means "Haman's pockets"; the name of these triangular filled cookies in Hebrew, oznei Haman, means "Haman's ears." They are served as a reminder of the triumph over Haman, whose name is also symbolically drowned out by those using noisemakers during the synagogue recitation of the Purim story.
Israeli bakeries now offer hamantaschen with a variety of fillings, such as chocolate, halvah and even dulce de leche. For people who keep kosher, this recipe is suited for a meatless dinner as it is made with butter. To make these pastries pareve, use nondairy stick margarine in the dough and soy milk or almond milk in the filling.
From the story: Queen of the Purim carnival? Why, Middle Eastern food, of course
Creamy poppyseed filling with raisins
1
Using a spice grinder, grind the poppyseeds into fine meal but not to a paste. This will need to be done in batches.
2
In a small saucepan, combine the poppyseeds, milk, honey and 2 tablespoons sugar. Stir over low heat and bring to a simmer. Cook over low heat, stirring often, until the mixture is about as thick as peanut butter, about 10 minutes.
3
Add the raisins and butter, and stir over low heat just until the butter is blended in. Remove from heat and stir in the orange zest. Taste, and stir in the remaining 1 tablespoon sugar if you like.
4
Transfer the mixture to a bowl and set aside to cool to room temperature. Cover and refrigerate it until cold before using, at least 1 hour. This makes about 1 cup filling, enough for about 3 dozen hamantaschen.
Hamantaschen and assembly
1
Combine the flour, powdered sugar, baking powder and salt in a food processor fitted with a metal blade. Process briefly to blend. Scatter the butter pieces over the mixture. Pulse the mixture just until it resembles coarse meal. Add the orange zest. Pour the beaten egg evenly over the mixture in the processor. Pulse again, scraping the sides down occasionally, just until the ingredients are blended.
2
Sprinkle with 1 tablespoon orange juice and pulse briefly until the dough begins to stick together but does not quite form a ball. If the dough is too dry to stick together, add another tablespoon juice and pulse several times to blend. If necessary, add the last tablespoon of juice 1 teaspoon at a time, pulsing after each addition.
3
Transfer the dough to a work surface and divide into 4 portions. With the heel of your hand, knead each portion lightly to blend. Using a rubber spatula, transfer each portion of the dough to a sheet of plastic wrap, form it into a fairly smooth flat disk and wrap tightly. Refrigerate it at least 3 hours or up to 3 days.
4
Remove the dough from the refrigerator. If it is very firm, let it soften for a few minutes at room temperature. Meanwhile, butter a baking sheet, or line it with foil and butter the foil.
5
Unwrap a quarter of the dough at a time. Push to form it into a rough circle. Tap it firmly a few times with a rolling pin to soften it and to begin flattening it. Roll it on a lightly floured surface with a lightly floured rolling pin, turning it often and flouring lightly as necessary, until it is about one-eighth-inch thick.
6
Using a 3-inch cookie cutter or a glass, cut the dough in rounds. Brush water lightly along the rim of each one. Put 1 teaspoon filling in the center of each. (Do not add extra filling, or it may come out during baking.) Pull up the edges of the round in 3 arcs that almost meet in the center above the filling, to form a triangular pastry with the filling showing slightly. Pinch the edges to seal them firmly.
7
Put the pastries on the greased baking sheet and refrigerate them. Push the trimmings gently together; wrap and refrigerate them.
8
Roll the remaining dough in 3 more portions and shape more hamantaschen. After refrigerating the trimmings at least 30 minutes, you can roll and shape them also. Refrigerate the shaped pastries for 30 minutes or up to overnight to firm the dough.
9
Meanwhile, heat the oven to 375 degrees.
10
Bake the hamantaschen until they are light golden at the edges, about 10 to 14 minutes.
11
Cool them on a rack, then store them in an airtight container.
You can buy poppyseeds in bulk at kosher, Eastern European and Middle Eastern markets.
---
Get our new Cooking newsletter.
You may occasionally receive promotional content from the Los Angeles Times.