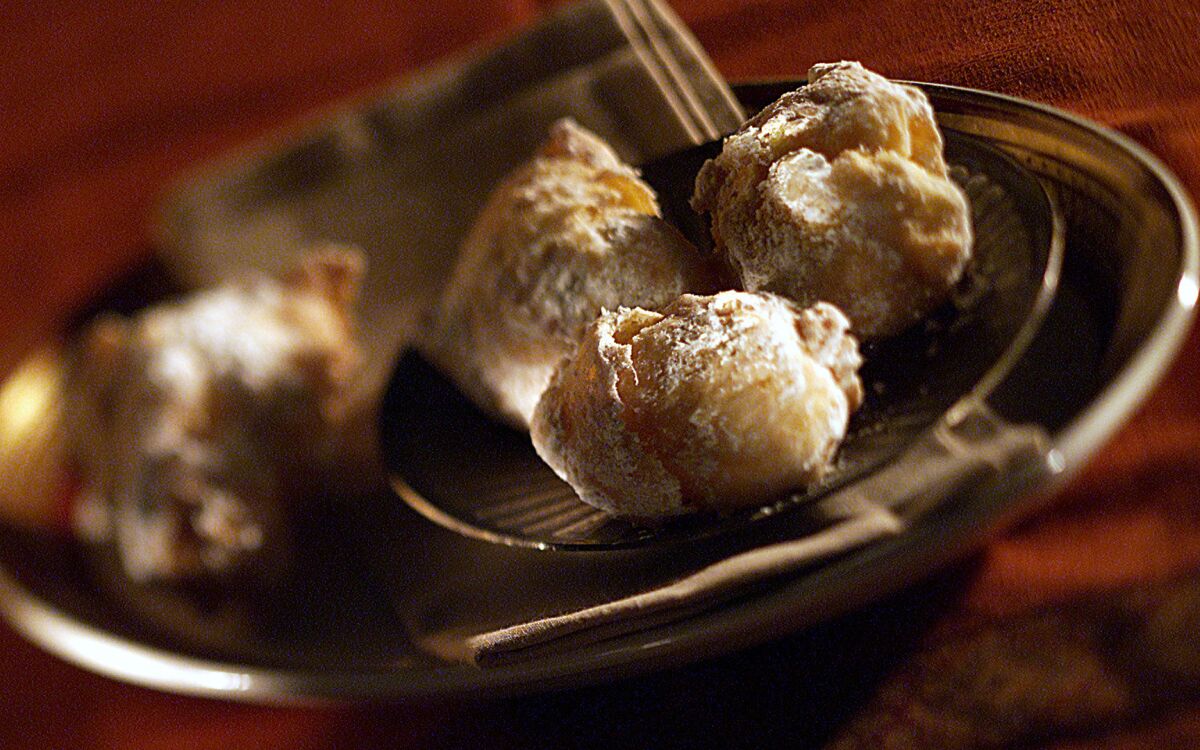 Print Recipe

Print Recipe
These Hannukah doughnuts puff up like little golden balls. Serve them hot for best flavor.
1
Combine 2 cups of the water along with 1/2 cup of oil and salt in a saucepan. Bring to a boil. Add the flour in a stream. Using a wooden spoon, stir the mixture rapidly until it separates from the sides of the pan. Remove from the heat, and let rest 3 or 4 minutes. Stir in the eggs, one at a time, until they are thoroughly incorporated in the dough. Set aside.
2
In a deep skillet or large saucepan, pour oil to a depth of 3 inches. Heat the oil to 350 degrees or until a piece of dough dropped in the oil sizzles instantly. Drop the dough by tablespoons into the hot oil. Fry the dough in batches until the beignets turn golden brown and float to the surface, 7 to 8 minutes. Using a slotted spoon, transfer the beignets to a platter lined with paper towels to drain. Roll the beignets in powdered sugar while they are still hot, and serve.
Morse is the author of nine cookbooks, including "The Scent of Orange Blossoms: Sephardic Cuisine From Morocco" (Ten Speed Press, $24.95).

---
Get our new Cooking newsletter.
Your roundup of inspiring recipes and kitchen tricks.
You may occasionally receive promotional content from the Los Angeles Times.