Hazelnut torte with espresso cream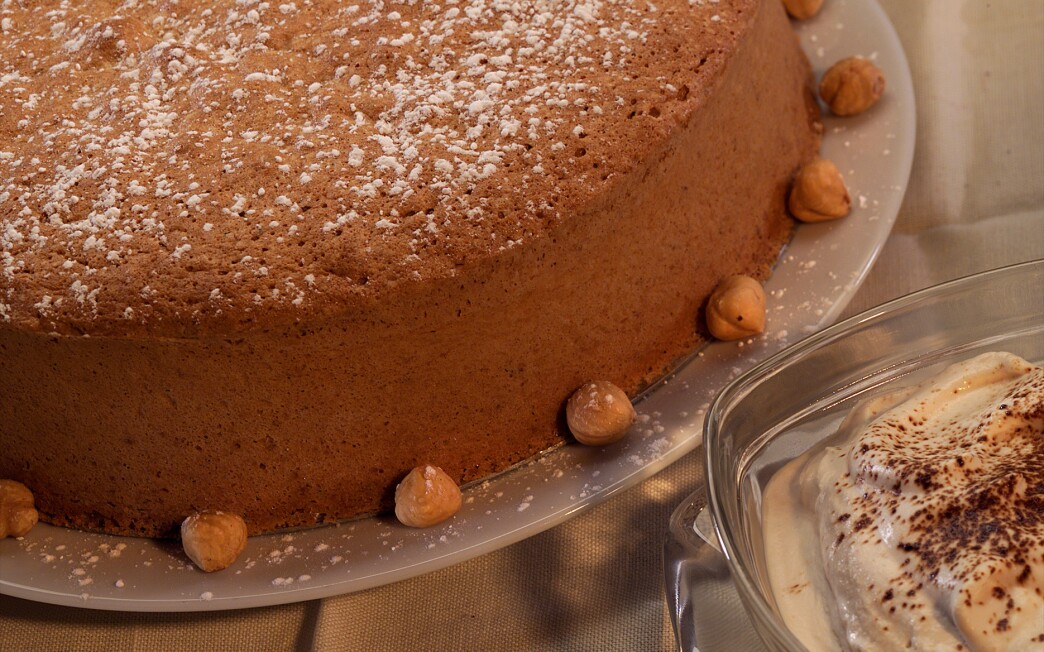 Print Recipe

Print Recipe
A small amount of flour in addition to the ground nuts makes this hazelnut torte a bit denser than a typical torte.
Hazelnuts have papery peels that need to be removed before the nuts can be used in a dish. Getting rid of the peels is simple: Toast the hazelnuts on a jellyroll pan in a 350-degree oven until they are fragrant, about 10 to 15 minutes. Spread a handful at a time on a dry kitchen towel and rub them briskly. The peels will come right off.
From the story: No Ordinary Nut
Torte
1
Heat the oven to 325 degrees. Butter and flour a 9-inch springform pan.
2
Grind or pulse the hazelnuts and 1/4 cup of the granulated sugar in a food processor until the nuts are finely ground, but not so long that they turn to nut butter. Add the flour and half of the salt and pulse several times more to make a powdery texture.
3
Beat the egg whites with the remaining salt until they form soft peaks. Gradually pour in 1/2 cup of the sugar and continue beating until the peaks crest softly without collapsing. Scrape them into a large bowl. Add the yolks to the mixing bowl without washing it. Add the remaining sugar and beat on high until the batter is thick and pale and a ribbon holds for 3 seconds. Add the vanilla.
4
Fold the yolks into the whites, and then sprinkle a fourth of the nut and flour mixture over the eggs. Mix the batter thoroughly, but take care not to overmix and deflate the whites. Fold in one-third of the flour-nut mixture, followed by a third of the melted butter. Continue until all the nuts and butter are used. Scrape the batter into the prepared pan and bake in the center of the oven until browned and the sides are slightly pulling away from the pan, about 1 hour. Remove, cool slightly, then remove the rim.
5
Serve the cake with the baked side facing up or reverse it and remove the base of the pan for a smoother surface. Shake the powdered sugar through a strainer over the top of the cake and serve it with the Espresso Whipped Cream.
Espresso whipped cream
1
Whip the cream until it forms soft, billowy peaks. Whip in the espresso, Frangelico, vanilla and powdered sugar. Don't let it get stiff. Serve spooned over or alongside each piece of cake.
Madison is author of "Vegetarian Cooking for Everyone" (Broadway Books, 1997).
---
Get our new Cooking newsletter.
You may occasionally receive promotional content from the Los Angeles Times.