Herb-flecked kneidelach (matzo balls)
Yields
Makes about 24 matzo balls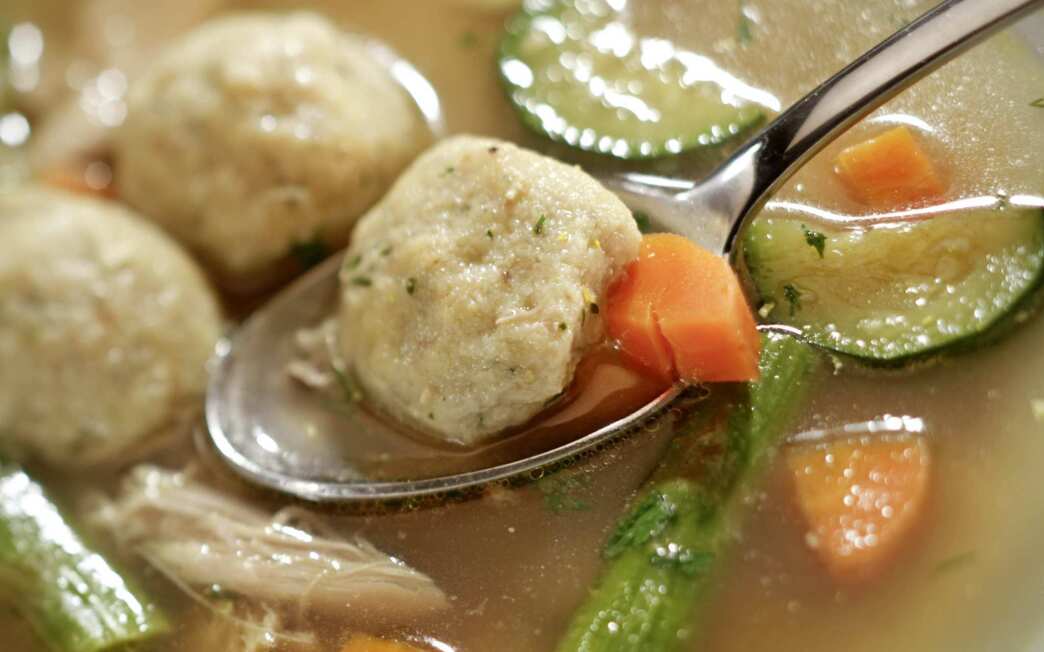 Print Recipe

Print Recipe
Herb-flecked kneidelach (Yiddish for matzo balls) are a hallmark of Jewish cooking that originated in Eastern Europe.
1
In a medium bowl, lightly beat the eggs with the oil to blend. Add the matzo meal, salt and pepper, and stir to a smooth batter. Stir in 2 tablespoons chicken soup. Stir in the dill and cilantro. Cover and refrigerate for 30 minutes to 1 hour.
2
Remove the chilled batter and stir. Thin the batter by adding more chicken broth, 1 tablespoon at a time, so that the mixture is soft but just firm enough to be formed into rough-shaped balls (you will need about 3 tablespoons soup).
3
In a large saucepan, bring 2 quarts of water to a boil and add a pinch of salt. Reduce the heat so that the water bubbles gently. Moisten your hands, measure a mounded teaspoonful of batter and take it off the spoon. Transfer the batter from one palm to the other, gently giving it a roughly round shape. Drop the matzo ball into the simmering water.
4
When all the matzo balls are in the pan, cover and return to a simmer. Cook over low heat until the matzo balls begin to float and are tender, about 20 to 30 minutes.
5
Transfer the matzo balls to a container to refrigerate them or to another saucepan for reheating. Ladle the remaining 3 cups of chicken soup over the matzo balls to cover them.
6
Refrigerate the matzo balls, or cover and keep them warm until ready to serve. Reheat them in the chicken soup in a covered saucepan over low heat, without stirring. Serve hot.
---
Get our new Cooking newsletter.
You may occasionally receive promotional content from the Los Angeles Times.