Hickory-smoked salt
Time
Total time: 1-2 hours
Yields
Makes 1 quart salt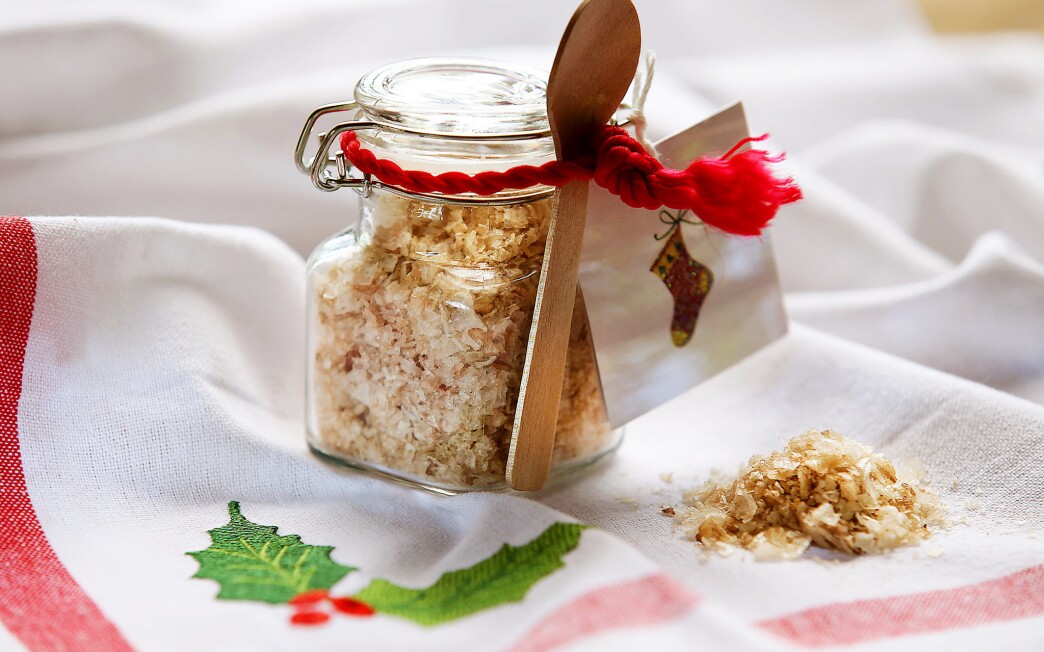 Print Recipe

Print Recipe
If you're considering homemade gifts for the holidays this year, there are plenty of ways to get creative in the kitchen. Not only are crafty gifts a thoughtful and creative way to show how much you care, they're a great way to stay on budget during the holiday season.
From chocolate-dipped pretzels to batches of freshly baked cookies and candies, gifts can range from ideas that come together quickly to more involved recipes. Homemade gifts also make great projects for kids.
The following are three unique gift ideas, each tailored to specific tastes:
Please the home cook or grilling fan in your life with a jar of homemade hickory-smoked sea salt. Bake up a tray of homemade granola for loved ones, personalizing each batch with dried fruit, nuts, chocolate chips or a combination of all three. And for something extra unique, infuse your own spiced cinnamon whiskey — the gift takes almost no time to prepare but is sure to be remembered. (Try a splash — or two — in the holiday eggnog.)
For additional gift ideas, we've compiled 25 of our favorite homemade holiday gift recipes, including cookies, marshmallows, caramel corn and more.
1
Prepare your smoker for indirect smoking: Spread the salt in a shallow layers on rimmed, perforated pans (or fashion a rimmed "pan" out of heavy-duty foil, punching a few holes in the bottom using a skewer) to smoke over indirect heat. Smoke the salt, adding wood chips or shavings as needed, to continuously coat the salt with smoke particulate until the desired flavor and intensity is achieved. Turn off the smoker, and, when the salt is cool enough to handle, cover and store in an airtight container at room temperature. The salt will keep for months.
In lieu of hickory chips, you can flavor the salt with any type of wood and/or dried herbs or spices.
---
Get our new Cooking newsletter.
You may occasionally receive promotional content from the Los Angeles Times.