Homemade granola
Yields
Makes about 2 quarts granola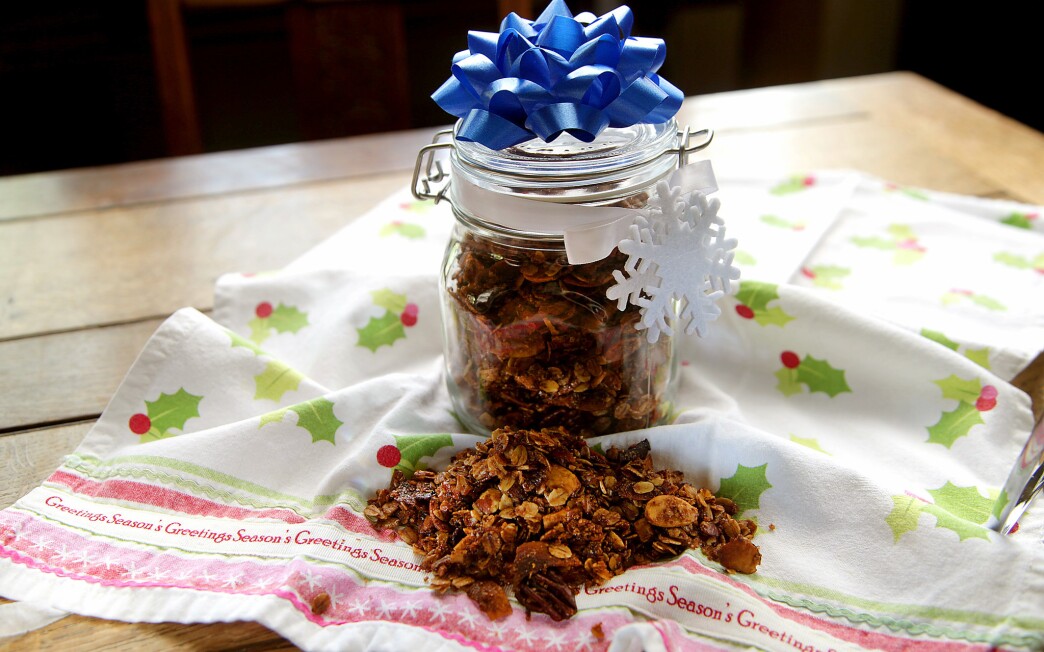 Print Recipe

Print Recipe
If you're considering homemade gifts for the holidays this year, there are plenty of ways to get creative in the kitchen. Not only are crafty gifts a thoughtful and creative way to show how much you care, they're a great way to stay on budget during the holiday season.
From chocolate-dipped pretzels to batches of freshly baked cookies and candies, gifts can range from ideas that come together quickly to more involved recipes. Homemade gifts also make great projects for kids.
The following are three unique gift ideas, each tailored to specific tastes:
Please the home cook or grilling fan in your life with a jar of homemade hickory-smoked sea salt. Bake up a tray of homemade granola for loved ones, personalizing each batch with dried fruit, nuts, chocolate chips or a combination of all three. And for something extra unique, infuse your own spiced cinnamon whiskey — the gift takes almost no time to prepare but is sure to be remembered. (Try a splash — or two — in the holiday eggnog.)
For additional gift ideas, we've compiled 25 of our favorite homemade holiday gift recipes, including cookies, marshmallows, caramel corn and more.
1
Heat the oven to 350 degrees.
2
In a large bowl, toss together the oats, wheat bran, pecans, almonds and coconut. Stir in the salt, cinnamon, nutmeg and brown sugar. Pour over the maple syrup and oil, mixing well to combine.
3
Spread the mixture out onto a rimmed baking sheet lined with parchment paper and bake, stirring occasionally, until the mixture is toasted to a nice, even golden brown, about 45 minutes.
4
Cool, then fold in the dried fruit, cacao nibs and/or chocolate chips to taste, if using. The granola will keep, sealed in an airtight container and stored in a cool, dry place, up to 2 weeks.
Unsweetened flaked coconut can be found at select well-stocked supermarkets as well as cooking stores and online. Sweetened shredded coconut may be substituted, but decrease the brown sugar slightly to account for the sweetness of the coconut and note that the coconut will brown more quickly in the oven.
---
Get our new Cooking newsletter.
You may occasionally receive promotional content from the Los Angeles Times.