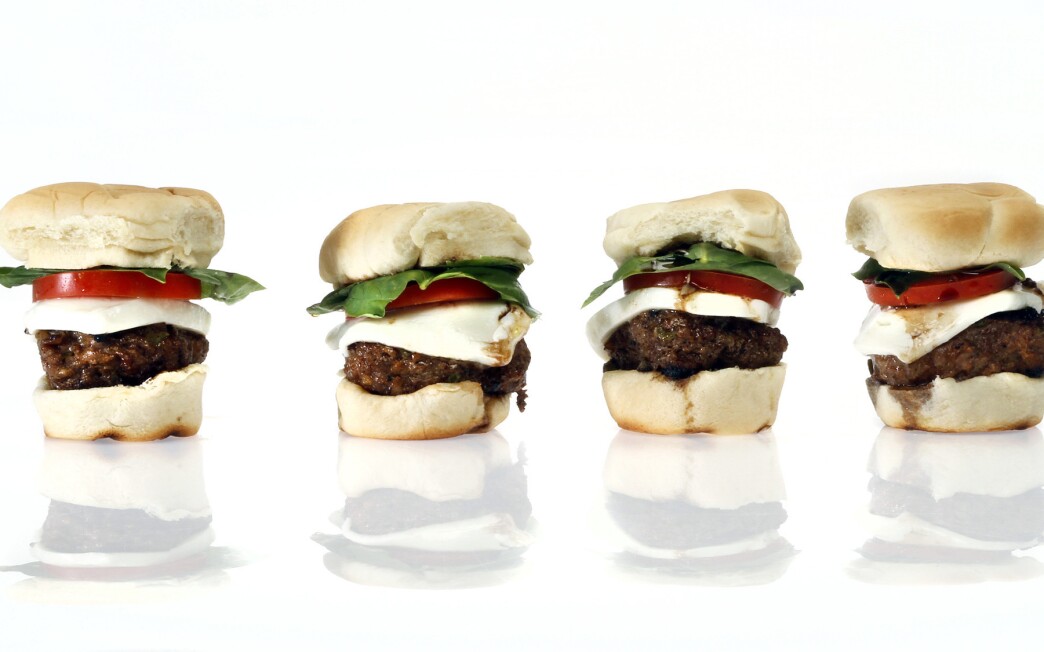 Print Recipe

Print Recipe
To any real fan, a hamburger is never "just a burger." A great burger is a work of art, passionately thought out and painstakingly executed. The very extension of the grill master's own identity.
And, of course, determining what makes a burger great can stir as much passion as trying to balance the national budget.
So with the smells of charcoal and propane beginning to perfume backyards across the country, we challenged L.A. Times burgermeisters everywhere to submit their recipes in our first Battle of the Burgers. The response was amazing. Almost 90 recipes were submitted from all over the country, with readers across the nation voting to choose their favorites.
Thousands of votes were tallied to narrow the choices to the top 20 burgers. Top recipes were then put to task in the Los Angeles Times Test Kitchen. The burgers were then judged by Food section editors and staff. It was tough, but after days of testing, exhaustive judging (and maybe a little post-burger napping), we came up with five favorites.
1
Make the patties: In a large bowl, gently but thoroughly mix together the ground beef, Italian sausage, Italian seasoning, onion, bell pepper and 2 cloves minced garlic. Press the mixture into a jelly roll pan, using a rolling pin to make a flat, even layer. (Cover the meat with plastic wrap, if necessary, to keep it from sticking as it's rolled.) Cut the meat into roughly 2-inch squares.
2
Heat a grill or grill pan over medium-high heat until hot. Grill the burgers until cooked to an internal temperature of at least 160 degrees, about 2 to 3 minutes per side. When the burgers are done, place a slice of mozzarella on each burger and tent with foil while preparing the buns.
3
Warm the rolls: Wrap the rolls in foil and place on the top rack of the grill, or place in a warm oven until warmed through.
4
In a small bowl, whisk together the olive oil, balsamic vinegar and remaining minced clove garlic. This makes a scant one-half cup vinaigrette.
5
Assemble the sliders: Place a cheese-topped patty on the base of the bun, add a slice of tomato and 2 basil leaves. Drizzle each burger with 1 teaspoon of the vinaigrette. Serve immediately.
From Susan Salerno of Henderson, Nev.
---
Get our new Cooking newsletter.
You may occasionally receive promotional content from the Los Angeles Times.