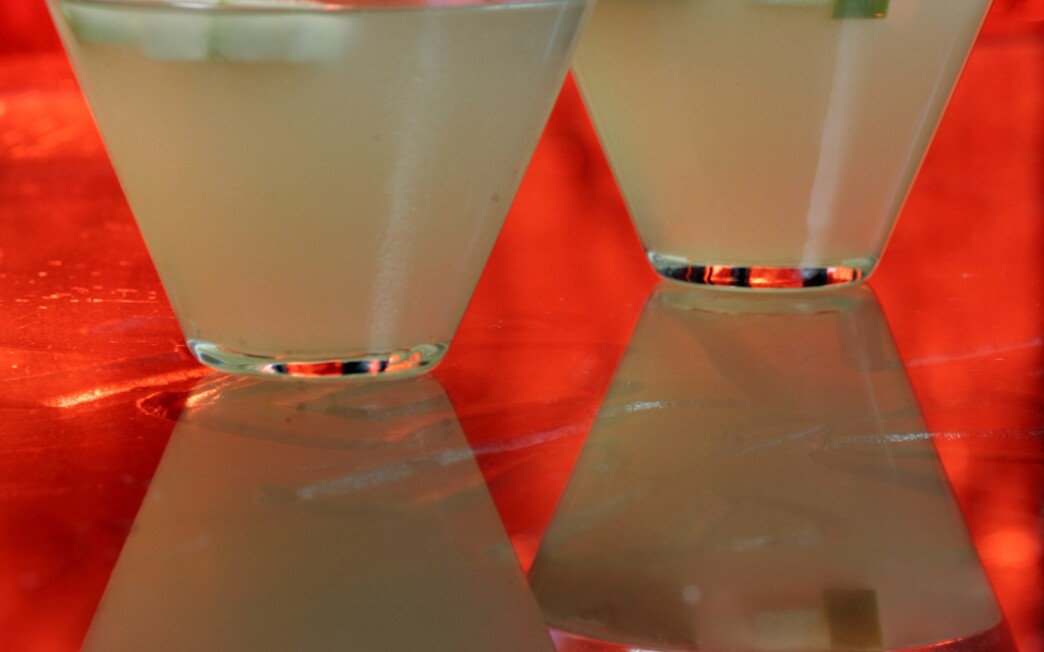 Print Recipe

Print Recipe
WITH all the snappy apples -- rosy Rome Beauties, flowery Splendors, tart Pippins -- spilling out of farmers market stalls this time of year, it's hard to resist dreaming up excuses to buy them by the bushel. It's a great time for baked apples, tarte Tatin, apple strudel -- and apple cocktails.
Forget those glow-stick green apple martinis, a concoction only a grinch could love. Instead, check out the fresh fruit-forward apple cocktails making the Southern California bar scene this season. Mixologists are using fresh-pressed juice, muddled apples and even syrups infused with skins and cores, then shaking up these apple essences with spirits that bring out their warm autumnal character.
"A good cocktail balances tartness against sweetness, just like a peak-of-season apple, so they're natural partners," says Jonny Raglin, bar manager at Absinthe Brasserie & Bar in San Francisco where his Jonny Apple Seed cocktail combines freshly made apple syrup, Calvados (apple brandy) and sparkling rose wine. "Look for varieties that are tart and sour, not overly sweet, because you want that sharpness to stand up to the alcohol."
Tart-sweet varieties such as Rome Beauty, Granny Smith, Pippin and Pink Lady are good choices for muddling, pureeing or juicing because their tang keeps the fruit's sweetness from cloying.
Fresh apple cocktails are perfect for entertaining. Make enough fresh cider, apple syrup or puree for four, then shake up the cocktails two by two.
If you don't have a juicer at home, look for flash-pasteurized apple cider (fresh-pressed, unfiltered apple juice) in the refrigerated section of many grocery stores and at farmers markets' apple vendor stands. But commercial ciders are typically pressed from sweet apples, so add a little lemon juice in recipes calling for tart apple juice.
David Myers, executive chef and owner of Sona in West Hollywood, pairs fresh cider with light spirits such as vodka to showcase the crisp, clean apple flavor. Recently he's been muddling tart cider with litchi and mint, a refreshing combination that's perfect for sipping on a sunny winter afternoon. For a more robust drink, choose a full-flavored whiskey, brandy or rum to complement apple's tangy sweetness. At the Hungry Cat in Hollywood, lead bartender Tim Staehling mulls fresh-pressed cider with cinnamon, nutmeg and cloves over low, slow heat to really concentrate the flavor and adds warm, spicy spirits such as apple brandy and dark, aged rum.
"The base of your cocktail should enhance apple's aromas and flavors," says mixologist Drew Levinson, manager of 22 bars at the Bellagio in Las Vegas. "It's like picking spices that complement an apple pastry. Choose a bourbon with vanilla, cinnamon, or citrus notes, spicy rum or a fruity brandy to bring out the apple flavors."
Levinson shakes up his Apple Frost cocktail with fresh-pressed cider, house-blended cinnamon and vanilla-scented bourbon, plus pear brandy, falernum (sweet ginger lime syrup) and lemon sour for balance. A lighter alternative is the Apple Pie cocktail at Boa Steakhouse in Santa Monica. Assistant general manager Kevin Travis pairs fresh cider with dry white wine and cinnamon-clove syrup for a spicy winter sangria.
Travis recommends experimenting with texture to change a drink's flavor. "Try blending peeled apples and substituting the puree for half the juice in a cocktail recipe," he says. "It lends body and a more intense, fresh apple flavor."
Pureeing apples in a blender is a cinch to do at home, and for holiday entertaining, the puree can be prepared an hour or two ahead of time. It's the foundation for an honest apple martini created for the Four Seasons Resort, Maui, by cocktail consultant Kim Haasarud that could win back a good name for the drink.
Haasarud, the Los Angeles-based author of "101 Martinis," purees Granny Smith apples with simple syrup and lemon juice, then shakes up the puree with apple liqueur and vodka. It's a tangy green-apple martini that's all about big, bright orchard flavors.
But apples don't have to be juiced or pureed to give character to a cocktail. Muddling diced tart apples lends a delicate flavor and a lingering apple aroma.
"Muddled apple has a subtle essence so it pairs well with softer flavors," says Sara Southern, consulting mixologist to Red Pearl Kitchen in Hollywood.
Southern recommends finely chopping peeled apples to extract the most juice when muddling. If you need to chop a large quantity of apples in advance, sprinkle them with lemon juice diluted with water to keep them moist and prevent browning.
Southern's Jade Mistress cocktail, a Thai-inspired mojito, starts with muddled Granny Smiths, Thai basil and homemade sour mix. The drink gets a spicy kick from chile-steeped vodka and the apple offers an understated sweet-tart note that lingers against the heat.
Keep the peels and cores left over from all that muddling and juicing. At Absinthe, Raglin turns Rome Beauty skins and cores into rosy-red simple syrup. It's the star ingredient in his Jonny's Apple Seed, beautifully bridging the layers of Calvados and sparkling rose. The apple flavor, subtle at first, is unveiled as the rose gives way to the apple brandy.
Take another sip, just to be sure.
1
In a small bowl, combine the lime juice, lemon juice, orange juice and 1 ounce simple syrup. This makes 5 ounces sour mix.
2
In a pitcher, muddle the diced apple, 12 of the basil leaves and the remaining 4 teaspoons simple syrup. Add the vodka and 4 ounces of fresh sour mix, discarding the remaining sour mix.
3
Pour half the mixture into a cocktail shaker with ice. Shake and strain it into two chilled martini glasses. Garnish each with a Thai basil leaf and diced apple. Repeat with the remaining mixture to make two more drinks.
From Sara Southern for Red Pearl Kitchen. To make the red chile vodka, steep 1 to 2 Thai red chiles (dried), depending on how spicy you want it, in 10 ounces vodka at room temperature for one day. To make a simple syrup, combine equal parts sugar and water in a small saucepan over medium heat until the sugar dissolves; allow to cool before using.
---
Get our new Cooking newsletter.
You may occasionally receive promotional content from the Los Angeles Times.