Kendall's Brasserie's braised beef short ribs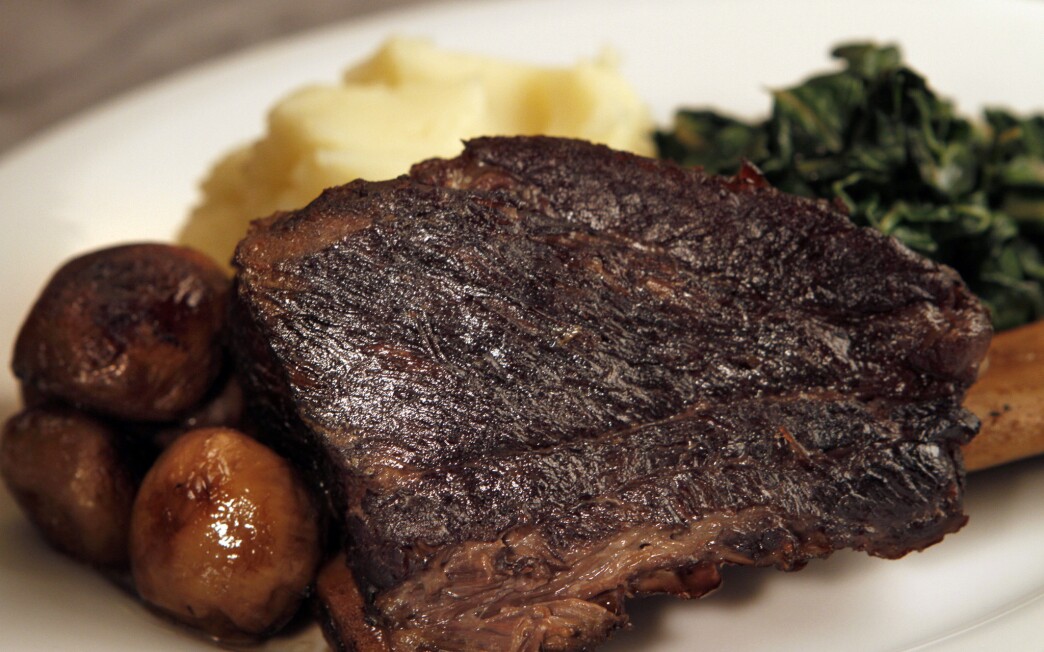 Print Recipe

Print Recipe
Dear SOS: I love the delicious short ribs served at Kendall's Brasserie, the Music Center restaurant run by Patina. The ribs are so flavorful, meaty and tender. Please, please try to get Patina to share the recipe.
Lynne Mitchell
La Canada Flintridge
Dear Lynne: This dish may take a bit of time, but patience yields the most tender, buttery rich ribs. Kendall's Brasserie was happy to share its recipe, which we've adapted below. I loved them so much, I think I'll be making these again this weekend.
1
Heat oven to 325 degrees. Season the short ribs lightly with salt and pepper. Heat a Dutch oven over high heat until hot. Add vegetable oil and sear the short ribs on all sides. Remove the short ribs and set aside on a plate.
2
Add the onion, carrot, celery and garlic to the Dutch oven and cook, stirring frequently, until the vegetables are caramelized, 10 to 12 minutes. Reduce the heat to medium and skim any excess fat from the top.
3
Stir in the tomato paste, then stir in the flour. Add dry red wine, thyme, bay leaves, rosemary, the seared short ribs and enough beef broth to cover the meat (add water if necessary), then bring to a boil, skimming any fat off the top of the liquid as it cooks.
4
Cover the Dutch oven and place in the oven until the meat is tender, about 2 1/2 hours, checking every 20 to 30 minutes to skim excess fat off the top. Add additional broth or water as necessary to keep the meat submerged in cooking liquid.
5
Meanwhile, heat a saute pan over high heat and add the butter. When the butter is melted, add the mushrooms. Cook until the mushrooms are caramelized, stirring frequently, and season lightly with salt and pepper. Remove from heat.
6
When the meat is fully cooked, carefully remove it and set aside on top of the mushrooms.
7
On the stove top, bring the braising liquid back to a boil, removing excess fat as necessary. Reduce the braising liquid to about 4 cups, then strain. Place the liquid back into the Dutch oven and add the cream. Season to taste and simmer over low heat until the sauce thickens to a creamy consistency, about 15 minutes. Gently stir in the meat and mushrooms before serving.
Adapted from Kendall's Brasserie.

The short ribs (14 ounces each) can be ordered from most butchers.

Kendall's Brasserie serves the short ribs with a few garlic croutons, mashed potatoes and sauteed Swiss chard.
---
Get our new Cooking newsletter.
You may occasionally receive promotional content from the Los Angeles Times.