La Sandia's brisket
Yields
Serves 12 to 16 (4-ounce)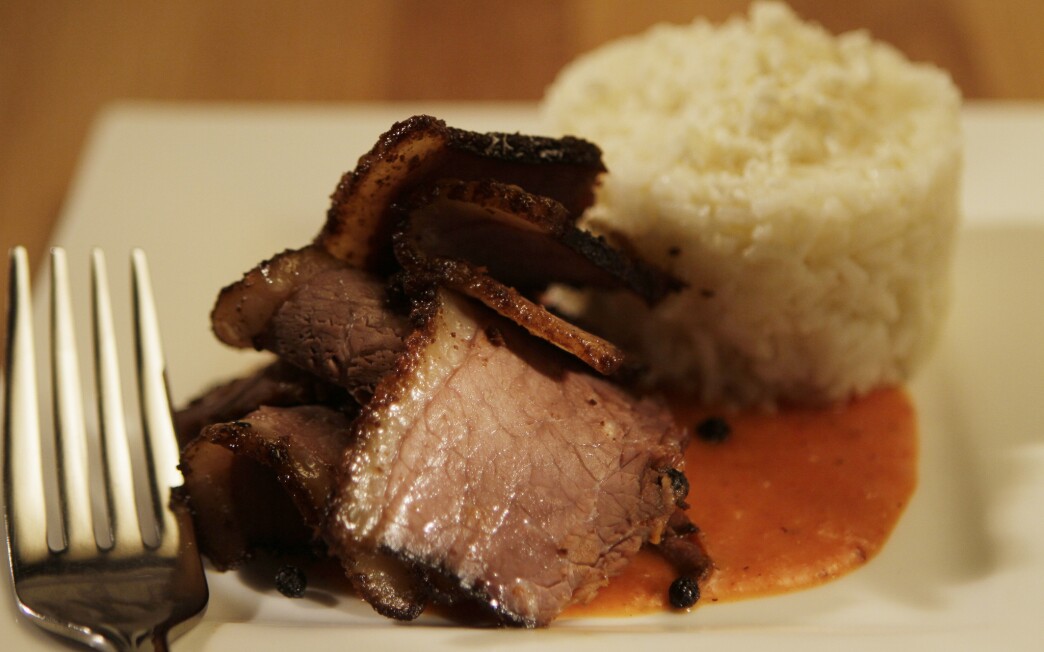 Brisket rub
1
In a medium bowl, whisk together the brown sugar, ancho chile, salt, peppercorns, paprika, cayenne pepper, cumin and oregano. Store the rub in an airtight container in a cool, dark place. This makes about one-third cup of rub.
Salsa Pibil
1
In a large sauté pan, heat the oil and butter over medium-high heat until the butter is melted and the oil is hot. Add the onion and sauté until translucent, 5 to 7 minutes, stirring frequently. Add the garlic and stir until translucent. Stir in the tomato, and reduce the heat to a gentle simmer.
2
In a blender, purée the achiote paste with the chicken broth. Pour the mixture over the onion-tomato mixture, then stir in the orange juice, bay leaf, oregano, thyme and habanero pepper. Gently simmer the mixture for 15 minutes to develop the flavors, then pick out the habanero.
3
Purée the mixture in the blender. Taste, and add back the habanero, a little at a time, until the desired heat is reached. Blend in the honey, white vinegar and lime juice. Taste and adjust the flavors as desired.
Cotija white rice
1
In a large, heavy-bottomed saucepan, melt the butter over medium heat. Add the white rice and salt, gently stirring until the rice is heated through, then stir in the cheese and heavy cream and continue to stir until the mixture is thoroughly warmed through. Taste, and adjust the salt as desired.
Smoked brisket
1
Cut the brisket into large chunks (roughly 4-inch pieces). Place the brisket in a large bowl and pour over the brisket rub. Massage the rub evenly onto each of the pieces, coating each one entirely.
2
Place the meat in a single layer in a large baking dish and refrigerate, uncovered, overnight.
3
The next day, heat the oven to 250 degrees.
4
Cover the baking dish with foil and cook the brisket for 12 hours. The brisket can be made up to this point up to 2 days in advance; cool the brisket after cooking, then cover and refrigerate until needed. Reheat the brisket in a 250-degree oven until thoroughly warmed through.
5
Prepare an outdoor or stove-top smoker. Place the cooked brisket in the smoker (depending on the size of the smoker, smoking may need to be done in batches), and start the smoker.
6
When the smoker starts smoking, seal it and smoke the brisket for 5 minutes to flavor the meat. Remove and slice before serving. This makes more brisket than is needed for the remainder of the recipe (we analyzed the nutrients using 8 ounces of brisket per serving); the brisket will keep for up to 1 week, covered and refrigerated.
7
Serve the sliced brisket with the salsa pibil and Cotija rice.
Adapted from La Sandia in Santa Monica.
---
Get our new Cooking newsletter.
You may occasionally receive promotional content from the Los Angeles Times.