Lucques' hazelnut brown butter cake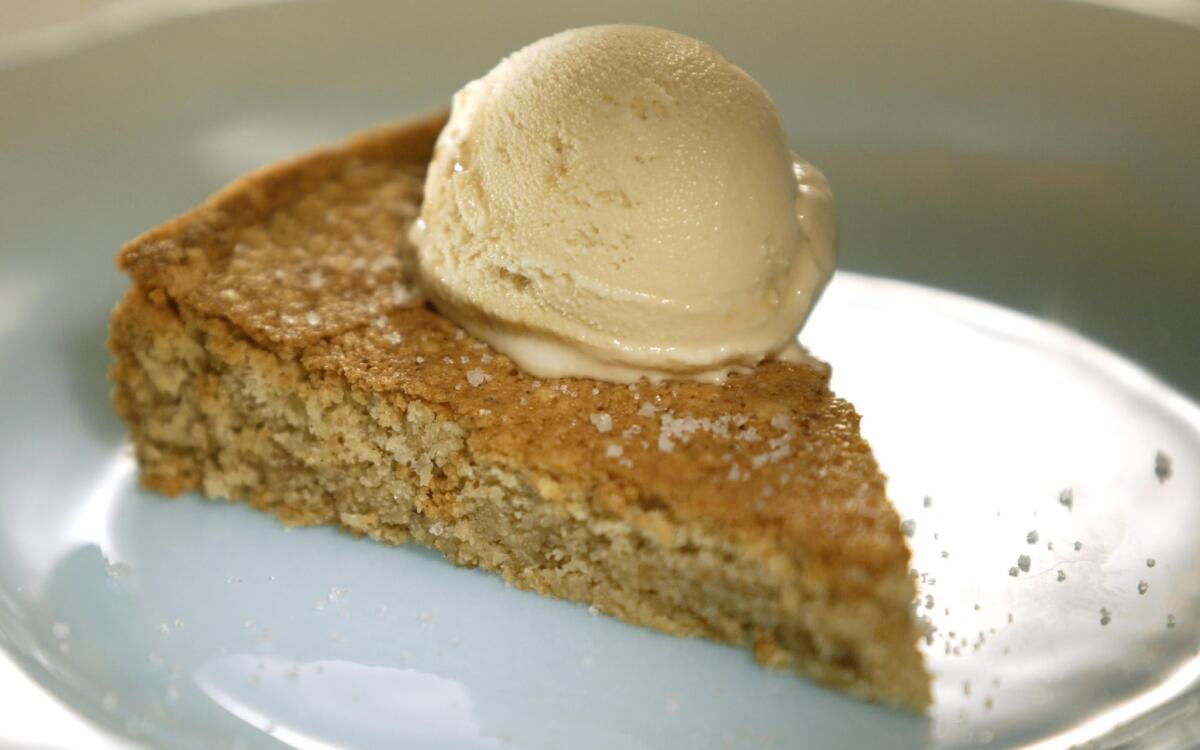 Print Recipe

Print Recipe
Dear SOS: I was at Lucques in West Hollywood recently, and they had an amazing hazelnut cake that my friends and I were crazy about. Is there any chance I could get the recipe?
Katherine Herring
El Segundo
Dear Katherine: The cake is, indeed, amazing. It's a bit crunchy, and rich with toasted hazelnuts and brown butter but remarkably light and meringue-like. Roxana Jullapat, Lucques' pastry chef, sprinkles fleur de sel on top and adds a scoop of caramel ice cream to each serving.
1
Place an 8-inch skillet on low heat and add the butter. Cut the vanilla bean in half lengthwise. Scrape the seeds out; add the seeds and bean to the butter. When the butter turns a golden brown, 15 to 20 minutes, remove from the heat. Remove the seeds and pod and scrape the butter into a bowl to cool.
2
Heat the oven to 350 degrees. Spray a 10-inch cake pan with nonstick spray, and line it with parchment paper. Grind the hazelnuts with the powdered sugar in a food processor.
3
Place the ground nuts in a large mixing bowl. Add the flour and stir until well combined.
4
Beat the egg whites and granulated sugar to stiff peaks using an electric mixer. Fold the whites into the nut mixture. Fold in the room-temperature brown butter.
5
Pour the batter into the prepared pan. Bake until a skewer inserted in the center comes out clean, about 1 hour. Cool for 10 minutes, then run a sharp knife around the edge and unmold onto a serving platter. Sprinkle each serving of cake with a little fleur de sel. Accompany with a scoop of caramel ice cream.
---
Get our new Cooking newsletter.
Your roundup of inspiring recipes and kitchen tricks.
You may occasionally receive promotional content from the Los Angeles Times.