Marshmallow Ghosts
Yields
Makes about 3 dozen candies, depending on size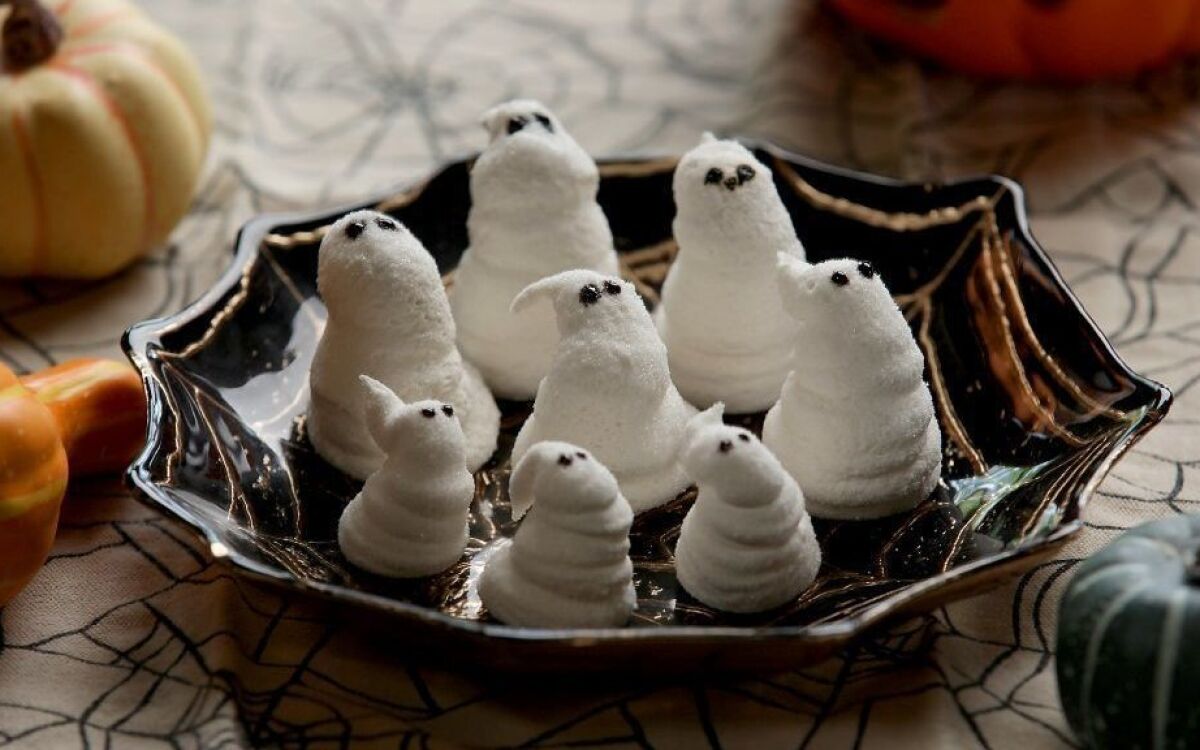 Print Recipe

Print Recipe
More adorable than spooky, these Halloween treats are nothing more than homemade marshmallows, using just a handful of ingredients. Although the recipe does require the use of a candy thermometer, probably the hardest part is piping the "ghost" shapes just right. It may take a few tries, but even the mistakes will be delicious. If piping is not your thing, spread freshly-made marshmallow on a baking sheet, then cut out scary shapes after it sets. Unlike store-bought Peeps, your homemade marshmallows won't be overly sweet, and they'll stay soft and delicate for several days when kept in an airtight container.
From the story: The tricks behind the treats: Homemade Halloween candy recipes
1
In the bowl of a stand mixer fitted with the whisk attachment, sprinkle the gelatin over ¼ cup of water and let stand until the gelatin is softened. If piping ghost candies, fit a piping bag with a large, round tip (preferably ½-inch) and place the colored sugar in a bowl. If cutting out shapes, butter the baking sheet and line with parchment paper, then butter the parchment paper.
2
In a large saucepan, combine the remaining water with the 2 cups sugar and corn syrup, and cook until the sugar reaches 245 degrees using a candy thermometer. Remove from heat.
3
With the mixer running on low speed, slowly pour the hot sugar syrup down the side of the mixer so it doesn't splash against the whisk. Slowly increase the mixer speed to high and beat until the marshmallow lightens in color, about 6 minutes, then beat in the vanilla. Continue beating on high speed until the marshmallow firms and stiffens in texture (similar to a stiff meringue); the marshmallow will have lost some of its sheen and should break off as the beater is removed, but it should not be overly stringy, 10 to 16 minutes.
4
Place the remaining sugar in a shallow baking dish for dusting. To pipe marshmallow ghosts, hold the piping bag over the sugar in the dish and begin piping the marshmallow out onto the sugar so it is about 1 to 1 1/2-inches in diameter. Continue piping the body so it is about 2 1/2 inches in length, then slowly release the tip from the marshmallow, pushing the marshmallow up to form a tip at the head. Spoon the sugar over the formed marshmallow to coat completely. Remove the marshmallow to a parchment-lined baking sheet. Repeat with the remaining marshmallow mixture to continue forming ghosts. Decorate the completed ghosts with melted chocolate, food coloring or icing to create eyes. Store at cool room temperature.
This recipe requires the use of a candy or digital thermometer.
---
Get our new Cooking newsletter.
Your roundup of inspiring recipes and kitchen tricks.
You may occasionally receive promotional content from the Los Angeles Times.