Massimo's Spaghetti With Spinach and Lentils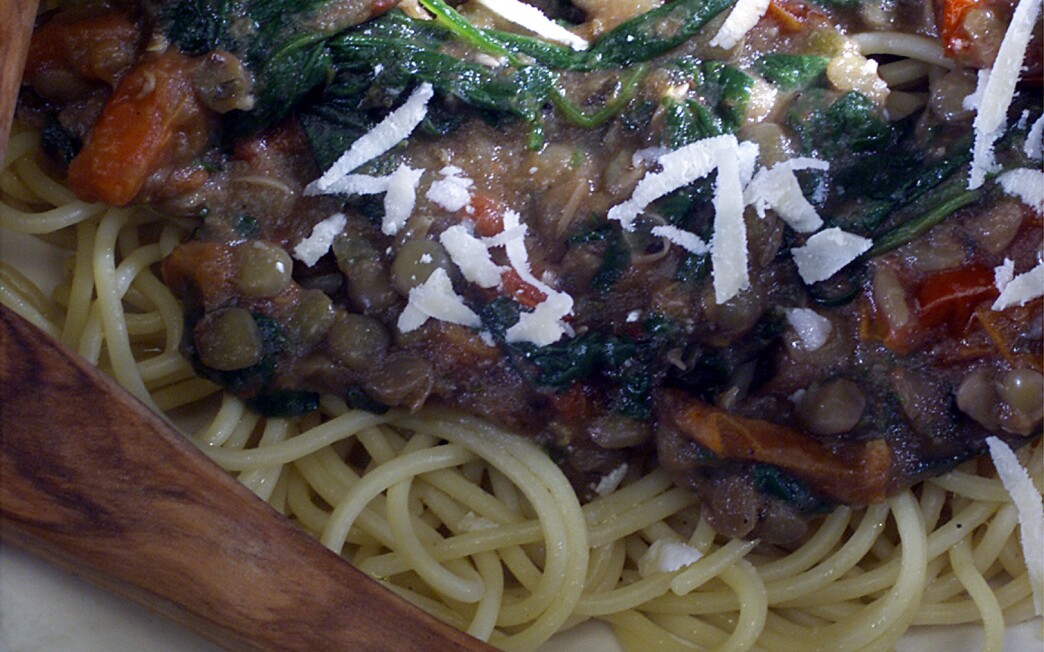 Print Recipe

Print Recipe
Dear SOS: Is it possible to obtain Massimo Ormani's recipe for spaghetti with lentils and spinach at Locanda Veneta in Los Angeles? It's great.
Barbara Raffetto
Monterey Park
Dear Barbara: This is a hearty, satisfying dish.
1
Rinse lentils, then cover with water and soak 2 hours. Drain.
2
Rinse spinach and remove stems, keeping some water on leaves. Saute spinach in skillet over medium heat until wilted, 2 to 3 minutes. Set aside.
3
Place tomatoes in 9-inch square baking pan, cut side up. Sprinkle with salt and pepper to taste, parsley, garlic, dash oregano and 1 tablespoon oil. Roast at 450 degrees until very tender and lightly browned, 20 to 30 minutes. Set aside.
4
Heat 1/3 cup oil in large saucepan over medium heat. Add carrot, onion and celery and saute until vegetables are golden, 8 to 10 minutes. Add lentils and enough water to come 2 to 3 inches above lentils. Cook over low heat until lentils are al dente, 30 to 35 minutes. Drain, reserving 1 cup cooking water. Return reserved water to lentils and set aside.
5
Heat 1 teaspoon oil in large saucepan over high heat. Add spinach and tomatoes, breaking them up with wooden spoon. Saute 1 minute. Add lentil mixture and cook 2 to 3 minutes longer.
6
Cook spaghetti in boiling salted water until al dente, about 10 minutes. Strain and pour spaghetti into saucepan with lentil sauce. Cook together 1 minute over high heat, adding butter and Parmesan cheese while tossing.
---
Get our new Cooking newsletter.
You may occasionally receive promotional content from the Los Angeles Times.