Mediterranean barley salad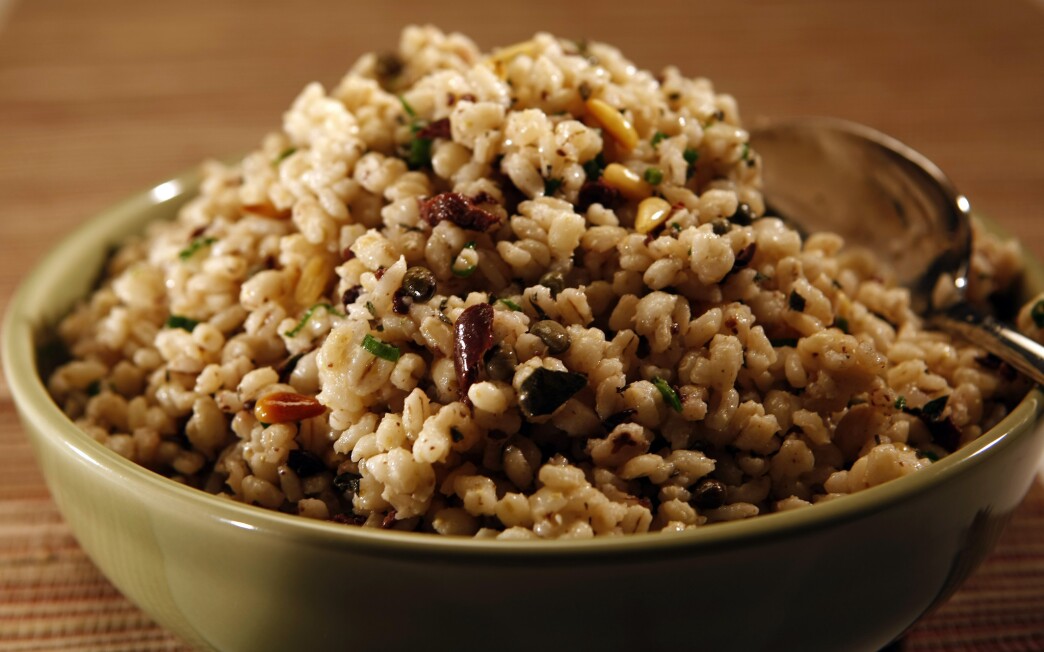 Print Recipe

Print Recipe
For two weeks straight, the hot topic around the communal table at Seed Kitchen in Venice has been the transition from winter to spring.
"It's a really, really big shift. Energy is just shooting up from the ground," says Jessica Porter, author and guest speaker at an informal weekly gathering at the macrobiotic-vegan spot, which opened in November just a block from the beach. She points out that now is a time to eat light -- anything green, fresh, lightly cooked -- and a time to "be nice to our livers and gallbladders." To that end, she praises fresh-grated daikon juice. "It feels like somebody's Windexing the inside of your body."
All Windexing aside, spring is here and a veritable explosion of macrobiotic restaurants in the last year has put its stamp on the dining scene in Los Angeles. None is serving daikon juice, though you will find a refreshing kale lemonade at the 2-month-old Beverly Hills outpost of M Café de Chaya. For the spring menu at Seed Kitchen, chef-owner Eric Lechasseur is planning a soba noodle salad with daikon sprouts, wakame seaweed and fresh greens. Down the street from Seed, at J's Kitchen -- the vegan-macrobiotic import from Japan that opened in January -- the deli case features a revolving cast of salads and daily bento box specials such as nut-crusted portobello with sauteed vegetables.
What was once known as "the brown rice diet" -- largely based on whole grains, vegetables and legumes -- is making a comeback, propelled by a celebrity following, a slew of hip cafes and at least a few classically trained chefs steeped in the ways of macrobiotics who are making dishes that appeal to a wider audience.
If macrobiotics seems as if it suddenly has a split personality that switches from earnest (plenty of quinoa and hijiki seaweed) to luxuriously clement (cupcakes with tofu butter cream), it also means there's something for nearly everyone -- including the occasional black bean burger with yam fries or several-layer dairy-free chocolate cake.
Is modern-macrobiotic fine dining just around the corner?
--
A growing menu
Ever since M Cafe de Chaya opened on Melrose Avenue in Hollywood in 2005 with the help of actress Gwyneth Paltrow's private chef, macrobiotics has had cachet. Two more M Cafes have opened in the last year, including one in Culver City (and not counting the M Cafe that opened in Tokyo in August). "It was once on the fringe, but macrobiotics has now seeped into the mainstream," says Lee Gross, who continues as M Cafe's consulting chef while juggling other projects (he was in town recently working with Paltrow while she is filming a movie). "Macrobiotics is evolving."
The macrobiotic dining options run the gamut from the corner takeout spot such as J's Kitchen to year-old Shojin in Little Tokyo, which has some fine-dining touches with its white tablecloths and lighting that is date-night low. The sleek, stylish M Cafes were envisioned as international cafes/delis.
"The old-school macrobiotic plate was a big pile of grains with a little vegetables and beans," Gross says. "It was really in a rut." What he calls his "progressive macrobiotic repertoire" includes vivid salads such as a quinoa salad that's bright red from beets, a sprouted quinoa tabbouleh, and chickpeas with dandelion greens and celery in a creamy lemon-tahini dressing. Brown rice sushi is rolled with fresh vegetables or salmon, and panini are stacked with fillings such as sun-dried tomatoes, roasted peppers and salami made with seitan (wheat gluten).
At the new Beverly Hills M Cafe, a toddler has her face and hands pressed to the glass of a dessert case filled with layered chocolate cake, tiramisu and strawberry cupcakes topped with a pink swirl of tofu butter cream (none of the desserts is made with dairy or refined sugar) and starts yelling, "Eat! Eat! Eat!"
Lechasseur (the pastry chef who dreamed up the desserts at M Cafe before opening Seed Kitchen) points out that most of his clientele is not vegan or macrobiotic. "Maybe 20% to 30% are vegan, and only 5% to 10% are macrobiotic. The others just want to eat healthy a few times a week."
The term macrobiotics comes from two Greek words -- macro, meaning large or great, and bios, meaning life -- and it's used to describe a diet that its adherents say promotes well-being and longevity. The macrobiotic diet is based on cooked whole grains, vegetables and beans, seaweed, soy products, some raw and pickled vegetables, and a limited amount of fruit and fish, as well as nuts, seeds and mild seasonings and beverages. (There's no dairy, meat, poultry or refined sugar.)
Some of the guiding principles of macrobiotics have come to be embraced through various food trends. Eating locally, seasonally and lower on the food chain as well as thoughtful consideration of one's food choices are all practices that are integral to macrobiotics.
It's sort of like coming to macrobiotics through the back door, says Porter, who wrote "The Hip Chick's Guide to Macrobiotics" and is working on a book about veganism and macrobiotics. "Major elements of the macrobiotic diet are becoming mainstream on their own -- whole grains, the push to eat less protein, sea vegetables are commonly advertised as these amazing foods. It's coming from a bunch of different angles, and when you put it all together, a lot of it approximates a macrobiotic diet."
The tricky part about macrobiotics is that the underlying principle dictates that the components of a meal should create balance, based on yin and yang -- the two opposing forces that, according to Chinese philosophy, govern all natural phenomena. Knowing yin (such as vegetables) from yang (grains, for example) requires some advisement.
In tune with food
The teachings of George Ohsawa, who moved to the U.S. from Japan in the '50s, and later his student Michio Kushi encouraged macrobiotics as a way of life. In 1978, Kushi and his wife, Aveline, opened the Kushi Institute -- macrobiotics headquarters in the U.S. -- in Beckett, Mass., and later established the chain of Erewhon Natural Food markets.
Followers of macrobiotics aim to become in tune with the specific ways in which food affects the body -- whatever "Windexing" properties daikon might have, for example.
Gross, who studied at Johnson & Wales University as well as the Kushi Institute, says that at first he was hesitant to advertise M Cafe as a macrobiotic restaurant and wanted to avoid any didacticism, though he can't help mentioning that the kale in his lemonade "helps detoxify the liver." (Again with the liver!)
Sanam Shahrokhinia, a registered dietitian at Cedars-Sinai Medical Center, points out that most fruits and vegetables, because of their phytonutrients, will benefit the liver. "It's not specific to one particular vegetable," she says.
Shahrokhinia adds that though the macrobiotic diet isn't endorsed by the American Dietetic Assn., it can be a healthy diet as long as -- as with vegetarianism -- one gets enough nutrients (there's the potential for protein and vitamin deficiencies). "If you eat like that at restaurants once in a while, it's very healthy."
Gross says that this spring is his first big push to link the menu to the seasons. "The energy of the season starts to lift out of stagnation. The idea is to eat food such as new shoots, sprouts, spring vegetables, new herbs." It's a subtle diner education, he says.
"People think macrobiotics is strict and rigid," says Sanae Suzuki, who owns Seed Kitchen with her husband, Lechasseur. "But it's completely opposite. Everything depends on the person and what their needs are."
Every Tuesday evening, Suzuki or one of her friends holds court at the cafe's communal table, discussing topics such as how vegetables are categorized in the macrobiotic diet -- root vegetables such as carrots and burdock, "ground" vegetables such as squash and rutabaga, and leafy vegetables such as kale and parsley.
Suzuki began following macrobiotics when she was diagnosed with ovarian cancer in 1993 and credits her recovery to the diet. She later studied at the Kushi Institute to become a macrobiotics counselor. Although the Kushi Institute website features testimonials from cancer survivors, it also states that its programs "are educational in nature, not medical advice, and not intended to take the place of personalized medical counseling, diagnosis and treatment."
Lechasseur, a classically trained chef, began cooking macrobiotically for Suzuki when she was sick, then for celebrities such as Paltrow and Madonna who wanted to eat healthfully, then for M Cafe, and published a macrobiotic dessert cookbook titled "Love, Eric." (Suzuki will be publishing a cookbook, "Love, Sanae," this summer.) At Seed Kitchen, his menu includes a Southwest veggie burger with crisp yam fries and a Mango Tango bowl that includes a deliciously crisp egg roll filled with vegetables and seitan. The pastry case is lined with his pristine desserts.
"My dream is to someday open a macrobiotic bistro" or fine dining restaurant, he says.
That may not be far off, Suzuki says. Imagine "getting all dressed up" and going out to eat a tasting menu's worth of macrobiotic food.
"It will come," she says.
1
To make the dressing, combine the lemon juice, mustard, pinch sea salt, vinegar, shallot and olive oil in a medium bowl and set aside.
2
To prepare the salad, bring the water to a boil in a large saucepan. Add the barley with the remaining salt and bay leaves. Simmer until the barley is tender and all of the water is absorbed, 45 minutes to 1 hour total cooking time. Remove from heat and cool.
3
Place the barley in a large bowl, and stir in the dressing and oregano. Cover and chill for about 2 hours or until ready to serve. Before serving, gently stir in the olives, capers, pine nuts and green onions.
Adapted from "The Hip Chick's Guide to Macrobiotics" by Jessica Porter. Umeboshi (plum) vinegar can be found at Asian markets.
---
Get our new Cooking newsletter.
You may occasionally receive promotional content from the Los Angeles Times.