Mixed Greens with Chicken, Goat Cheese and Pecans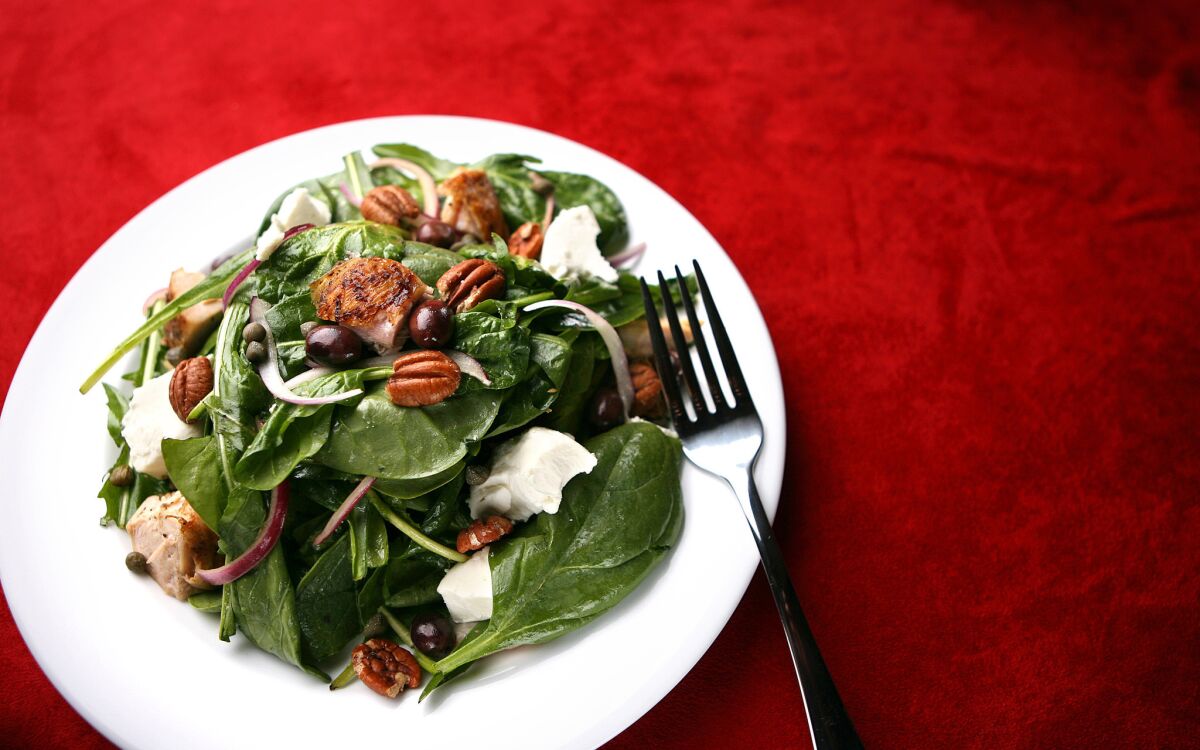 Print Recipe

Print Recipe
Whether I'm running late on a weeknight or we're suddenly entertaining last-minute company, there's one dinner solution I can always trust in a pinch: salad. It's my favorite "go-to" when I'm running low on energy or time. Elemental yet sophisticated, a good salad can please both a hungry appetite and a critical guest.
Properly thought through, a main-course salad is a thing of beauty and ingenuity. It can be based on ingredients that are already on hand, making the most of your pantry and leftovers in the fridge. Make a pit stop at the market for a fresh ingredient or two, and you're set.
Before you begin, consider what ingredients you already have or can quickly procure. Think of a good central element and supplement it with complementary backup. Riff on a classic salad for inspiration, or think original. You want flavors that play well off of each other. What you're going for, ultimately, is harmony: a balance of flavors, colors, textures and temperature. Don't go overboard with components or your theme will get lost in all the noise; you want a few key players.
When you sit down to a meal, you use all of the senses. And when you construct a salad, you should do the same thing. Think about the potential ingredients and imagine how they'll play as part of a group. It's a building process. Taste everything. If there's harmony with the flavors, you have a good match; if something doesn't work, cut it out. Then consider color and shape. Do you want a subtle composition, or are you going for something rich and complex? Same with texture: Is the salad all crunch, like a slaw? Or do you want to play up contrast with, say, rustic croutons on a bed of soft greens?
Each ingredient should be served at the temperature it will taste best. Chicken, for example, can be served cool or even cold, but beef needs to be warmer to avoid tasting waxy. And most greens must be cold to keep their crispness.
Compose your salad starting with the central ingredient. Since this salad is a one-dish meal, protein is a good focus. Cook, saute or grill something if you've got the time: Salmon will cook quickly, as will thin strips of flank steak. Alternatively, slice or chop chilled boiled eggs, or poach fresh eggs and serve them warm. Add last night's leftover steak, sliced thin across the grain. Drain some packed tuna and break it into chunks before combining. Dice cold ham or turkey to add to a chopped salad.
My favorite addition? I'll pick up a fresh rotisserie chicken on my way home, remove the breasts and slice or cube them for a salad. I'll save the rest of the chicken for other dinners throughout the week (soup, chili, another salad).
--
A solid base
Want vegetarian? Build your salad with a variety of beans for vivid color and flavor. Saute, stir-fry or grill firm tofu. Nuts would be perfect: Toast them to release their oil, giving them a rich sheen, deep flavor and perfect crunch.
Every good salad needs a solid foundation. Given this salad's main-course status, plentiful is key. Greens are a traditional choice, and with the varieties available at your market or grocery store, the possibilities are almost endless. Play it safe with mild lettuces such as romaine, iceberg or Bibb (also known as Boston and butter). Delicately flavored, they'll provide a neutral base for a variety of robust pairings.
Or push the envelope a bit with more assertive greens. Spinach may start out mild in flavor, but follows through with definite tannic notes. Arugula, dandelion and mustard greens are known for their spicy finish. Maybe try something from the chicory family: Endive, frisee, radicchio and escarole are great for bitter undertones. Throw in fresh herbs for an extra punch of flavor.
Tired of greens? Just want to try something different? Base your salad on almost anything, from fruits and vegetables (say, a potato salad or carrot slaw) to pasta, grains or legumes. Be creative with what you've got.
Now add vegetables. Cooked or fresh, they're great for color, flavor and texture. I'll roast or grill a medley of vegetables over the weekend to use throughout the week; they always make a nice, impromptu addition to a rustic salad. Reinvent them each time they're used: Chop them one time, slice them another. Some, like baby carrots and small new potatoes, make a beautiful presentation simply left whole.
Cheese is also wonderful in salads; fresh or ripened, it will lend substance to the overall composition. Like greens, cheeses range from mild to assertive, creamy to hard. Pair a cheese you have with the other ingredients and see how the harmony plays out.
Now that you've got your salad, tie it together with dressing. Start with a vinaigrette. The classic ratio for vinaigrette is three parts oil to one part vinegar; taste this and adapt as you desire. Try different oils or vinegars as your base: Walnut or sesame oil will lend a deep nuttiness, and Champagne or sherry vinegar will add a lighter tang than red wine or balsamic. Add to the flavor with fresh chopped herbs or a pinch of spice. If you'd like, turn the vinaigrette into a thicker dressing. Stir in a little yogurt, sour cream, mayonnaise or even softened tofu for a smooth, creamy texture.
--
Extras add up
Dress the salad, but start with a light touch. Toss the salad with maybe half the dressing you intend to use, and see how it coats the components. Add additional dressing a little at a time until you have just a thin sheen on the salad; this way you won't drown the salad from the start.
Finally, look over the composition to see whether you're missing anything or want to add a final touch. Need color? Missing any texture? Fine-tune with a garnish.
Pan-fry cubes of bread in a little oil or butter for croutons, with a clove or two of garlic for extra flavor. This is so much more flavorful than simply toasting the bread. Or steer clear of bread and toast some nuts or seeds. Add some bacon bits, or saute strips of prosciutto until crisp for extra color and crunch. Try toasted grains, granola or dried fruit.
Don't be afraid to improvise. Tweak the salad until you get it right. Like great jazz, sometimes the best compositions are those borne out of a little last-minute creativity.
1
Heat the oven to 350 degrees. In a small bowl, combine the pecans with 2 tablespoons olive oil and a good pinch of salt. Spread the pecans in a single layer on a baking sheet and toast for 10 to 14 minutes. Remove and set aside to cool slightly.
2
While the nuts are toasting, prepare the dressing: In a medium bowl, place the remaining one-half cup oil. Whisk in the sherry vinegar, then the mustard. Whisk in the thyme, oregano, one-half teaspoon salt and several grinds of pepper. Taste and adjust as desired. This makes about 1 cup vinaigrette.
3
Remove the legs and breasts from the chicken. Chop the chicken into coarse cubes and set aside.
4
In a large bowl, combine the spinach, arugula and dandelion greens. Toss in the red onion, olives and capers, then dress with one-half cup of dressing. Toss the salad, adding additional dressing as desired. Toss in the cubed chicken.
5
Divide the salad between 4 plates. Crumble the goat cheese in large chunks over the salads, then sprinkle over the pecans. Serve immediately.
Get our new Cooking newsletter.
Your roundup of inspiring recipes and kitchen tricks.
You may occasionally receive promotional content from the Los Angeles Times.