Neil's pancakes from Clinton Street
Yields
Makes about 10 (3-inch) pancakes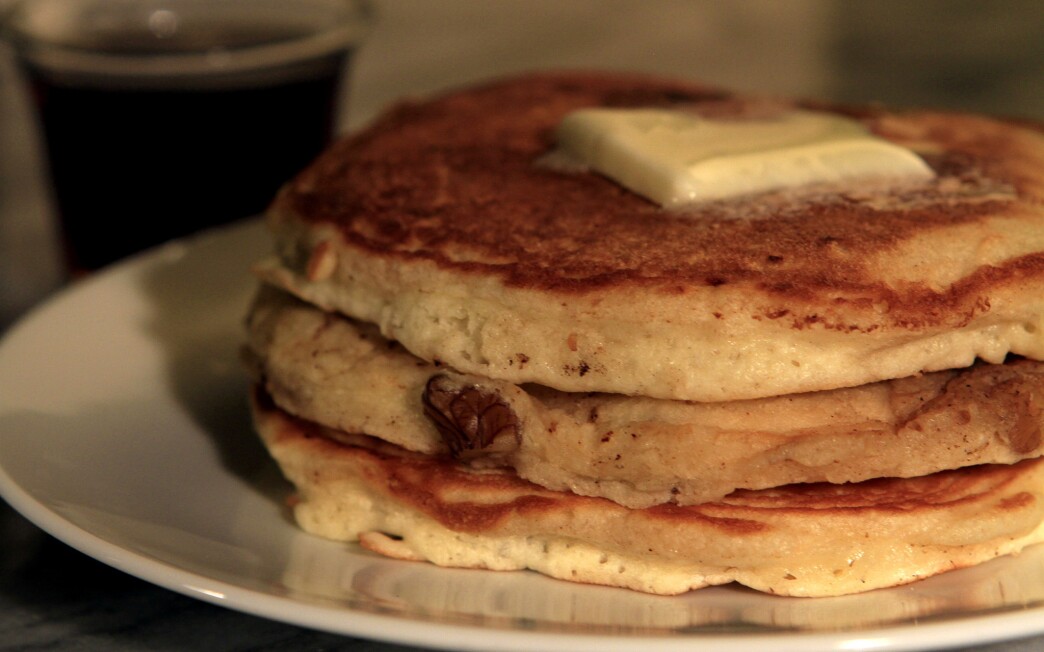 Print Recipe

Print Recipe
Dear SOS: On a business trip to New York City a few years ago, I had the best pancakes of my life at the Clinton Street Baking Co. I've been on a quest ever since to find some that taste as delicious, but so far nothing has matched the flavor of those transcendental pancakes. As I live in Long Beach and can't get to New York very often, can you get the recipe? I would be forever grateful and my family would appreciate not hearing me gripe about lousy pancakes every time we go out to breakfast!
Pam Edwards
Long Beach
--
Dear Pam: These are some serious pancakes. Rich in flavor but light in texture (thanks to whipped egg whites), these are packed with fruit and nuts, and dusted with sugar -- a perfect breakfast. You can make them with either blueberries or bananas. Or both. Every day should start like this.
1
Sift the flour, baking powder, sugar and salt into a large bowl.
2
In a medium bowl, whisk together the egg yolks, milk, melted butter and vanilla until combined. Whisk the wet ingredients into the dry; the result should be slightly lumpy yet combined to form a batter.
3
In another bowl, whip the egg whites to medium peaks, being careful not to overwhip. Using a large spatula, gently fold half of the egg whites into the batter, then fold in the remaining egg whites. The batter will be slightly lumpy with bits of egg whites not fully incorporated (it will look like white caps on the ocean with foam on top).
4
Heat a griddle over medium-high heat until hot (350 to 375 degrees if using an electric griddle). Grease the hot griddle with a little butter, then drop a quarter-cup of batter onto the griddle top. Add 2 tablespoons blueberries or sliced bananas and a scant tablespoon chopped walnuts before flipping the pancake. Flip the pancake when bubbles have started to form on top and the bottom is golden brown, 2 to 3 minutes, depending on the heat. Cook the other side until golden brown and the pancake is fully cooked, an additional 1 to 3 minutes.
5
Continue until all of the batter is cooked. This makes about 10 (3-inch) pancakes. Serve warm.
Adapted from Clinton Street in New York City. The restaurant serves the pancakes dusted with powdered sugar (blueberry pancakes) and cinnamon sugar (banana pancakes) and with maple butter.
---
Get our new Cooking newsletter.
You may occasionally receive promotional content from the Los Angeles Times.