Peach and blackberry crisp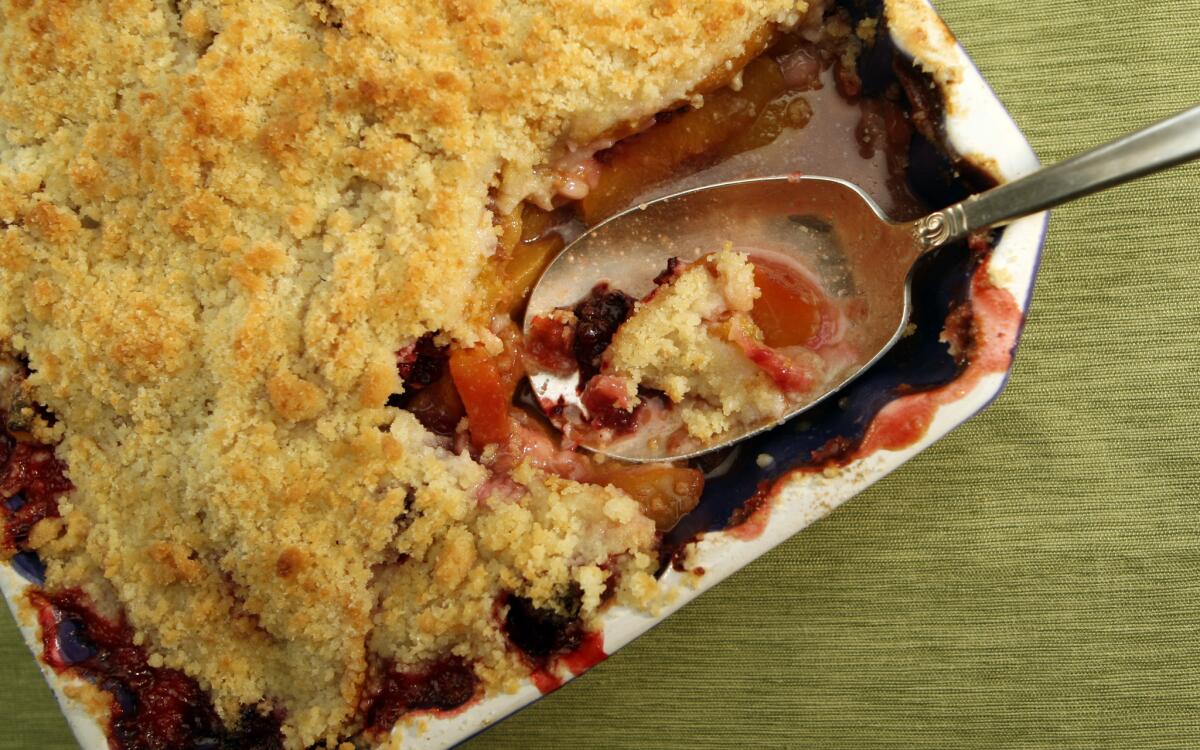 Print Recipe

Print Recipe
The other Sunday I was standing in the middle of a swarm of shoppers at my local Long Beach farmers market, trying to decide between getting more of John Tenerelli's terrific Fantasia nectarines or yet another box of Garcia Family Farms' figs, so ripe they were almost falling apart. I was in one of those cook's reveries: Nectarines or figs? Or maybe another Galia melon from Weiser's? And what did I feel like doing with them? Sometimes I think half the fun of cooking is thinking about it beforehand.
Then I noticed a couple of people with arms full of nothing but flowers, and a terrible thought occurred to me: This is a time of year cooks rejoice in, but what about non-cooks? How frustrating must it be to see all of this amazing fruit but have no idea what to do with it?
And I thought about how sometimes we food writers contribute to that, rattling on about the glories of frozen souffles and lattice-top pies while forgetting that some folks need to learn to walk before they can run (and certainly before they take up ballet).
But really, there's nothing simpler than turning good fruit into a great dessert. So, for all of you frustrated non-cooks out there, here are three desserts you can put together with no advanced techniques and no specialized equipment other than a food processor.
Really, they're more like structures for dishes than they are specific recipes: almost endlessly adaptable and extremely forgiving. (And even those of you who do love to cook: Don't tell me there aren't evenings when something like that doesn't sound like just the ticket.)
The first thing to remember is that if you've got great fruit and are unsure of yourself in the kitchen, there's no better dessert than fruit salad. I'm not talking about those little maraschino cherry jobs you remember from school lunch. Fruit salads can be incredibly sophisticated, and you can make them even if your culinary skills don't go further than boiling water.
The secret to a great fruit salad (besides really good fruit) is a flavored syrup with which to dress it. The base is simple: bring 1 cup of water and one-half cup of sugar to a boil and stir until it's clear. Flavor and cool. That's it.
It's the flavorings that make the dish sing. They can be as homey as a cinnamon stick or as adventurous as jasmine tea. Mix and match the flavorings to fit: slivered fresh basil with strawberries or figs, black pepper with melons or blackberries, or rose geranium with stone fruit . . . you'll be amazed. Spoon over just enough of the dressing to moisten the fruit -- it's a salad, not a soup.
--
The basic crisp
Crisps are only a little more complicated. The first thing you need to know about a crisp -- well, actually, maybe the only thing you need to know -- is this ratio: 2 parts flour, 1 part sugar, 1 part butter.
In other words, for the topping for a small crisp, you'll want one-half cup of flour and one-quarter cup each of sugar and butter. For a decent-sized crisp (say, one made in a 2-quart dish), you'll want to double that (1 cup of flour and one-half cup of sugar and butter). Get it? (If you like this kind of thing, you ought to pick up my friend Michael Ruhlman's new cookbook, called, uh, "Ratio.")
Here's what you do: Put the flour and sugar in a food processor and pulse once or twice to combine them. Cut the butter into cubes and scatter them over the flour and sugar. Pulse again until the mixture looks like wet, clumpy sand -- that'll take maybe seven or eight pulses. That's the hard part.
Cut the fruit into bite-size pieces and stir it in a bowl with just enough sugar to sweeten and just enough flour to thicken the juices as it cooks. Scoop the fruit into a baking dish and spoon the topping over it. Bake until the topping is crisp and brown and the fruit is tender and bubbling.
Pretty straightforward, right? But that's deceptive. It's that very simplicity that allows so much improvisation.
You can use all sorts of fruits, either by themselves or in combination. At this time of year, I really love peaches or nectarines along with raspberries or blackberries. In the spring, strawberries and rhubarb. In the fall and winter, apples or pears and raisins.
Sweeten to your taste, with the pure, sweet flavor of white sugar, the caramel tones of brown sugar or the complexity of honey. Add more or less flour to the fruit depending on how ripe it is (riper, juicier fruit will require more flour to thicken). Spice as you wish. I really like cinnamon with peaches, but maybe you prefer cloves. Or even cardamom.
You can vary the topping as well. As presented, it will make a nice, pie-crusty crisp. But you can add spices such as cinnamon, nutmeg or clove to the topping. Or chop in nuts: Walnuts or almonds are naturals. For a topping with one-half cup of butter, you can add as much as one-third cup of chopped nuts without affecting the texture. Another classic variation is to add uncooked rolled oats (Quaker-style oatmeal); you can add as much as one-fourth cup to this size batch.
--
Other options are more subtle. Believe it or not, the shape of the baking dish makes a difference in how the dessert turns out; remember that the 2-quart designation refers to volume, not size. If you want juicier, fresher-tasting fruit, bake it in a smaller dish that is deeper. I like mine in a wider, shallower gratin dish that allows more of the juice to evaporate, concentrating the flavors as it cooks into a jam.
A crisp is pretty much the essence of homey simplicity. But without any extra effort you can make a dessert that looks like it came straight out of a high-end restaurant.
--
Frangipane tart
Frangipane is a mixture of nuts, eggs and butter ground into a lightly flowing paste that puffs and browns when it bakes. You grind everything in a food processor and spoon it into a tart shell. Scatter fruit over the top (push the fruit in a bit so it's partly submerged) and bake. That's it. In fact, if you can push the button on your food processor, you can make a frangipane tart.
Figs are perfect with frangipane; even if you just scatter them across the top of the tart, they look really elegant. But you could also use peaches, plums, nectarines or berries, and one of my favorite fall tarts is made with frangipane and pears.
The classic nut for a frangipani paste is almonds, but you can just as easily substitute walnuts for a slightly darker flavor. Spice it as you like; either orange or lemon zest will work equally well.
You can certainly make your own pie crust if you want (my favorite is based on the one from Thomas Keller's "Bouchon" cookbook, and it's practically foolproof). But you can use a commercial crust too.
After all, the whole point is to be able to take a nice walk at the farmers market today; you can save the pirouettes for next summer.
1
Heat the oven to 350 degrees.
2
Peel the peaches: Bring a large pot of water to a boil. Cut a shallow X in the bottom of each peach, and blanch it quickly in the boiling water until you see the peel start to lift away from the peach. The blanching time required will vary depending on the ripeness of the peach. Transfer it to a bowl of ice water to stop the cooking, and peel away the skin with your fingers. If the peel proves difficult to remove, simply return the peach to the boiling water and try again. If after 5 minutes of blanching, the peaches are still not peeling easily, use a small paring knife to scrape away the skin.
3
Pit the peach by cutting it in half, following the cleft that runs down one side. Twist and the flesh will separate. Discard the pit and cut the peach into bite-size pieces. You should have about 7 to 8 cups of peeled, pitted, cut-up peaches.
4
Place the peaches in a bowl with the blackberries, cinnamon, brown sugar, 1 tablespoon flour and the lemon juice and stir gently to combine. Set aside while you make the topping.
5
In a food processor, briefly pulse together the sugar, salt and remaining 1 cup of flour just to combine. Distribute the chunks of butter over the top and pulse just until the mixture resembles wet, clumpy sand.
6
Dump the peach mixture into a 2-quart baking dish or gratin dish and give it a good shake to make sure it's evenly distributed. Spoon the crumbly mixture over the top, distributing it evenly. Bake until the top is crusty and brown and the peaches are soft, about 45 minutes.
You can substitute nectarines for the peaches and skip the peeling.
---
Get our new Cooking newsletter.
Your roundup of inspiring recipes and kitchen tricks.
You may occasionally receive promotional content from the Los Angeles Times.